Medicine & Web 2.0
AMA - AMA Policy: Professionalism in the Use of Social Media. The Internet has created the ability for medical students and physicians to communicate and share information quickly and to reach millions of people easily.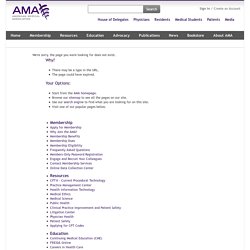 Participating in social networking and other similar Internet opportunities can support physicians' personal expression, enable individual physicians to have a professional presence online, foster collegiality and camaraderie within the profession, provide opportunity to widely disseminate public health messages and other health communication. Social networks, blogs, and other forms of communication online also create new challenges to the patient-physician relationship. Mount Sinai School of Medicine - Social Media Guidelines.
Introduction Social media are internet-based applications which support and promote the exchange of user-developed content.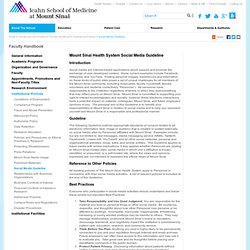 Some current examples include Facebook, Wikipedia, and YouTube. Posting personal images, experiences and information on these kinds of public sites poses a set of unique challenges for all members of the Mount Sinai community, including employees, faculty, housestaff, fellows, volunteers and students (collectively "Personnel"). All personnel have responsibility to the institution regardless of where or when they post something that may reflect poorly on Mount Sinai. Social Media Guidelines | Washington University School of Medicine in St. Louis. Addendum to the Washington University in St.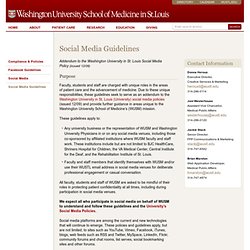 Louis Social Media Policy (issued 12/09) Purpose Faculty, students and staff are charged with unique roles in the areas of patient care and the advancement of medicine. Due to these unique responsibilities, these guidelines seek to serve as an addendum to the Washington University in St. Health Questions and Answers - Healthysparx. HOW TO: Get the Most Out of Google Reader. The real-time web is becoming an increasingly important source of news, but many users still prefer to receive their content the old-fashioned way: Through a steady diet of RSS feeds.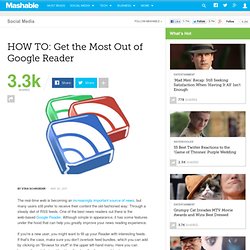 One of the best news readers out there is the web-based Google Reader. Although simple in appearance, it has some features under the hood that can help you greatly improve your news reading experience. If you're a new user, you might want to fill up your Reader with interesting feeds. If that's the case, make sure you don't overlook feed bundles, which you can add by clicking on "Browse for stuff" in the upper left-hand menu. Here you can browse through featured feed bundles, bundles from your friends or recommended feeds from users with similar interests as you.
Social Networking Savvy - April 2011. Back to Table of Contents | April 2011 Social Networking Savvy Physicians need to be informed about how to use social media wisely.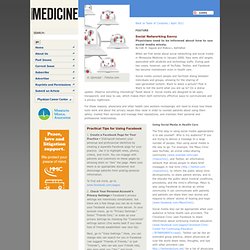 By Colin M. Who Should Manage Your Social Media Strategy [Accepted for publication in The Physician Executive] By Kent Bottles, M.D., and Tom Sherlock Hospital and medical group leaders are facing the most challenging healthcare environment in recent memory.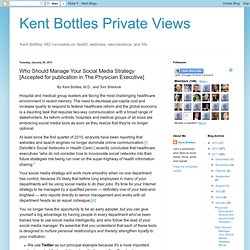 The need to decrease per-capita cost and increase quality to respond to federal healthcare reform and the global economy is a daunting task that requires two-way communication with a broad range of stakeholders. As reform unfolds, hospitals and medical groups of all sizes are embracing social media tools as soon as they realize that they're no longer optional. Wikipedia: A Key Tool for Global Public Health Promotion | Heilman. This paper is in the following e-collection/theme issue: Medicine 2.0: Social Media, Open, Participatory, Collaborative Medicine Advertisement: Preregister now for the Medicine 2.0 Congress Viewpoint.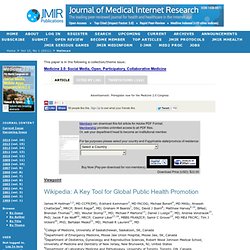 Facebook 110: Protecting Privacy in Facebook | SMUG - Social Media University, Global. Is Your Facebook Account a Privacy Breach? A recent article in the Journal of Medical Ethics (there is a link to the paper at the bottom of the article) reviewed doctors' current Facebook use and what this might imply in terms of the doctor/patient relationship.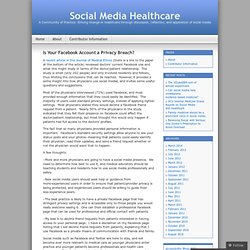 The study is small (only 202 people) and only involved residents and fellows, thus limiting the conclusions that can be reached. However, it provides a some insight into how physicians use social medial, and invites some useful questions and suggestions. Most of the physicians interviewed (73%) used Facebook, and most provided enough information that they could easily be identified. Social Media and the Medical Profession | Australian Medical Association. A guide to online professionalism for medical practitioners and medical students A joint initiative of the Australian Medical Association Council of Doctors-in-Training, the New Zealand Medical Association Doctors-in-Training Council, the New Zealand Medical Students' Association and the Australian Medical Students' Association.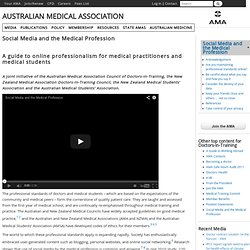 The professional standards of doctors and medical students – which are based on the expectations of the community and medical peers – form the cornerstone of quality patient care. They are taught and assessed from the first year of medical school, and are continually re-emphasised throughout medical training and practice. The Australian and New Zealand Medical Councils have widely accepted guidelines on good medical practice,1 2 and the Australian and New Zealand Medical Associations (AMA and NZMA) and the Australian Medical Students' Association (AMSA) have developed codes of ethics for their members.3 4 5.
CasesBlog: Why you should start blogging in 2011. Quotes from an interview with Seth Godin and Tom Peters: "Blogging is free.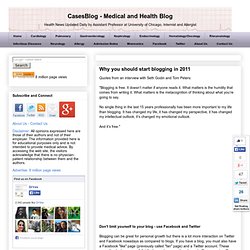 It doesn't matter if anyone reads it. What matters is the humility that comes from writing it. CasesBlog: For doctors: How to be a Twitter star in two easy steps. This is somewhat of a typical example nowadays. There are many other physicians who are much more popular than me on social media and make the stats above look minuscule. You can be one of them. Here is how. Careers - Twitter going global.
Authors: Fiona Pathiraja, Annabel Bentley Publication date: 05 Jan 2011 Fiona Pathiraja (@dr_fiona) and Annabel Bentley (@doctorblogs) explain why Twitter is increasingly relevant to doctors and discuss how to use it as a professional networking tool When the BMJ first covered Twitter in June 2009, it was seen as Facebook's lesser sibling, a niche micro-blogging service. [1] Since then, its popularity has skyrocketed, and now many doctors, researchers, and healthcare leaders are regular users.
In this article we discuss how to use Twitter as a powerful professional networking tool. Webicina.Com • Medicine in Social Media. HLWIKI Canada. Are you interested in contributing to HLWIKI International? Contact: dean.giustini@ubc.ca To browse other articles on a range of HSL topics, see the A-Z index. Last Update.
---