Βιβλία @
ΒΙΒΛΙΟΝΕΤ - Βάση Βιβλιογραφικών Δεδομένων
openarchives.gr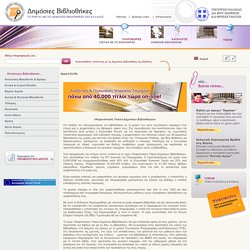 «Ψηφιοποίηση Υλικού Δημόσιων Βιβλιοθηκών» Στο πλαίσιο του εκσυγχρονισμού των βιβλιοθηκών με τη χρήση των νέων τεχνολογιών, κυριαρχεί στην εποχή μας η ψηφιοποίηση του βιβλιακού υλικού τους. Στις πρωτοβουλίες που αναπτύσσονται προς την κατεύθυνση αυτή μετέχει η Ευρωπαϊκή Ένωση για την προστασία και διαχείριση της ευρωπαϊκής πολιτιστικής κληρονομιάς. Από ελληνικής πλευράς, η ψηφιοποίηση του πλούσιου υλικού των 46 Δημόσιων Βιβλιοθηκών της χώρας μας αποτελεί ένα βασικό στόχο του Υπουργείου Παιδείας, Δια Βίου Μάθησης και Θρησκευμάτων, προκειμένου να προβληθεί και αναδειχθεί ο ελληνικός πολιτισμός και η πνευματική παραγωγή σε εθνικό, ευρωπαϊκό και διεθνές περιβάλλον, χωρίς περιορισμούς και παράλληλα να προστατευθούν οι θησαυροί των φυσικών τεκμηρίων, που στεγάζουν αυτές οι βιβλιοθήκες. Στην πραγμάτωση του στόχου αυτού εντάσσεται το έργο «Ψηφιοποίηση Υλικού Δημόσιων Βιβλιοθηκών», που υλοποιήθηκε στο πλαίσιο του ΕΠ Κοινωνία της Πληροφορίας.
Δημόσιες Βιβλιοθήκες
Rhodes Library
Λέξημα
Bookworm.gr
Ηλεκτρονικός Αναγνώστης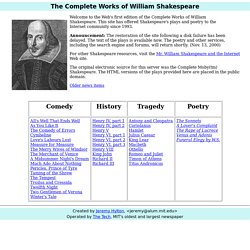 Welcome to the Web's first edition of the Complete Works of William Shakespeare. This site has offered Shakespeare's plays and poetry to the Internet community since 1993. Announcement: The restoration of the site following a disk failure has been delayed. The text of the plays is available now. The poetry and other services, including the search engine and forums, will return shortly. (Nov. 13, 2000) For other Shakespeare resources, visit the Mr.