Επιστήμες - Τεχνολογία @
portal για την ενέργεια
Από την Ξάνθη, με Ιταλική εφεύρεση, ξεκινά η νέα… ενεργειακή επανάσταση
Μια μεγάλη καινοτομία στον τομέα της ενέργειας που ανατρέπει τα μέχρι σήμερα δεδομένα και ταυτόχρονα μια σημαντική επένδυση που θα αξιοποιήσει σε βιομηχανικό επίπεδο την συγκεκριμένη επιστημονική ανακάλυψη, πρόκειται να ανακοινωθεί μέσα στις επόμενες ημέρες και, σύμφωνα τουλάχιστον με τις εκτιμήσεις, θα ταράξει τα νερά και θα προκαλέσει το διεθνές ενδιαφέρον. Ο λόγος για την ελληνική εταιρεία Defkalion Green Technologies SA η οποία κατάφερε να μετατρέψει σε βιομηχανικό προϊόν μια σημαντική ανακάλυψη Ιταλών επιστημόνων και ξεκινά οσονούπω από την Ξάνθη τη μαζική παραγωγή και παγκόσμια διάθεση μονάδων που μπορούν να εγκατασταθούν σε κάθε σπίτι ή επαγγελματικό χώρο και να παράγουν θερμική και ηλεκτρική ενέργεια με ελάχιστο κόστος.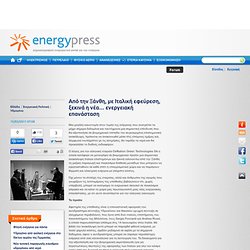 Astronomy Picture of the Day
openscience.gr
ΜΑΥΡΟ - ΟΧΙ ΑΛΛΟ ΚΑΡΒΟΥΝΟ
Neworder - Security and Networking
Well, I've finally decided to undertake and learn programming. The internet is a vast place filled with many suggestions on how to start out: use this language, this IDE, this compiler, etc.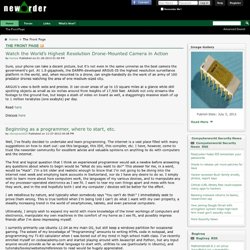 physics4u – Η Φυσική στο Δίκτυο
Econews.gr
nature.com