Autodesk @
SPAUG Home Page
AUGI
Delmar, a part of Cengage Learning, provides comprehensive Drafting and CADD training solutions for instructors, students, and professionals.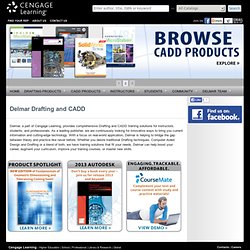 AutodeskPress
Autodesk | AutoCAD WS – Blog
Now that your summer vacations are coming to an end, the new version of AutoCAD 360 is here to make your transition back to work smoother than ever! Here's a quick rundown of what's new in version 2.1. Those of you on iOS devices with full retina support will be able to enjoy stunning high-resolution display of your drawings. With the new full retina support there are no more fuzzy pixels—your drawings will look sharper than ever!