BDSM
The Slave Register - Master/slave, O&P, SLRN, certificates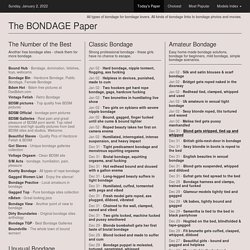 The BONDAGE Paper` Galleries
Another free bondage sites - check them for more bondage Bondage Fix - Free bondage & BDSM picturesGagged Women List - Enjoy the silence!BDSM for all TGP - Bondage galleriesSubmissive Sex - Kinkest BDSM picturesnBdsm - Great looking picsSM Hard Pic - Sado maso hard picruresbdsm MPEGs - Daily BDSM videosBondageCo - Female slaves tied, bound, restrainedBondage Trend - The sexual and fetish trend in bondageBDSM Videos Network - BDSM video networkMaleDom - All about male dominationTied Beauties - The most beautiful girls in bondageBondage Practice - Local amateurs in bondageKnotty Bondage - All types of rope bondageBondage Pictures - Bondage Pictures GalleriesGagged Females - All kinds of gagged womenRestrained Maidens - Movies and pics - all bondageVoltage Orgasm - Clean BDSM siteBoundville - The whole town of bound women!BDSM Sphere - HQ handmade BDSM Galleries Not just a simple bondage - bound and fucked girls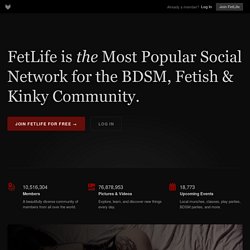 BDSM & Fetish Community For Kinksters, By Kinksters - FetLife
"FetLife.com: effortless to join and obviously created by people who have been online and in the fetish community forever." — Dear Sasha, Montreal Mirror, Eye Weekly & Uptown "I have never had a place on myspace or otherwise because those sites are a bit… icky. This is wonderfully not icky!" — naughtyabby 30F sub (Oregon, United States) "I am totally impressed.
Dayuse Hotel France : Meilleurs hôtels France en journée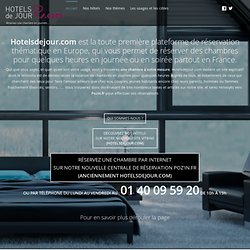 Hôtels de Jour : le plaisir d'une ambiance hôtelière qui vous ressemble
Le rendez-vous, le day use, le dayroom, le TAC, le 5 à 7, la pause, autant de termes français ou anglicanspour désigner un usage beaucoup plus démocratisé dans un grand nombre de pays : Notre positionnement : Démocratiser l'usage de l'hôtel en journée favorise la venue de couples réguliers, sans forcément en éloigner les autres.Ces locations en journée ne seront plus connotées de façon péjorative « adultérine ». Hôtels de Jour étend l'usage de l'hôtel en journée à tous, notamment à ceux, nombreux qui sont en quête d'un lieu choisi, agréable, grâce à notre classement thématique. Nous vous proposons ci-dessous, quelques explications vous permettant de mieux comprendre pour quoi, pour qui, quand et comment !!!
2013 8 May On April 27th, I returned from a week-long trip to Berlin, and I'm still kinda shell-shocked. Over that week, I spent hours every day being interviewed by all sorts of people: Europe's biggest newspaper, for example. The German edition of Andy Warhol's magazine, Interview. Four different German television stations.
301 Moved Permanently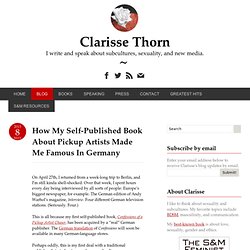 IN/SOUMISES, un recueil de nouvelles SM écrites par des femmes insoumises, édité par Gala Fur et Wendy Delorme. La Musardine, Paris, 2010, en Poche Lectures amoureuses, 2012 16 contes cruels au féminin choisis par Wendy Delorme et Gala Fur. Jeux de pouvoir, préliminaires à quatre mains, la recherche de sensations hors du commun déborde le rêve... Que l'héroïne soit emmaillotée dans un film de cuisine, bridée par un collier ou une paire de talons trop hauts, couverte de pinces à linge, fouettée par sa vieille tante, armée de jouets cruels ou mains nues, les filles qui ont écrit ces nouvelles enlevées n'ont pas froid aux yeux.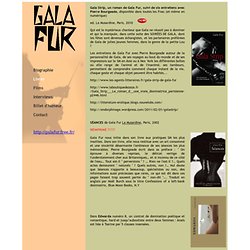 GalaFur - Le site
Coleiras e acessórios BDSM
Cette section est divisée en 6 rubriques : Une rubrique Bondages Pas à Pas où chaque galerie explique en détail la réalisation d'un bondage. Cette rubrique devrait traiter à terme des principaux bondages de base.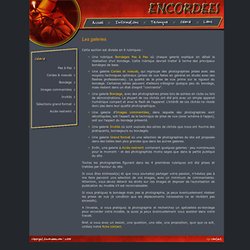 Encordées - Bondage et photographie - Galeries de bondage et techniques de prises de vue
Bilder 'Die Geschichte vom Soldaten'. Fotografie: Anja Koehler .
dasniya sommer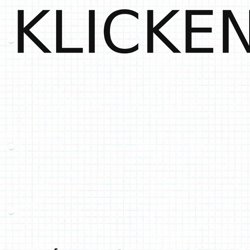 (C) Théâtre Royal de la Monnaie, Bruxelles Il y a quelques mois, le Théâtre Royal de la Monnaie présentait une splendide version du Parsifal de Wagner mise en scène par Romeo Castellucci, où le magicien Klingsor suspendait une demi-douzaine de gracieuses filles-fleurs avec des figures élaborées de shibari chorégraphiées par l'artiste berlinoise Dasniya Sommer. En ce moment, ce sont "Les huguenots" de Meyerbeer, opéra à grand spectacle qu'on a comparé à Ben Hur ou aux films de Spielberg. Et je dois dire qu'entre les chœurs enflammés, les immenses décors couverts de plaques de laiton flamboyantes qui se transformaient comme par magie, les performances vocales d'une virtuosité confondante (c'est là qu'on se rend compte qu'un chanteur lyrique c'est tout à fait comparable à un sportif de haut niveau, même quand il n'est pas en train de chanter à moitié allongé dans une piscine, sa partenaire à la robe trempée collée à son corps) je n'ai pas été déçu.
Opéra Fetish « Mon BDSM, par Axedrez – domination, soumission, sado-masochisme, et créativité érotique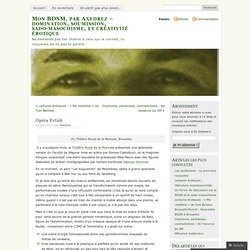 ACCUEIL - Métamorph'Ose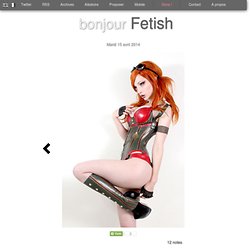 Envoyez toutes vos propositions de photos à: bonjourfetish@openmailbox.org ou en utilisant la page d'upload en vous arrangeant pour que les photos proposées: - respectent le thème - ne soient pas soumises à des droits d'auteur - n'aient pas déjà été postées au préalable L'adresse mail est la même si vous souhaitez me contacter à propos d'une photo que vous souhaitez voir retirée (en explicitant vos raisons) ou pour tout autre chose. Send all your pictures proposals at: bonjourfetish@openmailbox.org or by using the submit page and make sure that these photos: - are conform to the theme - contain no copyright or licence - have not already been published
Bonjour Fetish
petgirl.unblog.fr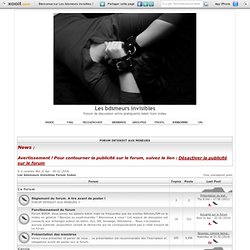 Les bdsmeurs invisibles :: Forum consacré aux rencontres bdsm hors milieu
In total there are 3 users online: 1 registered, 0 hidden, 2 guests [ Staff modération ] [ Dominant(e) ] [ switch ] [ soumis(e) ] Most users ever online was 20 on Tue 14 Jan - 21:10 (2014)Registered Users: Fanny 33 registred users – of which 3 are hidden – have been connected these last 24 hours: 59230H, A., Alphard, angelique Preppy, anguissette, Anna, Anna-Hell, berny, Co, Darkside59, Demonica, Dilettante, elmerfoudedid, Etrivieres, Fanny, Hemidactylium, jesse, josh, lady Abigael, Lady Gag, lilou, Mandy, medor, mme.kalipyge, Orangette, Paradoxe, San, son ange, Wongsifu, yukio Birthdays: Maiko (20), Stella (19)Birthdays for the next 7 days: Aëleen (19), avotre (61), By myself (26), Cassy66 (53), Cerebresse (28), gertrude31 (66), glyphia (21), ladylordmaitresse (51), lysnoir (38), M-achets (56), Orangette (20), Ouvertatout (39), Prince_des_Donjons (60), R (41), shannon-o-cylliam (46), steppenwolf (37), Switch-DdC (48)
Club Rencontre BDSM
Lovebound
Nous sommes le 09 Sep 2012, 16:07 Le Bondage et nous ... Le Bondage dans votre vie de tous les jours
Loisirs & Shopping BDSM at Journal d'une petgirl
shiniez on deviantART
Fetish-Ginkgo
exks translation | the Nana & Kaoru station
Nana to Kaoru (YA) 54 And here's chapter 54/76! mediafire That's all for now, but you can be sure there will be more.
Pet Girl Gallery
Bondage, BDSM & Fetish Community For Kinksters, By Kinksters - FetLife
mon Profil Fetlife