Pulseras
DIY | Leather Wrap Bracelet. Guest Post by Anette of Lebenslustiger I wanted to come up with a new leather wrap tutorial for a while now and I am really happy to pronounce I finally did.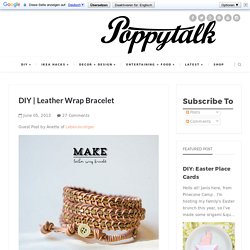 If you like to see my other bracelet tutorials please click here. It took me a while to wrap my mind around the "how to" because I wanted to create a braided full leather version as an alternative to the tedious and time consuming version of weaving beads in and out with bead cord between and around two leather strings. Once you get the hang of the braiding rhythm you will see how quickly these bracelets are done and how beautifully they will turn out! For one bracelet you will need: DIY CONE STUD BRACELET. Rewired Bracelets. Sarah Goldschadt is a freelance graphic designer and crafter who loves to make things, travel, and take pictures.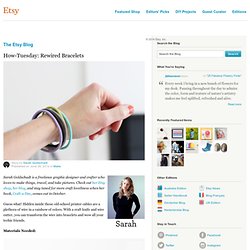 Check out her Etsy shop, her blog, and stay tuned for more craft loveliness when her book, Craft-a-Day, comes out in October. Guess what! Hidden inside those old-school printer cables are a plethora of wire in a rainbow of colors. With a craft knife and wire cutter, you can transform the wire into bracelets and wow all your techie friends. Materials Needed: DIY Pearl Charm Bracelet. My sister is finally home and it was a happy reunion.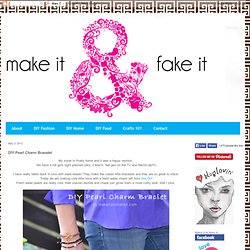 We have a full girls night planned (aka. 2 Mac's, Nat geo on the TV and Nacho dip!!!) I have really fallen back in love with seed beads! They make the cutest little bracelets and they are so great to stack.
DIY Embellished Friendship Bracelets. The weather is warming up and my wrists are feeling rather lonely and bare after hiding under long sleeves all season long.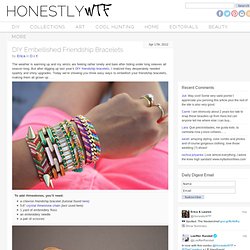 But after digging up last year's DIY friendship bracelets, I realized they desperately needed sparkly and shiny upgrades. Today we're showing you three easy ways to embellish your friendship bracelets, making them all grown up . . . DIY rope bracelet. I finally sat myself down to make a Phillip Lim inspired diy bracelet.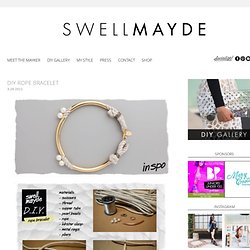 I love how the pieces in his current jewelry collection blend the boundaries of crafty and high fashion. The result is so chic!! I decided to do a bracelet instead of a necklace… I thought it would work more seamlessly into my everyday life. It's super simple to make! Enjoy! Tutorial Tuesday - Button Bracelets. Tutorial Tuesday - Button Bracelets My girlfriend came over to refill my estrogen reserves last week, and brought with her a fantastic craft for us to do together while chatting, laughing, gossiping and catching up after her long vacation.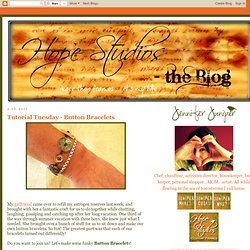 One third of the way through summer vacation with three boys, she knew just what I needed. DIY Friendship Bracelet. For several months now, we've been receiving emails requesting a friendship bracelet DIY.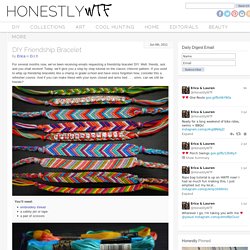 Well, friends, ask and you shall receive! Today, we'll give you a step by step tutorial on the classic chevron pattern. If you used to whip up friendship bracelets like a champ in grade school and have since forgotten how, consider this a refresher course. And if you can make these with your eyes closed and arms tied . . . umm, can we still be friends?
Baseball String Bracelet. I've got a great idea to share with all of you for a super easy and cute way to make a bracelet out of the strings of a baseball.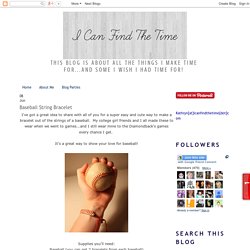 My college girl friends and I all made these to wear when we went to games...and I still wear mine to the Diamondback's games every chance I get. It's a great way to show your love for baseball! Make Bracelets Video Tutorials | Make Bracelets! Woven Friendship Bracelet Tutorial. How to Make a Toothbrush Bracelet. It seems that I'm into things made of household items-- from fork bracelets to pushpin shoes, there's a trend there. ;) What you need to make a toothbrush bracelet: ♥Toothbrush ♥Pliers ♥Pot and stove The first thing you need to do is put the toothbrush in boiling water.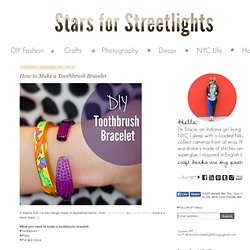 DIY Braided Hex Nut Bracelet. We're nuts for nuts.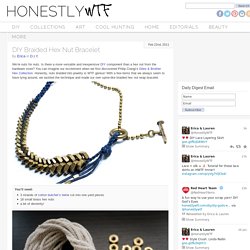 Is there a more versatile and inexpensive DIY component than a hex nut from the hardware store? You can imagine our excitement when we first discovered Philip Crangi's Giles & Brother Hex Collection. Honestly, nuts braided into jewelry is WTF genius! With a few items that we always seem to have lying around, we tackled the technique and made our own spine-like braided hex nut wrap bracelet. Modern Parents Messy Kids: Modern DIY Bracelets - Perfect for Summer Crafting with Girls. How to Make a Fork Bracelet. I've always loved taking everyday items and making them into something interesting.
Ever since I was a little crafty kid I loved devouring books that taught me how to make little dolls from clothespins, beads from rolled up magazines, and little fairy ornaments from wire and fake flower petals. The first time I saw my friend wearing a bracelet made from a fork a few years ago, I knew I had to try it (*ahem Carly ;)). I wrote up a tutorial a while back, but I've had some questions about the directions I gave so I decided to make a proper tutorial with a video!
:) (Please excuse my intro, if you can't hustle your website on your Youtube channel, where else are you supposed to do it?
---