Necklaces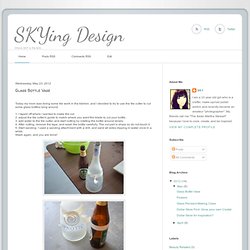 SKYing Design
This was in the craft section at Dollar Tree. They also had pink and green, but this was the only purple left. I have bought something similar to this before from Earthbound, but it was more expensive, and crystals were not what I expected.. (they just looked like white salt accumulated on the rock) I am hoping for better results this time. Here is what It came with.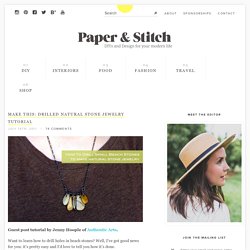 Guest post tutorial by Jenny Hoople of Authentic Arts. Want to learn how to drill holes in beach stones? Well, I've got good news for you: it's pretty easy and I'd love to tell you how it's done. I've been making this natural stone jewelry for several months with pre-drilled pebbles that I purchased from fellow Etsy artisans.
Thread Wrapped Love Necklace
I opted for a charm instead of a tassel, but you can obviously use whatever you'd like. Check out how I made it below! Supplies: - Craft wire (I used 24 gauge) - Embroidery thread, one skein - Scissors - Round nosed jewelry pliers - Chain (length is up to you) - Clear nail polish (you'll use this in more than one way!) - Jump rings and jewelry clasp (optional) - Charm or tassel (optional, not shown) - Ruler (not shown)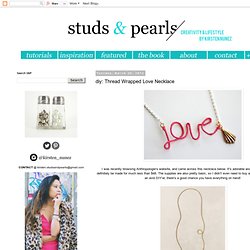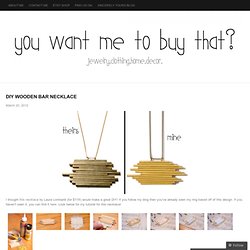 Wooden Bar Necklace « You Want Me to Buy That?
I thought this necklace by Laura Lombardi (for $115!) would make a great DIY! If you follow my blog then you've already seen my ring based off of this design.
Make Center Piece - Wooden-Circle Bib Necklace - Step 1 - MarthaStewart.com
DIY Chevron Necklace
Last week Carly at Chic Steals posted her late summer Objects of Desire. I loved this from ASOS. Normally I wouldn't DIY a necklace that could be purchased for less than $20, but I already had all of the materials and it only took a few minutes. Remember the ?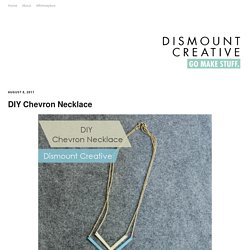 Give the Gift of Green With a Terrarium Necklace (DIY Tutorial) DIY Terrarium Necklace – Ecouterre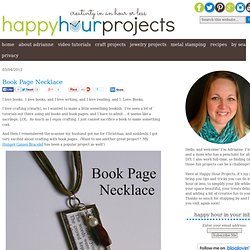 I love books. I love books, and I love writing, and I love reading, and I. Love. Books. I love crafting (clearly), so I wanted to make a little something bookish.
Book Page Necklace
Shrinking Snowflake Necklace
I made these for party favors for my daughter's birthday, but I've been wearing one of them around myself so I don't think this is just a kids' project. But it does involve shrinky dinks! If you haven't worked with shrinkable plastic before, you can buy it online or at your local craft store. Supplies: Shrinking plastic (frosted, not clear)Small, sharp scissorsSnowflake template (see link below)Mini hole punch (1/8″)Toaster ovenNecklace chain with jump ringPliers 1.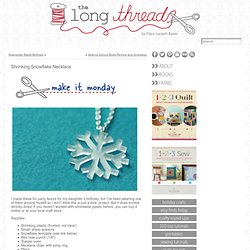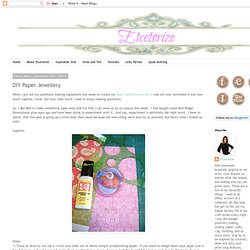 DIY Paper Jewellery
When I got out my jewellery making equipment last week to create my Gucci watch knock-off, I was not only reminded of just how much supplies I have, but also, how much I used to enjoy making jewellery. So, I decided to make something super easy and fun that I can wear as an accessory this week. I had bought some Mod Podge Dimensional glue ages ago and have been dying to experiment with it.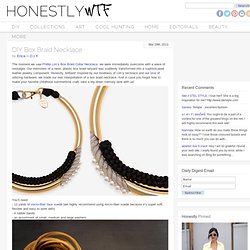 The moment we saw Phillip Lim's Box Braid Collar Necklace, we were immediately overcome with a wave of nostalgia. Our memories of a neon, plastic box braid lanyard was suddenly transformed into a sophisticated leather jewelry component. Honestly, brilliant! Inspired by our fondness of Lim's necklace and our love of utilizing hardware, we made our own interpretation of a box braid necklace.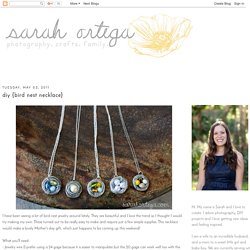 I have been seeing a lot of bird nest jewelry around lately. They are beautiful and I love the trend so I thought I would try making my own. These turned out to be really easy to make and require just a few simple supplies. This necklace would make a lovely Mother's day gift, which just happens to be coming up this weekend!
编织小珠项链,编织曾经的美好。 来自原创钉子户在堆糖网的分享
As soon as Lauren and I saw this editorial in Flare Magazine, we knew we had to recreate these awesome, friendship bracelet-like necklaces. We promise they are super easy to make and the perfect way to pass the time during those long summer roadtrips. To make a 2-tone necklace, cut a long piece of rope and wrap two different colors of embroidery thread around its own bobbin. Tie a starter knot along with the two colored threads you are using, leaving at least 3 inches of slack, Tape down the slack to a flat surface or safety pin it something that will help keep it in place (feeling nostalgic yet?). Lay the color that isn't being used (shown here in purple) in your left hand, along with the rope, and hold them taut.
Erica and Lauren are a designer and stylist who always have our crafting fingers itching to recreate the fun and easy DIY projects posted on their blog, Honestly...WTF. For Valentine's Day, they volunteered to show us how to make an organic DIY gift you can give to anyone (or stash away for yourself!): "Happy Valentines Day! Did you know that if you cut into a walnut you get a perfect heart?
Ruffle Necklace
It's GMAT weekend, and what am I doing? Meeting an etsy customer at starbucks...and crafting. Judge me. So I've been seeing this Anthropologie inspired necklace around…and decided I MUST have it. Well, more like "I must MAKE that!" Ready for a tutorial?!
DIY: Geometric Pendant
Collection of unusual and creative necklaces that will look great on your neck and get you noticed. Bicycle Necklace Stylish bicycle shaped necklaces designed by Rachel Pfeffer. [link] Ice Necklace