Bebidas
Fancy Pink Lemonade Jello Shots. Like my cake pops, my fancy jello shots are no stranger to this blog.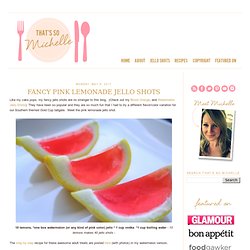 (Check out my Blood Orange, and Watermelon Jello Shots) They have been so popular and they are so much fun that I had to try a different flavor/color variation for our Southern themed Gold Cup tailgate. Meet the pink lemonade jello shot. 10 lemons, *one box watermelon (or any kind of pink color) jello * 1 cup vodka *1 cup boiling water - 10 lemons makes 40 jello shots - Classic Orange Julius. Orange Julius' have been part of my life for forever, really.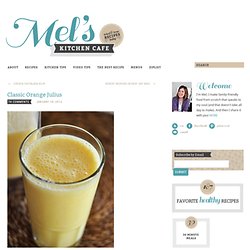 My older sister made them for us all the time growing up and over the years, we must have consumed gallons and gallons of the frothy, orange, cool and creamy mixture. My kids, thanks to their inherent Orange-Julius-loving genes, also love the classic combination and our entire family's adoration has been rejuvenated since our newest family member, the Blendtec, came to join us. A popular after-school snack around here, the Orange Julius can be made in any kind of blender, Blendtec or not, and the lovable and classic flavors always seem to please my kids (and of course myself).
Enjoyed year round, everyone needs a recipe for the classic Orange Julius in their repertoire, if you ask me! Reese's Peanut Butter Cup Martini. Reese's Peanut Butter cups happen to be quite a commodity in our household.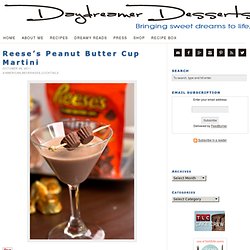 And, for some very strange reason their value seems to increase exponentially during Halloween. Thanks to my careful and thoughtful planning I invested in a small Reese's Peanut Butter hedge fund anticipating their upcoming increase. Which has allowed me to prepare such a delightful cocktail during the height of trick-or-treating season. Drink. I love lemonade in the summer!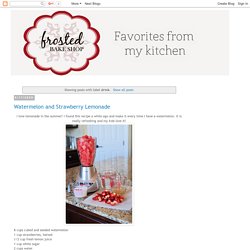 I found this recipe a while ago and make it every time I have a watermelon. It is really refreshing and my kids love it! 8 cups cubed and seeded watermelon 1 cup strawberries, halved 1/2 cup fresh lemon juice. Basil Lemonade. I hereby declare this week Basil Week.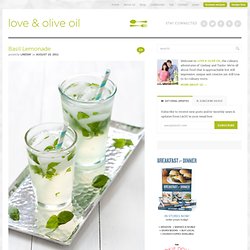 And when you see what I've got in store for the rest of the week you'll see why. Granted, it was a completely unintentional coincidence. Maybe I was having a subconscious butter rebellion during my first weekend cooking for myself and not for an editor, but basil was the center of my attention. No less than four of my culinary projects involved the bright summer herb. Watermelon Lemonade — Delish. This week was my turn to host Project Pastry Queen.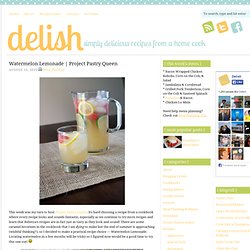 Its hard choosing a recipe from a cookbook where every recipe looks and sounds fantastic, especially as we continue to try more recipes and learn that Rebecca's recipes are in fact just as tasty as they look and sound! There are some caramel brownies in the cookbook that I am dying to make but the end of summer is approaching (wishful thinking?)
---