1
Photo 18- I Spy DIY Shows Us How To Make The Coolest Chain Bracelet, Ever. It's no secret that we R29-ers love dreaming up amazing new DIY projects, whether it's a unique new mani, printed kicks, or spiced-up headphones.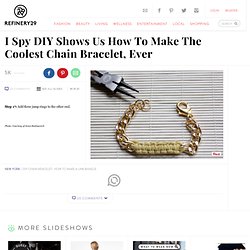 But, when it comes to searching for new inspiration, even self-proclaimed connoisseurs like us need to defer to the true DIY experts from time to time. So, we teamed up with the queen of all things crafty, Jenni Radosevich of I Spy DIY, to bring you this amazing step-by-step of one of our favorite arm party revelers, the chain bracelet. And, you don't need to be a full-on expert like Jenni to perfect this accessory — thanks to her oh-so-helpful tutorial, even the least crafty of us can become Martha Stewarts. Diy: washers & macrame. This week's diy is inspired by the twosome bracelet from anthro, the one with flat discs. it is a super simple bracelet to make and it cost me maybe 3 to 5 dollars to make total. full on diy after le-jump. supplies i used: glue, i love 527 glue & use it often. i already had this in my supply box, but i suppose krazy glue or some other type would work just fine. washers. i bought a little box from home depot. i didn't get the smallest size, which resulted in a chunkier bracelet. there are tiny washers out there if you want a daintier bracelet. waxed cotton cord. i had chocolate brown in my arsenal, but i really love bold colors too. pick whatever size you think would compliment your washers. you only need two strands to fit through the washers, if that helps. hemp, linen, or bamboo cord would work well too. oh, & scissors.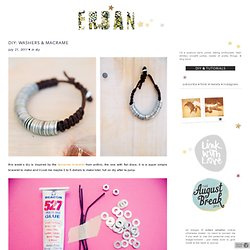 Spread the love: heart pattern friendship bracelets « la manufacture. Growing up, I spent countless hours making colorful friendship bracelets.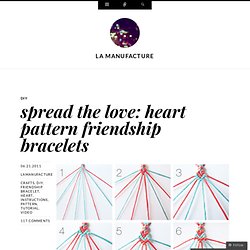 Their resurgence prompted me to rediscover this summer pastime. Here are instructions for one of my favorite patterns – hearts! You will need embroidery thread in two colors. DIY Woven Chain Bracelet. Chain link bracelets, with colorful threads woven through them, have been popping up here and there.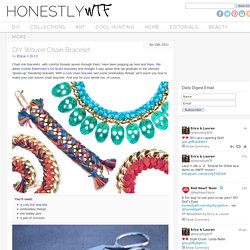 We adore Aurèlie Bidermann's Do Brazil bracelets and thought it was about time we graduate to the ultimate "grown-up" friendship bracelet. With a curb chain bracelet and some embroidery thread, we'll teach you how to make your own woven chain bracelet. And one for your bestie too, of course. How to make wrapped leather bracelets « Rings and Things. Triple-wrap leather bracelet with blue tigereye beads Let me begin by stating the obvious – this style of wrapped leather bracelet is EVERYWHERE this season.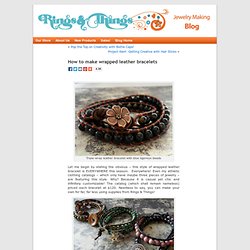 Everywhere! Even my athletic clothing catalogs – which only have maybe three pieces of jewelry – are featuring this style. Why? How to make a toothbrush bracelet. Diy clay bangles. I have a bangle obsession...and I have a deep love for polymer clay.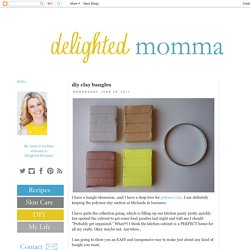 I am definitely keeping the polymer clay section at Michaels in business. I have quite the collection going, which is filling up our kitchen panty pretty quickly. Ian opened the cabinet to get some food goodies last night and told me I should "Probably get organized. " What?!! How To Make A Beaded Bracelet On A Cardboard Box Loom. Love as we know it. DIY Macrame Bracelet. Sliding Knot Instructions. I just love this necklace finishing technique.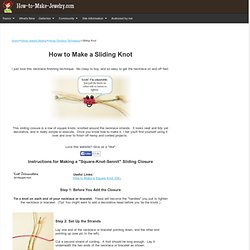 No clasp to buy, and so easy to get the necklace on and off fast. This sliding closure is a row of square knots knotted around the necklace strands. Michael ann made.: woven friendship bracelet tutorial. I love the summer friendship bracelet trend that i keep seeing in blog land, so i thought it would be fun to share with you another way to weave a friendship bracelet. one of the parents at work showed me this technique of using a circular cardboard loom and i love how quick it goes, you can easily finish a bracelet in one sitting. - cardboard - something small and circular (like a teacup or ramekin) - scissors, ruler, pen - embroidery thread in pretty colors , thin yarn, or ribbon trace a circle onto your cardboard, and use a ruler to draw 8 lines.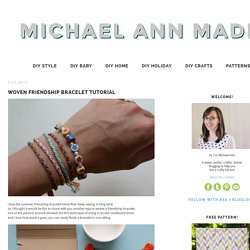 DIY Luv Aj Handpiece. When the lovely Amanda Thomas of Luv Aj offered to show us how to DIY her signature handpiece, we were ecstatic!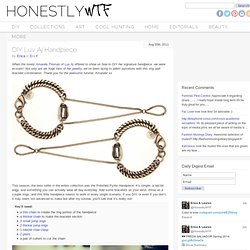 Not only are we huge fans of her jewelry, we've been dying to adorn ourselves with this ring and bracelet combination. Thank you for the awesome tutorial, Amanda! Xx. DIY Braided Bead Bracelet. It's been awhile since our last bracelet DIY.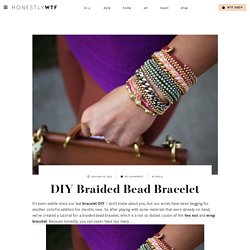 I don't know about you, but our wrists have been begging for another colorful addition for months now. So after playing with some materials that were already on hand, we've created a tutorial for a braided bead bracelet, which is a not so distant cousin of the hex nut and wrap bracelet. Because honestly, you can never have too many . . . {macramé: square knot} string & hexnut bracelet. By Kate on September 13, 2011 This bracelet has been inspired by this really wonderful "Braided Hex-nut Bracelet" tutorial which I pinned on Pinterest a while back. Two things I absolutely love about this project are:
---