Innovation
Un vélo en carton qui peut être construit pour moins de $15 | MonPetitBiz
This is the third part in a series by Scott Anthony, author of The Little Black Book Of Innovation. It sounds so seductive: a "culture of innovation." The three words immediately conjure up images of innovation savants like 3M, Pixar, Apple, and Google--the sorts of places where innovation isn't an unnatural act, but part of the very fabric of a company. It seems a panacea to many companies that struggle with innovation. But what exactly is a culture of innovation, and how does a company build it?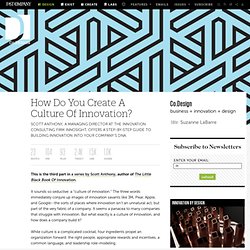 La innovación y el emprendimiento social se abren espacio en la industria chilena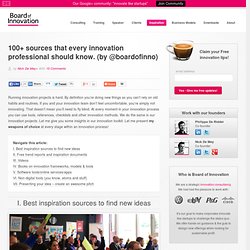 Running innovation projects is hard. By definition you're doing new things so you can't rely on old habits and routines. If you and your innovation team don't feel uncomfortable, you're simply not innovating. That doesn't mean you'll need to fly blind. At every moment in your innovation process you can use tools, references, checklists and other innovation methods.
ESSEC News - Issue #2 - Innovating@ESSEC
ViewChange: Unleashing Innovation
You've probably played a game on an iPhone and you've probably built something using Legos. But have you done both simultaneously? Lego has expanded into the world of mobile gaming with its game Life of George, that has you build Lego structures using real-world blocks. The game is the first fully-integrated digital-to-physical game from Lego, and follows the exploits of George, "a software developer by day and adventurer by night" through his travels to places like Hawaii and New York.
Lego's Life of George Is a iPhone Game That Uses Real Legos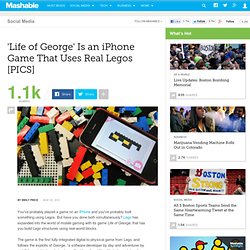 Jerry at InnovAfrica by Romain Chanouille on Prezi
A Small Businessman's Guide To Innovating Like The Pros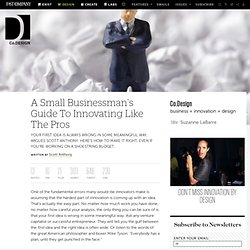 One of the fundamental errors many would-be innovators make is assuming that the hardest part of innovation is coming up with an idea. That's actually the easy part. No matter how much work you have done, no matter how careful your analysis, the only thing you can be sure of is that your first idea is wrong in some meaningful way. Ask any venture capitalist or successful entrepreneur.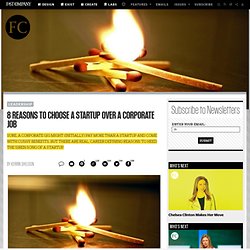 8 Reasons To Choose A Startup Over A Corporate Job
You've graduated from college, diploma in hand (or in the mail), and you have a couple of job offers on the table. Other than being one of the lucky graduates in a weak economy, you have a choice to make. On one hand is a high-paying entry level position at a reputable brand in your field. On the other hand is a job offer from a small startup that is just kicking off. You've seen their product, believe in their mission, and like their approach, but aren't sure you want to take on the risk of working at a startup. You're leaning toward that corporate job and good pay with nice benefits.
Why the future is Latin American: David Lloyd on CNN - Start-Up Chile – Entrepreneurs Welcome!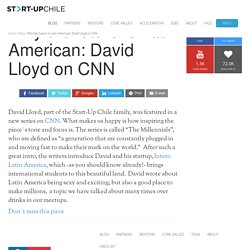 David Lloyd, part of the Start-Up Chile family, was featured in a new series on CNN .
WOW! WE MADE IT! Thank you to all who have backed, loved, shared and pretty much anything of this campaign! We love you. We really, really love you. What do pirates, terrorists, computer hackers, and inner city gangs have in common with Silicon Valley?
Documenting the Misfit Economy by Alexa Clay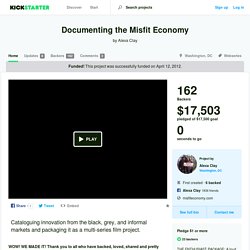 Innovation on the fringe