Books
Banned Books Week: Slaying Censorship. Credit: Heather Wolpert-Gawron I am an avid celebrator of Banned Books Week.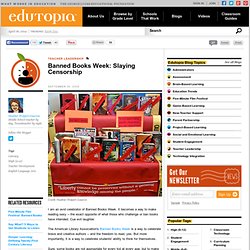 It becomes a way to make reading sexy -- the exact opposite of what those who challenge or ban books have intended. Cue evil laughter. A Big List of 375 Free eBooks for Your iPad, Kindle, Nook and Other Devices. 20 Websites To Download Free EBooks (Part III) And we're back with Part 3!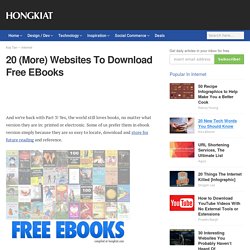 Yes, the world still loves books, no matter what version they are in: printed or electronic. Some of us prefer them in ebook version simply because they are so easy to locate, download and store for future reading and reference. In this list you can download free ebooks that range from Romance to Horror, Sci-fi to Historical Fiction. They are also available in PDF, text, doc and the crowd's favorite ePub version. Without further ado, let's take a look at 20 additional places you can download free ebooks from. The Chronicles of Narnia - Ancient Faith Radio.
Dystopia. The Classic, Beautiful and Controversial Books That Changed Science Forever | Wired Science. Without the work of intellectual giants like Einstein, Newton and Darwin, we might still be in the dark ages.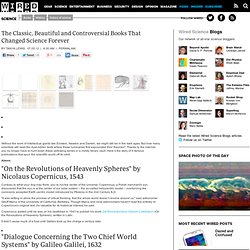 But how many scientists still read the dust-ridden texts where these luminaries first expounded their theories? Thanks to the internet, you no longer have to hunt down these yellowing tomes in a moldy library vault. Here's the story of 9 famous publications that spun the scientific world off its orbit.Above:"On the Revolutions of Heavenly Spheres" by Nicolaus Copernicus, 1543Contrary to what your dog may think, you're not the center of the universe. Copernicus, a Polish merchant's son, discovered that the sun is at the center of our solar system – the so-called heliocentric model – overturning the commonly accepted Earth-centric model introduced by Ptolemy in the 2nd Century A.D. " Sci-Fi Lists - Top 100 Sci-Fi Books. FullBooks.com - Thousands of Full-Text Free Books. Whichbook | A new way of choosing what to read next. Spaghetti Book Club - Book Reviews by Kids for Kids!
---