Feminist reads
Raising My Boychick | Parenting, privilege, and rethinking the norm. Being "privileged" doesn't mean your life is rosy. This is a guest post from Sparky, of Spark in Darkness.
Many of you are familiar with him from Livejournal, as well as from his insightful and often hilarious commentary here. Each Tuesday, Womanist Musings will be featuring a post from Sparky. I generally avoid 101 conversations on Womanist Musings, or for that matter, on sparkindarkness. Womanist Musings. Autostraddle. The Bono-ization of Activism. Brigid Delaney, CNN, October 12, 2007 Naomi Klein's 2000 book No Logo galvanized a generation to resist the lure of brands and corporatization.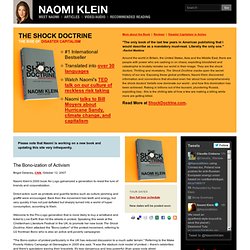 Direct action such as protests and guerilla tactics such as culture jamming and graffiti were encouraged. Back then the movement had teeth and energy, but very quickly it has not just deflated but sharply turned into a world of hyper consumption, according to Klein. Welcome to the Pro-Logo generation that is more likely to buy a wristband and ticket to Live Earth than hit the streets in protest.
---