Ebook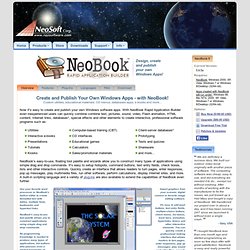 Now it's easy to create and publish your own Windows software apps. With NeoBook Rapid Application Builder even inexperienced users can quickly combine combine text, pictures, sound, video, Flash animation, HTML content, Internet links, databases*, special effects and other elements to create interactive, professional software programs such as: NeoBook's easy-to-use, floating tool palette and wizards allow you to construct many types of applications using simple drag and drop commands.
NeoBook Rapid Application Builder - Overview
Getting started Welcome! You'll probably want to start with: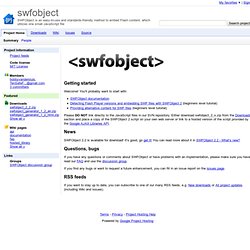 ClickTAG swf embed code generator | BannerSnack blog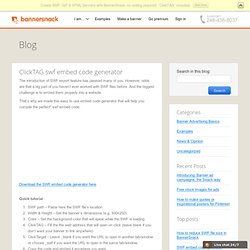 The introduction of SWF export feature has pleased many of you. However, odds are that a big part of you haven't ever worked with SWF files before. And the biggest challenge is to embed them properly into a website.
ebook template sigil
Creating a Master ebook template -- Convert Manuscirpt to clean HTML -- part 8
Produzir e-book com software livre.
Adding Images to an ebook using SIGIL (version 4.9 and lower)
How to Self Publish to Amazon KDP (Kindle Direct Publishing) Program - Part 1
How to embed a video to your ebook
Broadcast Yourself
How to embed a video to your ebook
How To Embed SWF, FLV, & MP4 Videos In A Web Page
Manual de HTML
Open Office - Uma experiência de Utilizador: Folha de rosto no mesmo documento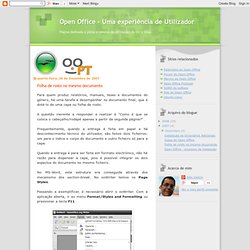 Para quem produz relatórios, manuais, teses e documentos do género, há uma tarefa a desempenhar no documento final, que é dotá-lo de uma capa ou folha de rosto. A questão inerente a responder e realizar é "Como é que se coloca o cabeçalho/rodapé apenas a partir da segunda página?" . Frequentemente, quando a entrega é feita em papel e há desconhecimento técnico do utilizador, são feitos dois ficheiros: um para o índice e corpo do documento e outro ficheiro só para a capa. Quando a entrega é para ser feita em formato electrónico, não há razão para dispensar a capa, pois é possível integrar os dois aspectos do documento no mesmo ficheiro. No MS-Word, esta estrutura era conseguida através dos mecanismo dos section-break.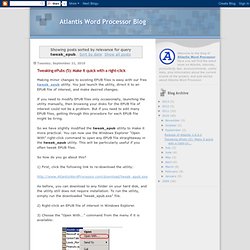 Atlantis Word Processor Blog: Search results for tweak_epub
Did you know that any eBook in the EPUB format is just a ZIP file but with the .epub file extension? EPUBs normally contain multiple files in different formats: XHTML, XML, JPG, etc. If you rename any .epub file to .zip, you can open it in any file compression software.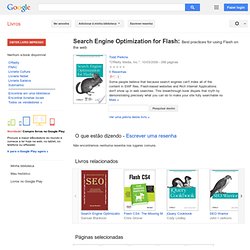 Search Engine Optimization for Flash: Best Practices for Using Flash on the Web - Todd Perkins
Some people believe that because search engines can't index all of the content in SWF files, Flash-based websites and Rich Internet Applications don't show up in web searches. This breakthrough book dispels that myth by demonstrating precisely what you can do to make your site fully searchable no matter how much Flash it contains. You'll learn best practices for using HTML, CSS, and JavaScript to build sites with Flash that will stand tall in search rankings. Search Engine Optimization for Flash shows you how search engines work, what constitutes a search-engine-optimized (SEO) site, and what to watch out for in the way of SEO pitfalls.
This project has moved to GitHub! EpubCheck is a tool to validate IDPF EPUB files, version 2.0 and later. It can detect many types of errors in EPUB. OCF container structure, OPF and OPS mark-up, and internal reference consistency are checked.
epubcheck - Validation tool for EPUB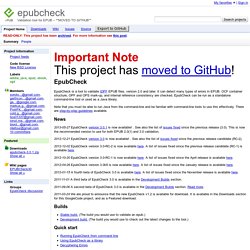 Monografia com o OpenOffice: Estilos de Parágrafo e Página « Biological Warfare
Normalizar uma monografia é uma das coisas mais trabalhosas que já vi alguém fazendo. Geralmente passa-se 40% do tempo escrevendo texto e os outros 60% formatando. Há quem pague para outra pessoa fazer isso e conheço quem ganhe a vida assim.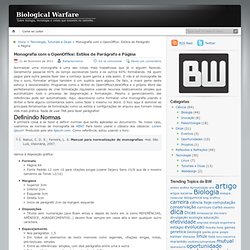 eBook Creator
Microsoft Word Add-in Version 2.5.5.1 for Word 2003, 2007 and Word 2010 (December 2011)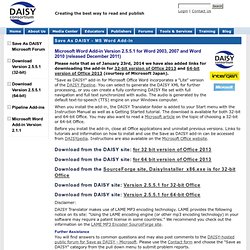 Save as DAISY - Microsoft Word Add-In | DAISY Consortium
Welcome to Amazon's Kindle Direct Publishing Publish your books independently with Kindle Direct Publishing (KDP) on the Amazon Kindle Store. Here's how you benefit: Keep control. Make changes to your book at any time.
Kindle Direct Publishing: Self-publish to Amazon's Kindle Store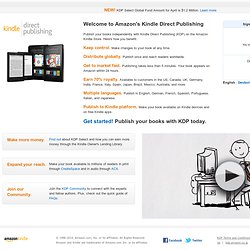 amazon
Kindle Cloud Reader
Yes you can list your ebooks there, but they take high fees, have low paying affiliate programs, and own your customer and prospect list.
Sell - My eBook Master