SocialMedia
Etude Yahoo! - Brand Content : quels nouveaux enjeux pour les marques ?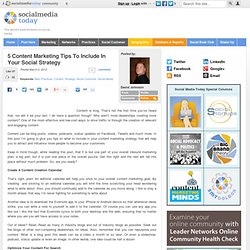 5 Content Marketing Tips To Include In Your Social Strategy
Content is king. That's not the first time you've heard that, nor will it be your last. I do have a question though" Why aren't more dealerships creating more content? One of the most effective and low-cost ways to drive traffic is through the creation of relevant and engaging content. Content can be blog posts, videos, podcasts, status updates on Facebook, Tweets and much more. In this post I'm going to give you tips on what to include in your content marketing strategy that will help you to attract and influence more people to become your customers.
Editor's note: A version of this article previously appeared at KISSmetrics.com. Social media is everywhere. It's in our homes, places of worship, schools and, of course, our businesses. Everywhere you look, people are using social media and are talking about it. And it seems that every week a new type of social site pops up. And as the number of social networking sites grows, so does the number of services that are created to measure, track and monitor those services.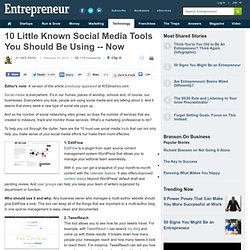 Fill your lead funnel through content marketing!Content is a critical component of great B2B marketing today. Content can help position your organization as thought leaders, nurture prospects over time, and best of all, it can generate high-quality leads, too. Without any further adieu, here are 7 ways to generate high-quality leads with content marketing. 1. Create content that attracts your best prospects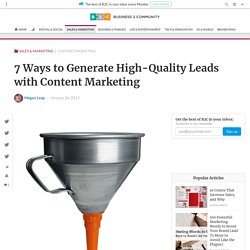 7 Ways to Generate High-Quality Leads with Content Marketing
Ya he comentado en varios de mis posts la necesidad de crear una página de Bienvenida en tu página de fans de Facebook donde recibamos a nuestros visitantes, y también he hablado de aplicaciones para ello, pero hoy quiero ir un paso más allá y hablaros de ThingLink, una aplicación para Facebook que te permitirá crear páginas de bienvenida interactivas. El funcionamiento consiste en añadir sobre distintas zonas de una imagen puntos de enlace linkados a url´s externas tu perfil en Linkedin, tu aplicación en el Apple Store, a una tienda online o aquello que más te interese, de tal manera que puedas usarlo para derivar tráfico a dónde quieras.
ThingLink, Aplicación para Crear Páginas de Bienvenida Interactivas en Facebook
10 Little Known Social Media Tools You Should Be Using -- Now
El Marketing de contenidos, clave para las empresas que buscan aumentar su visibilidad y notoriedad como marca
Los datos son sin duda significativos. Informes como el de Social Media Examiner revelan que 72% de los empresas y comerciantes que mantienen una presencia activa en los medios y redes sociales afirman la generación de información y contenidos a través de dichos canales les ha ayudado a conseguir aumentar sus ventas, lo que demuestra la importancia de las estrategias de Social Media Marketing para los objetivos comerciales de las marcas. Estudios relacionados como el desarrollado por HiveFire pone de relieve que las estrategias basadas en marketing de contenidos son ya una prioritaria entre el 82% de las empresas. Sin duda el contenido es el principal combustible para conseguir generar involucrar a los fans y seguidores de las marcas en las redes sociales, aumentando con ello el número de conversaciones entorno a las empresas y marcas o sus productos.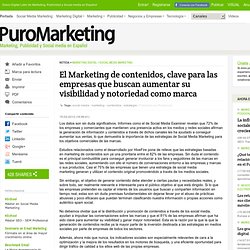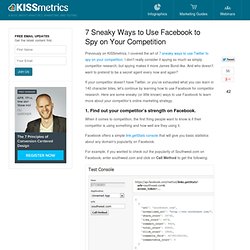 Previously on KISSmetrics, I covered the art of 7 sneaky ways to use Twitter to spy on your competition. I don't really consider it spying so much as simply competitor research, but spying makes it more James Bond-like. And who doesn't want to pretend to be a secret agent every now and again? If your competitor doesn't have Twitter, or you've exhausted what you can learn in 140 character bites, let's continue by learning how to use Facebook for competitor research. Here are some sneaky (or little known) ways to use Facebook to learn more about your competitor's online marketing strategy. 1.
7 Sneaky Ways to Use Facebook to Spy on Your Competition
This post originally appeared on the American Express OPEN Forum, where Mashable regularly contributes articles about leveraging social media and technology in small business. In honor of Community Manager Appreciation Day on Jan. 23, we asked several leaders in community management about the apps and tools they swear by for their social media management. Whether it's filtering through mass amounts of content, managing a project or professionally presenting a company, community managers provide and mediate communications both inside and outside of the business.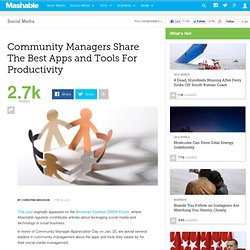 Community Managers Share The Best Apps and Tools For Productivity
Los 9 campos de interacción del usuario con tu contenido -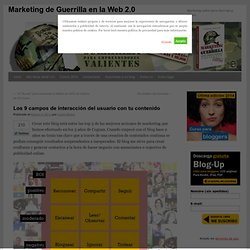 Crear este blog está entre las top 3 de las mejores acciones de marketing que hemos efectuado en los 3 años de Coguan. Cuando empecé con el blog hace 2 años no tenía tan claro que a través de una creación de contenidos continua se podían conseguir resultados sorprendentes e inesperados. El blog me sirve para crear confianza y generar contactos a la hora de hacer negocio con anunciantes o soportes de publicidad online. El marketing de contenidos es uno de los campos del marketing online que en el 2012 seguirá estableciéndose como herramienta importante de canal de ventas de empresas. Organizaciones conocidas en el pasado como más bien conservadoras como Telefónica, Correos, QDQ o IESE ya han descubierto la creación de contenidos como una clave para promocionar productos y servicios con un marketing indirecto.
Content marketing was a top priority for businesses in 2011, and it is going to remain so in 2012. That's according to a study conducted by the Content Marketing Institute, a marketing education and research company. In the past year, marketers distributed more business-to-business content on YouTube, LinkedIn, Facebook and Twitter than ever, according to CMI.
Marketers Who Share Content Drive Traffic, Gain Customers [INFOGRAPHIC]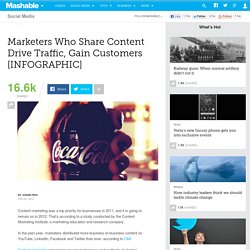 Par Valentin le 6-02-2012 / Réseaux Sociaux / 1 commentaire Obtenir des clics sur les liens que contiennent nos tweets auprès de nos followers est un vrai défi sur Twitter. Si vous mesurez les clics sur vos liens twitter, vous devez certainement vous en être rendu compte: une grande partie est ignorée! Souvent, nos tweets sont envoyés et ne sont pas aussi populaires que nous le souhaiterions. Il existe pourtant quelques bonnes pratiques à appliquer sur Twitter pour maximiser le nombre de clics sur vos tweets et ainsi obtenir un CTR supérieur sur twitter (Click Through Rate = Nombre de clics / Nombre de followers).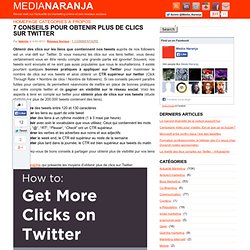 7 conseils pour obtenir plus de clics sur twitter
9 Free Tools For Link Discovery & Content Creation
Every day it seems that there's a new tool out there to monitor, measure, track, and suggest what we should be doing. Many of these are free or offer free trials, which I love, but finding the time to test out a new tool in order to see if it suits you isn't always easy. My objective in using these tools is, of course, building links, so I'll go over the tools that I use and show you how I'd use them.
25 razones por las que Google odia tu blog
Contenidos interesantes, un nicho adecuado de mercado y una buena red de conexiones son tres ingredientes clave para el éxito de los blogs. Pero para triunfar en la red, las bitácoras deben ser también lo más amigas posible de Google. De lo contrario, el gigante de internet las condenará inevitablemente al ostracismo. Y lo hará por las siguientes 25 motivos que Belinda Weaver expone a continuación en ProBlogger: 1. No sabes qué palabras clave utiliza tu público objetivo.
Las consecuencias de una reputación online mal gestionada pueden ser irreparables
A pesar de los enormes esfuerzos que hemos realizado para establecer la influencia como una "disciplina creíble", todavía es muy habitual encontrar marcas y microemprendedores que se dejan en el camino, conceptos primordiales de la gestión de la reputación. Las consecuencias de una reputación mal gestionada, pueden ser lamentables e incluso irreparables. Cualquier acción realizada en la red se transforma de inmediato en pública. Esta premisa que parece simple no lo es, porque además de ser inmediatamente visible, cada uno de nuestros actos va construyendo nuestro branding, personal o de empresa. Es realmente importante tomar conciencia de la importancia de prestar atención a todo lo que publicamos online. ¡Nos están mirando, siempre!
De las 30 predicciones para el Social Media en 2012 hechas por gurús, me quedo con 3 que son las que afectan a los copys. 1# Subcontrataremos la creación de contenidos, según Nichole Kelly fundadora de FullFrontalROI.com El social media ya no es algo extraño en las empresas, de las más pequeñas a las más grandes, quien más quien menos tiene una cuenta de Facebook, un blog, Twitter… Y todo ello necesita de contenidos de calidad para sobrevivir y sobre todo, para conseguir fidelizar y captar nuevos clientes. Las empresas ya tienen conciencia de lo necesaria que es la estrategia de contenidos a día de hoy y por eso, 2012, será un año para subcontratar los contenidos, contenidos de calidad a profesionales del medio, ¡nosotros los copys! 2# Crearemos contenidos de forma regular, según Howes Lewis co-autor de LinkedWorking y fundador de sportsnetworker.com Crear contenido único será imprescindible si quieres seguir atrayendo y enamorando a tus clientes.
3 predicciones para el 2012: bienvenida estrategia de contenidos | Vida de una copy
Medios, empresas y marcas se transforman. Lo 'social' manda!
2012 se presenta más que como un año de novedades, un año donde muchas de las nuevas tendencias serán consolidadas. Sin duda, la primera candidata de estas tendencias y la que mayor crecimiento comenzó a experimentar en el tramo final del pasado año es la proliferación de la 'Televisión social', que como muchos ya conoceremos ha comenzado fuerte a través de elementos sociales que permitan a la audiencia interactuar comentando, votando, etc.. en los shows y programas en directo, pero que promete seguir creciendo a medida que se pretenda mantener a los usuarios comprometidos, especialmente en los debates, tertulias y canales de noticias. La segunda es la Televisión conectada.
Claves del Social media Marketing: En busca de la Influencia a través del Contenido
Los botones sociales y el correo electrónico, un tándem altamente efectivo
El Blog de FACTURAgem » Archivo del weblog » Utilidades de Twitter para las PYMES
5 successful Twitter marketing campaigns you should know about
6 millions de Français sont fans de marques sur Facebook
Cómo obtener followers y retweets cuando lanzas un post -
Build Your Social Media Schedule For 2012
Un estudiante fuerza a Facebook a mejorar la privacidad · ELPAÍS.com
Twitter Has 100 Million Monthly Active Users; 50% Log In Every Day
J'ai trouvé la clef des médias sociaux ...L'Authenticité