Online Games
Description You have to aid Doodle Devil in destruction of everything. Stay updated with both games, there are many new things we will add to them! You've already created a whole Universe from the four basic elements and you don't know what to do next?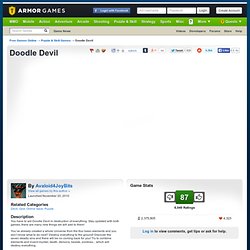 The Kingdom of Loathing
A Very Special Message from Jick: As the number of KoL players increases, so does the cost of hosting. I very much want to keep the game free, so please consider supporting the development and maintenance of the Kingdom by donating (once you're logged in...) or picking up some groovy merchandise from our Store . With a donation of 10 dollars or more, you'll receive a snazzy gift! Check the donate page (accessible from your top menu after you've logged in) for details.
Virtual Bubblewrap - Pop Now! Pop bubble wrap online - since 1996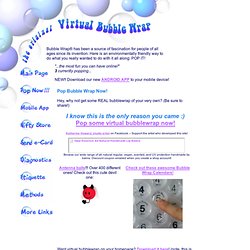 "...the most fun you can have online!" 8 currently popping...
Play The Eyeballing Game - TubeGame.com
Description Doodle God puts the power of creation in your hands. Mixing and matching different elements, work your way up, all the way from bacteria and beetles, to clay and ceramics, to tools, weapons and beyond!