Toute la musique que j'aime (enfin presque...)
Tablature, Partition, Guitare et Basse : tout pour la musique. Scream For Me - The Official Bruce Dickinson Site. Bruce Dickinson - The Tower (Live) Alive - Bruce Dickinson - Listen for free on Deezer. The Chemical Wedding - Bruce Dickinson - Listen for free on Deezer. Bruce Dickinson - Tears of the Dragon live. METAL RULES. Below are what we, the staff of Metal-Rules.com, have collectively decided are the best and most influential heavy metal albums of all time.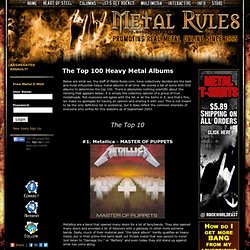 We scored a list of some 400-500 albums to determine the top 100. There is absolutely nothing scientific about the ranking that appears below; it is simply the collective opinion of a group of true metalheads. Not everyone will agree with the list or all the items in it, and that's fine, we make no apologies for having an opinion and sharing it with you! This is not meant to be the only definitive list in existence, but it does reflect the common interests of everyone who writes for this webzine as of September 2003.
Spirit of Metal webzine : bands, albums reviews, interviews, liv. RADIO METAL. Seigneurs Du Métal. Symphony X Official Website. Iconoclast - Symphony X - Listen for free on Deezer. Symphony X - Set The World On Fire. Prophetic and poetic: in praise of heavy metal | From the Guardian. Read Coleridge!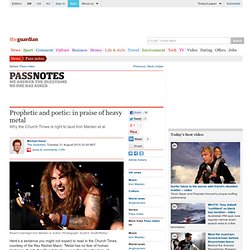 Iron Maiden in action. Photograph: Scott D. Smith/Retna Here's a sentence you might not expect to read in the Church Times, courtesy of the Rev Rachel Mann: "Metal has no fear of human darkness. It calls the Church to discover a liberative theology of darkness: darkness not understood as negative, but as a place of possibility. " Megadeth. Megadeth - Holy Wars...The Punishment Due (Live Sofia - Big Four Concert) HD Mirror. Megadeth - Tornado Of Souls [Live - San Diego]
Megadeth - 07 - Symphony of Destruction LIVE @Download 2007. Vie moderne, Radio Classique : écouter de la musique classique, podcasts, actualités politiques et économiques, acheter et télécharger de la musique classique, actualité des concerts, billetterie. Ouverture to Der Freischütz. Mozart. Requiem K 626 Introitus. Sir Georg Solti. Dvorak - Symphony No. 9 From the New World - 4th movement. The Official Bootleg Box Set - UFO - Listen for free on Deezer.
METALLICA.com. Metallica - Disposable Heroes (Live 1985) Metallica - Blackened (Seattle `89) Metallica - The Four Horsemen(Live from Seattle 1989) Dark Lyrics - metal lyrics archive. Iron Maiden Official Website. | The Iron Maiden Commentary | Iron Maiden - Aces High (Live After Death) Dance Of Death Iron Maiden Death On The Road. The Wicker Man - Iron Maiden @ Rock In Rio. Iron Maiden - Running Free (Live at Ullevi)
---