Slow design
Platform 21 - Platform21 = Repairing
In the hope of spurring a reappraisal of repair, Platform21 wrote and published a manifesto describing the benefits of fixing things and calling upon designers and consumers to break the chain of throwaway thinking. Throwaway thinking, a culture in itself almost, is designed to cater to short term needs of both industry, politics and society. But by being very successful at short term effects it has lost track of the innumerable and rich possibilities that lie ahead if durable notions of design in general, and repair especially, are reconsidered and implemented.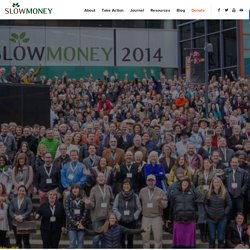 Thousands of Americans have begun affirming a new direction for the economy. It's called Slow Money. Inspired by the vision of Inquiries into the Nature of Slow Money: Investing As If Food, Farms and Fertility Mattered, published in 2009, the Slow Money Alliance is bringing people together around a new conversation about money that is too fast, about finance that is disconnected from people and place, about how we can begin fixing our economy from the ground up... starting with food.
Slow Money: Investment strategies appropriate to the realities of the 21st century - Home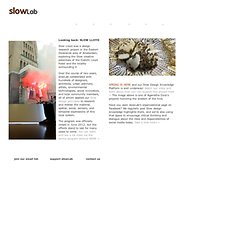 Slow Lloyd was a design research project in the Eastern Docklands area of Amsterdam, exploring the Slow creative potentials of the historic Lloyd Hotel and the locality surrounding it. Over the course of two years, slowLab collaborated with hundreds of designers, architects, urban planners, artists, environmental technologists, social innovators, and local community members, all of whom applied our Slow design principles to research and redraw the material, spatial, social, sensory, and temporal expressions of this local system. The program was officially closed in June 2012, but the effects stand to last for many years to come. You can learn and see a lot more via the online program archive HERE >
slowLab > slow design laboratory
Zora la fée design
pencil crayon jewelry by Maria Cristina Bellucci
Bellucci, Maria Cristina jewelry design unique handmade jewelry images jewelers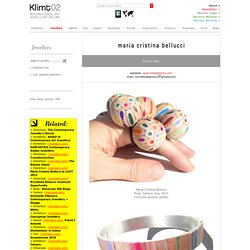 Maria Cristina BellucciBracelet: 12 bracelet ball, 2012Colored pencils Maria Cristina BellucciNecklace: 12 neck 4, 2012Colored pencils Maria Cristina BellucciBracelet: 12 bracelet 2, 2012Coloured pencils Maria Cristina BellucciBracelet: 12 bracelet 5, 2012Coloured pencils Maria Cristina BellucciNecklace: 12 necklace 2, 2012Coloured pencils
MCB Jewellery
La Déco Eco-design - OrSériE - Le journal du Beau & du Bien-être
Name: Stephan Schulz Born: Schwerin, 1983 Studies: 2003-2009 Industrial Design, Burg Giebichenstein, Halle 2007-2008 Erasmus studies at the Design Academy Eindhoven Internships: 2008 Bellini Design Studio, Milan Products: Stellvertreter for Nils Holger Moormann, Aschau im Chiemgau Concrete bowl series "frisch ausgeschalt" for Betoniu, Leipzig Stephan Schulz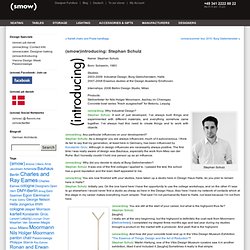 Blog » Blog Archive » (smow)introducing: Stephan Schulz
KOCX Ontwerpen | Limited Edition
Jongeriuslab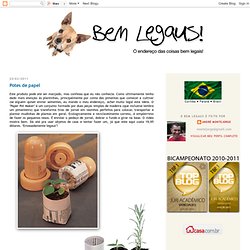 Potes de papel
Este produto pode até ser manjado, mas confesso que eu não conhecia. Como ultimamente tenho dado mais atenção às plantinhas, principalmente por conta das pimentas que comecei a cultivar (se alguém quiser enviar sementes, eu mando o meu endereço), achei muito legal esta ideia. O "Paper Pot Maker" é um conjunto formado por duas peças simples de madeira (que inclusive lembra um pimenteiro) que transforma tiras de jornal em vasinhos perfeitos para colocar, transportar e plantar mudinhas de plantas em geral. Ecologicamente e reciclavelmente correto, é simplérrimo de fazer os pequenos vasos. É enrolar o pedaço de jornal, dobrar o fundo e girar na base.
Some Work by Liliana Ovalle
Vera Thinks of Boxes is part of the second collection of objects commissioned by Vera, a project orchestrated by Kirsty Minns and Érika Muller (KM and ÉM) which evolves around a fictional character inspired by a series of found photographs. A group of artist and designers were commissioned to respond to one photo in order to expand Vera's material and sensorial world, contributing to the second chapter of her collective ficitonal biography. The collectionVera Chapter Two was presented at the Brompton Design District during the London Design Festival, and more recently at Biennale Interieur 2012 in Kortrijk, Belgium. More about Vera's boxes.... View Press Release...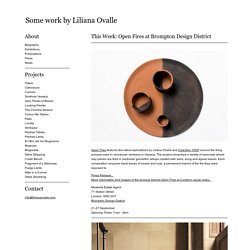 COTTONMONSTER.COM
Camille Soulayrol - styliste auteur créatrice d'images
Products – Recreate
Kotik: Jewelry Made From Packaging
Bic Chandelier
Midge's Mind
Deconstructed Barbie and Ken jewelry
reestore - contemporary eco design
Banc inspiration Viennetta par Floris Wubben http://www.blog-espritdesign.com/artiste-designer/design/banc-inspiration-viennetta-par-floris-wubben-5404 Floris Wubben, designer hollandais nous présente sa dernière création nommée « No.3 Bench« , véritable rencontre entre la nature et la modernité. Un banc sculptural, une feuille de polypropylène ondulé reposant une une branche naturellement brute le tout fixé par des tiges métalliques dissimulées. Deux mondes différents, deux éléments opposés associés pour proposer une simple fonction d'assise. Un hommage à la traditionnelle glace Viennetta ?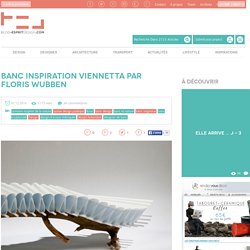 Banc inspiration Vienetta par Floris Wubben
Le slow design
NAVA LUBELSKI | ARTWORKS
Slow Food est une organisation internationale qui repose sur un réseau local d'associations et envisage un monde où chacun puisse avoir accès à une nourriture bonne pour lui, pour ceux qui la produisent, et pour la planète. Association à but nonlucratif financée par ses membres, Slow Food a été fondée en 1989 pour contrer le phénomène du fast food et de la fast life, en réaction à la disparition des traditions alimentaires locales, et afin d'encourager les citoyens à prendre conscience de leur nourriture, de sa provenance, de son goût, et de la façon dont nos choix alimentaires affectent le reste du monde. Slow Food croit que nous avons tous un droit fondamental au plaisir d'une nourriture de qualité, et par conséquent le devoir de protéger l'héritage de produits, de traditions et de cultures qui rendent ce plaisir possible.
Slow Food France
OOOMS | dutch design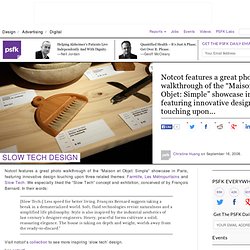 Notcot features a great photo walkthrough of the "Maison et Objet: Simple" showcase in Paris, featuring innovative design touching upon three related themes: Farmlife, Les Métropuritains and Slow Tech. We especially liked the "Slow Tech" concept and exhibition, conceived of by François Bernard. In their words: [Slow Tech:] Less speed for better living. François Bernard suggests taking a break in a dematerialized world.
Slow Tech Design
Le Webzine du dédé : le développement durable au quotidien » Blog Archive » Slow tech, recup-Art; retour à la simplicité et à la pureté d'Ambroise Monod
MODE DE VIE & TENDANCES SLOW - PRIMOBLOG
Slow Sofa
Slow Design‖慢设计
Slow Life Design - Embracing Your Inner Slow Life Designer
Making of Slow Chair: Design: Collage
CtC_SlowDesignPrinciples
slow design artists: Joel & Kathryn HESTER | A Slower Blog
Le slow design a le vent en poupe - teva.deco.fr avec Téva Déco
SLOW WAYS, une nouvelle tendance durable ? …… | Forevergreen
Le SLOW DESIGN - par besnob
*slow* : student work about slow design on Vimeo
Slow%20design
slow design
slow
FRANCE 24 - Le slow design
Slow Design : ma dernière découverte Déco Design ! | Blog déco : idées déco et tendances design
Eco-Design & Slow-Design - Eco-design & Slow-design
Jargon Watch: Slow Design
slow design
Quoi de neuf weekend – Le guide des balades éco-responsables en Catalogne » Blog Archive » Le slow design, un mouvement proche de l'éco-design…
slowBlog
slow design artist : 5.5 designers. | A Slower Blog
Le slow design pour une décoration responsable
« Slow-design », la déco écolo-éthique
slow design | A Slower Blog
Le « Slow Design »
Le SLOW DESIGN
SLOW
e-side | ecodesign without compromise
Clamp Coffee Table : Nonlinear Studio ($500+) — Svpply
Slow Food International | good, clean and fair food