Slow design
Platform 21 - Platform21 = Repairing. In the hope of spurring a reappraisal of repair, Platform21 wrote and published a manifesto describing the benefits of fixing things and calling upon designers and consumers to break the chain of throwaway thinking.
Throwaway thinking, a culture in itself almost, is designed to cater to short term needs of both industry, politics and society. But by being very successful at short term effects it has lost track of the innumerable and rich possibilities that lie ahead if durable notions of design in general, and repair especially, are reconsidered and implemented. Slow Money: Investment strategies appropriate to the realities of the 21st century - Home. SlowLab > slow design laboratory. Zora la fée design. Pencil crayon jewelry by Maria Cristina Bellucci. Bellucci, Maria Cristina jewelry design unique handmade jewelry images jewelers. Maria Cristina BellucciRing: Sphere ring, 2013Coloured pencils, elastic Maria Cristina BellucciBracelet: 13 sketch bra 1, 2013Silver, coloured pencils Maria Cristina BellucciNecklace: 14 dodecahedron 1, 2014Felissimo coloured pencils, elasticLenght: 92 cm; pendant: 8 cm Maria Cristina BellucciBracelet: 12 bracelet ball, 2012Colored pencils Maria Cristina BellucciNecklace: 12 neck 4, 2012Colored pencils.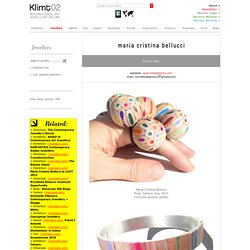 MCB Jewellery. La Déco Eco-design - OrSériE - Le journal du Beau & du Bien-être. Blog » Blog Archive » (smow)introducing: Stephan Schulz. Name: Stephan Schulz Born: Schwerin, 1983 Studies: 2003-2009 Industrial Design, Burg Giebichenstein, Halle 2007-2008 Erasmus studies at the Design Academy Eindhoven Internships: 2008 Bellini Design Studio, Milan Products: Stellvertreter for Nils Holger Moormann, Aschau im Chiemgau Concrete bowl series "frisch ausgeschalt" for Betoniu, Leipzig Stephan Schulz.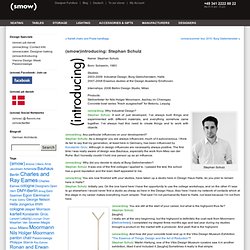 KOCX Ontwerpen | Limited Edition. Jongeriuslab. Potes de papel. Este produto pode até ser manjado, mas confesso que eu não conhecia.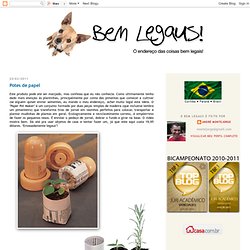 Como ultimamente tenho dado mais atenção às plantinhas, principalmente por conta das pimentas que comecei a cultivar (se alguém quiser enviar sementes, eu mando o meu endereço), achei muito legal esta ideia. O "Paper Pot Maker" é um conjunto formado por duas peças simples de madeira (que inclusive lembra um pimenteiro) que transforma tiras de jornal em vasinhos perfeitos para colocar, transportar e plantar mudinhas de plantas em geral. Ecologicamente e reciclavelmente correto, é simplérrimo de fazer os pequenos vasos. É enrolar o pedaço de jornal, dobrar o fundo e girar na base. Some Work by Liliana Ovalle. COTTONMONSTER.COM. Camille Soulayrol - styliste auteur créatrice d'images. Products – Recreate. Kotik: Jewelry Made From Packaging. Bic Chandelier. Midge's Mind. Deconstructed Barbie and Ken jewelry. Reestore - contemporary eco design. Banc inspiration Vienetta par Floris Wubben. Banc inspiration Viennetta par Floris Wubben Floris Wubben, designer hollandais nous présente sa dernière création nommée « No.3 Bench« , véritable rencontre entre la nature et la modernité.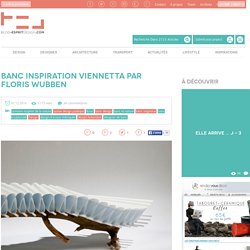 Un banc sculptural, une feuille de polypropylène ondulé reposant une une branche naturellement brute le tout fixé par des tiges métalliques dissimulées. Deux mondes différents, deux éléments opposés associés pour proposer une simple fonction d'assise. Un hommage à la traditionnelle glace Viennetta ? Le slow design. NAVA LUBELSKI | ARTWORKS. SLOW DESIGN. Slow Food. Slow Food France. OOOMS | dutch design. Slow Tech Design. Notcot features a great photo walkthrough of the "Maison et Objet: Simple" showcase in Paris, featuring innovative design touching upon three related themes: Farmlife, Les Métropuritains and Slow Tech.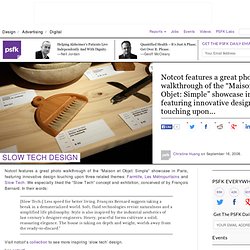 We especially liked the "Slow Tech" concept and exhibition, conceived of by François Bernard. In their words: [Slow Tech:] Less speed for better living. François Bernard suggests taking a break in a dematerialized world. Le Webzine du dédé : le développement durable au quotidien » Blog Archive » Slow tech, recup-Art; retour à la simplicité et à la pureté d'Ambroise Monod. MODE DE VIE & TENDANCES SLOW - PRIMOBLOG. Mercredi 3 novembre 3 03 /11 /Nov 15:13 Savez-vous ce qu'est le SLOW ?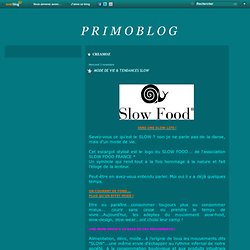 Non je ne parle pas de la danse, mais d'un mode de vie. Slow Sofa. Slow Design‖慢设计. Slow Life Design - Embracing Your Inner Slow Life Designer. Design is Everywhere Design is the conscious arrangement of things for a purpose.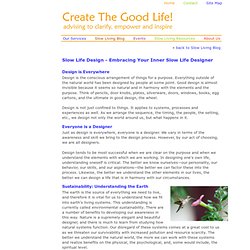 Everything outside of the natural world has been designed by people at some point. Good design is almost invisible because it seems so natural and in harmony with the elements and the purpose. Making of Slow Chair: Design: Collage. CtC_SlowDesignPrinciples. Slow design artists: Joel & Kathryn HESTER | A Slower Blog. The Weld House est une petite entreprise proposant un mobilier fait main.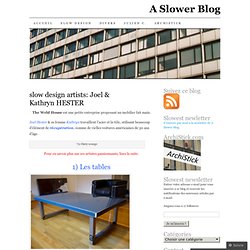 Joel Hester & sa femme Kathryn travaillent l'acier et la tôle, utilisant beaucoup d'élément de récupération, comme de vielles voitures américaines de 30 ans d'âge. '72 Chevy orange Pour en savoir plus sur ces artistes passionnants, lisez la suite. 1) Les tables. Le slow design a le vent en poupe - teva.deco.fr avec Téva Déco. SLOW WAYS, une nouvelle tendance durable ? …… | Forevergreen. Copyright © 2009 Bionessence Depuis plus d'un siècle, nous sommes devenus les esclaves de la vitesse, dans des domaines très diversifiés.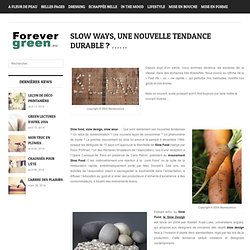 Nous vivons au rythme de la « Fast life » ou « vie rapide », qui perturbe nos habitudes, modifie nos goûts et nos envies. Mais un courant, aussi puissant soit-il, finit toujours par faire naître le courant inverse… Slow food, slow design, slow wear…. Que sont réellement ces nouvelles tendances ? Le SLOW DESIGN - par besnob. *slow* : student work about slow design. Slow%20design. Slow design. Slow. FRANCE 24 - Le slow design. Slow Design : ma dernière découverte Déco Design ! | Blog déco : idées déco et tendances design. Eco-Design & Slow-Design - Eco-design & Slow-design.
Jargon Watch: Slow Design. Slow design. Quoi de neuf weekend – Le guide des balades éco-responsables en Catalogne » Blog Archive » Le slow design, un mouvement proche de l'éco-design… SlowBlog. Slow design artist : 5.5 designers. | A Slower Blog. Le slow design pour une décoration responsable. « Slow-design », la déco écolo-éthique. Slow design | A Slower Blog. Le « Slow Design » Le SLOW DESIGN. SLOW. E-side | ecodesign without compromise. Clamp Coffee Table : Nonlinear Studio ($500+) — Svpply. Slow Food International | good, clean and fair food.
---