Projet
UrthBags Eco-Chic Handbags. Skate Study House. .: Orange22 - Home :. Feiz design studio / project / Perf. A family of outdoor furniture produced in recyclable aluminum and coated with non-toxic powder-coating technique.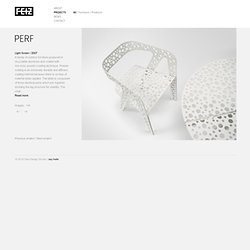 Powder coating is an extremely durable and efficient coating method because there is no loss of material when applied. The table is composed of three identical parts which join together, doubling the leg structure for stability. The chair composed of a seat and an arm and backrest element are coupled in a similar fashion. The laser cut perforations give the product both a visual and literal lightness.
Green & Present - Unique Interiors and Gifts - Living - Edge table. Green & Present - Unique Interiors and Gifts - Living - Neumática - reciclados urbanos.
Vibrazioni's Recycled Oil Barrel Furniture Comments on the Oil Crisis. Vibrazioni's repurposed oil barrel furniture sits on the fine line between art and design while making a poetic comment on the current oil crisis.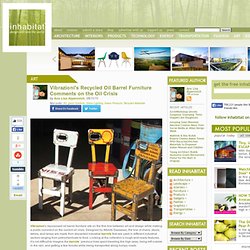 Designed by Alberto Dassasso, the line of chairs, stools, tables, and lamps are made from discarded industrial barrels that are used in different industrial sectors ranging from petrochemicals to food. Looking at the collection's rough-and-ready features, it's not difficult to imagine the barrels´ previous lives spent traveling the high seas, being left outside in the rain, and getting a few knocks while being transported along bumpy roads. The fact that the furniture has been made from cutting, welding and riveting different brand´s barrels, make each piece unique.
The scratches, dents, marks, and bold brand colors, provide each piece with its own unique personality. Markus Benesch Creates. Projects - collaborations | Droog.com. Pioneers of Change. Last Preparations by Renny Ramakers posted September 2nd, 2009 I am writing this blog while working on the last preparations for Pioneers of Change.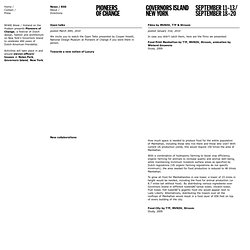 These last moments are, as usual, full of tensions. We have disagreements with the graphic designers, who think that we are making too many changes in the texts, with the risk of destroying their precise design. They are right, with so many parties involved in the process and people on holidays, changes after changes came. Gypsy Modular: Reconfigurable Furniture by Clark Davis. Furniture made of modular wood components can mixed, matched, swapped, and reconfigured to outfit your turf.
All with no tools. Be the first to own Gyspy. Studio david graas | products. Not a square A flat pack fruit presenter.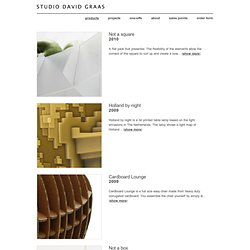 The flexibility of the elements allow the corners of the square to curl up and create a bow... (show more) Ski chair and other winter furniture. Droog Rag Chair By Tejo Remy - Droog Design - Tejo Remy. Designed by tejo remy, 1993 for droog design. droog design is about reusing materials in a new way and involving the user of this product to create something unique. making use of the rags that people normally throw away, the rag chair is an original and interesting looking chair. with each chair being different, the use of rags and steel strips actually makes this chair quite comfortable. item will appear differently than the image- numbered limited edition item. dimensions: 23.6" x 23.6" x 43.3"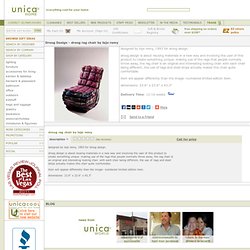 Rubber Hose : the work of Will Holman. 2009 / plywood, air compressor hose, threaded rods, hardware The Rubber Hose Chair uses a simple structural system of two identical frames set parallel to one another and braced apart by threaded rods.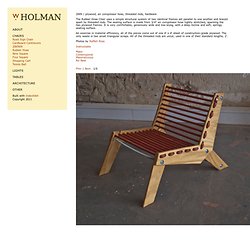 The seating surface is made from 3/4" air compressor hose tightly stretched, spanning the two plywood frames. It is very comfortable, generously wide and low-slung, with a deep recline and soft, springy seating surface. An exercise in material efficiency, all of the pieces come out of one 4' x 4' sheet of construction-grade plywood. The only waste is two small triangular scraps. OOO My Design by Vanesa Moreno. BRC Designs | The Interweb Chair. The Interweb Chair is composed of a frame made from 1 inch blue plastic sheeting and a seat which uses the inner dielectric core from coax cables weaved through 64 grounding bars.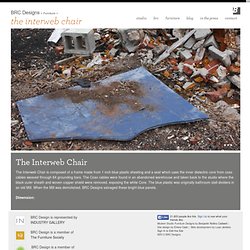 The Coax cables were found in an abandoned warehouse and taken back to the studio where the black outer sheath and woven copper shield were removed, exposing the white Core. The blue plastic was originally bathroom stall dividers in an old Mill. When the Mill was demolished, BRC Designs salvaged these bright blue panels. Jennifer Maestre. Fernando et Humberto Campana. Deux célèbres designers du Brésil….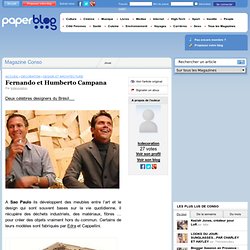 A Sao Paulo ils développent des meubles entre l'art et le design qui sont souvent bases sur la vie quotidienne, il récupère des déchets industriels, des matériaux, fibres … pour créer des objets vraiment hors du commun. Certains de leurs modèles sont fabriqués par Edra et Cappellini. FERNANDO ET HUMBERTO CAMPANA. Fernando and Humberto Campana. Studio aisslinger. Projectdetails: Year: 2009 Account: Aisslinger Team: Studio Aisslinger Description: in the age of a collage-living scenario the coral modules are a transparant and open kind of geodetic structure with a strong sculptural appearance.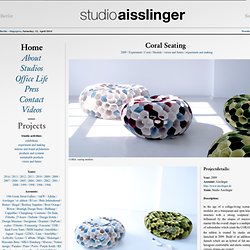 Influenced by the shapes of microorganisms of marine life the overall shape is a multiple duplikation of submodules which create the CORAL shape. the edition is created by studio aisslinger and launched in 2009. The Lastika Chair by Velichko Velikov. Velichko Velikov has designed the Lastika chair for Italian manufacturer LAGO. Description from Velichko Velikov: Lastika resembles a flower, in fact a daisy.
When you sit in it, you are supported by forty elastics that make up the seat and create a rocking sensation, although the structure of the seat is in fact very stable. Ciation Re-création. Crafty. Craft Robo, machine de découpe papier petit format pour les loisirs créatifs. FUTUR EN SEINE - Fête de la ville numérique. Classeur : Projects: SketchChair. SketchChair by Diatom Studio. Exposition "Design libre à édition" VIA contribue à promouvoir et à valoriser l'image créative et innovante soutenue par les Industries Françaises de l'Ameublement, en France et à l'étranger.
A Paris, la galerie du VIA constitue une vitrine permanente du design français et contribue, par l'accueil d'expositions collectives de designers étrangers, à la connaissance du design international. En moyenne, cinq expositions y sont implantées chaque année. Elle accueille également des manifestations organisées par des acteurs du secteur de l'ameublement ou des secteurs connexes. VIA organise des événements au sein des grands salons et des grandes manifestations internationales du design (Paris, Milan, Cologne, New-York, Los Angeles, Tokyo,...).
---