Eco-design
Pour contrer le mouvement de réduction de la durée de vie des objets de consommation visant à accélérer le rythme de leur renouvellement, des associations et citoyens tentent de redonner de la durabilité à leurs objets : recyclage, réutilisation, réparation... ou mise en commun pour consommer moins. Sans connaître le terme [d'obsolescence programmée], je me suis rendu compte à 16 ans que la qualité des produits régressait, et ce, dans tous les secteurs. Se souvient Yohann Gouffé, un chargé de communication sur le développement durable à la mairie de Saint-Mandrier (Var). "Obsolescence programmée", une expression barbare pas forcément évocatrice mais pourtant inhérente à notre vie quotidienne. L'idée est simple : concevoir des produits plus fragiles permet d'accélérer leur renouvellement, faisant ainsi augmenter les ventes.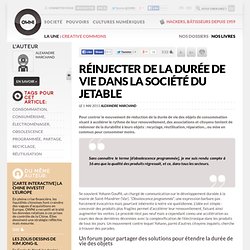 Catégories de produits ou services certifiés / Recherche avancée / Ecolabels.fr - le site des écolabels
5Rhero design awards Brussel competition 2011 2012
5R Hero seeks to harness skills, ideas and commercial opportunities from developing well designed new products and services which will reduce our ecological footprint at home, at work and in the wider business environment. "Sustainability is a cultural issue and if we want to change the way we live design has a huge role to play in making sure that consumers find sustainable products more beautiful, more fun and more useful than others. I'm delighted that we have been given the opportunity to engage new designers with this issue through the 5R Hero Design Awards",Catherine Fehily, Director for Enterprise, Research and Knowledge Transfer of the Faculty of Arts, Media and Design of Staffordshire University.
Our Idea People don't interact with computers or devices, they interact with each other and the world around them; a world in which the borders between natural, material and virtual have blurred. Tellart builds where these borders blur. As we come to understand that the network isn't in computers but inside everything we touch, we learn that "form" isn't what we see, it's what we use. Every day there's a new surface to interact with. But, underneath these surfaces lie familiar human needs, desires, habits and hopes.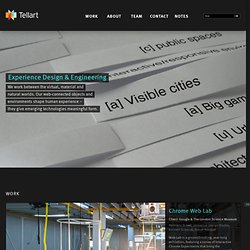 Tellart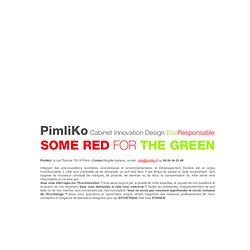 PimliKo 14 rue Tholozé 75018 Paris • Contact Brigitte Kahane : e-mail : cbk@pimliko.fr ou 06 84 54 02 48 Intégrant des préoccupations sociétales, économiques et environnementales, le Développement Durable est un enjeu incontournable. Il n'est plus d'actualité de se demander ce qu'il faut faire, il est temps de passer à l'acte durablement. Qu'il s'agisse de nouveaux concepts de marques, de produits, de services ou de lieux, la consommation du XXIe siècle sera responsable ou ne sera pas.
PimliKo Cabinet Innovation-Design Eco Responsable
Green Innovation and Design report from the Financial Times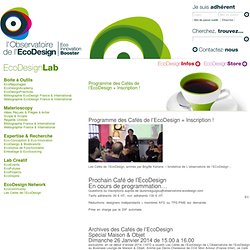 L'Observatoire de l'EcoDesign » Programme des Cafés de l'EcoDesign + Inscription !
Les Cafés de l'EcoDesign, animés par Brigitte Kahane – fondatrice de L'observatoire de l'ECoDesign -. Questions ou inscriptions auprès de laurenceguigou@observatoire-ecodesign.com Tarifs adhérents 30 € HT, non adhérents 130 € HT. Réductions: designers indépendants + membres AFD ou TPE/PME sur demande. Prise en charge par le DIF autorisée. En exclusivité, en ce début d'année 2014, l'AFD a ccueilli Les Cafés de l'EcoDesign de L'Observatoire de l'EcoDesign au Business Lounge de Maison & Objet.
LOLA
GOOD Magazine: E-Waste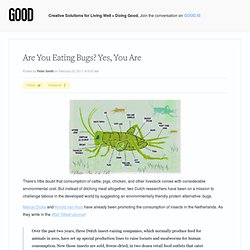 There's little doubt that consumption of cattle, pigs, chicken, and other livestock comes with considerable environmental cost. But instead of ditching meat altogether, two Dutch researchers have been on a mission to challenge taboos in the developed world by suggesting an environmentally friendly protein alternative: bugs. Marcel Dicke and Arnold van Huis have already been promoting the consumption of insects in the Netherlands. As they write in the Wall Street Journal:
Are You Eating Bugs? Yes, You Are! - Food
One Day For Design, 04.13.2011 | Blog About Today's Event
designitgreener.com
Designitgreener is an all-inclusive resource for the graphic, packaging, industrial, interior and architectural design industries. At designitgreener.com, we're helping designers stay informed and educated on the latest and greatest in all realms of green design by providing news, tips and advice, a glossary of common green terms and a green design gallery where designers will find inspiration to help begin and continue to make green choices a part of their everyday design practices.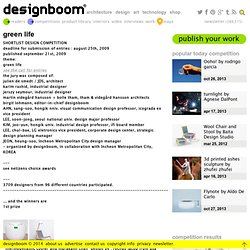 green life deadline for submission of entries : august 25th, 2009 published september 21st, 2009 theme: green life see the call for entries
green life
<div class="noscript"> <div class="noscript-inner"> <p><strong>Nous avons det&eacute;tect&eacute; que JavaScript est d&eacute;sactiv&eacute; sur votre navigateur</strong></p> <p>Vous devez autoriser Javascript pour pouvoir utiliser toutes les fonctionnalit&eacute;s de ce site.</p> </div> </div> L'Edito meubles design sur mesure Contact Se connecter Mon panier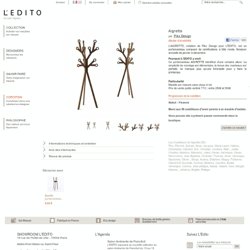 Portemanteau design Aigrette
Have you ever tried growing your own vegetables on the balcony? Perhaps the most difficult thing, especially if we are not experienced gardeners, is the right choice of seed, those suitable for growing in pots, which don't require ground too deep and are not meant to take up too much space when become lush plants. The discovery of Piccolo Vegs For Pots was, in this sense, a revelation.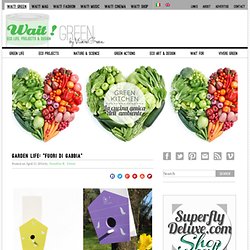 Wait! Green - Eco Life, Projects and Design
Social & Environmental
Guerrilla Gardening Troop Digs
Bio-Lantern - contemporary furniture designers
Designer Lamps: Bagalights, Edge Lamp, Symbol Lamps, Splice Shade Pendant
siedziska seats MEBLARIUM PAWEL GRUNERT
green license plates for Ontario, Canada
The Canadian province of Ontario will now issue special license plates to sustainable cars such as plug-in hybrids and electric vehicles. The new plate is part of the province's plan to have one out of every 20 vehicles be electric by the year 2020. The final design was selected through an online poll with over fifteen thousand votes. The plate will begin to be issued in 2010 and will allow users to drive in car pool lanes until 2015 even if only one person is in the car and use priority parking spots at select locations. The plate uses a green color scheme and depicts the province's official flower, the Trillium.
www.studiokahn.com
iida | Incheon International Design Award
Vac from the Sea
notions développement durable
e-side, best source for sustainable furniture, green furniture, fair trade toys, eco-friendly gifts
DESIGN >>> Beautiful Planets par Béatrix Li-Chin Loos pour la Galerie Gosserez
Seminar archive
Meubles en magazine recyclé par Jens Praet
matali crasset
Sustain A Bag! : Nathalie Stämpfli
Le design durable - Le Journal des Arts - n° 154 - 13 septembre 2002
[Greenbook] Devenez Reporter pour Gizmodo et partez à Londres !
Lee Never Wasted
Blog M&O : le blog des salons MAISON&OBJET » Blog Archive » Une semaine / Un designer : Mathieu Lehanneur
Page Maintenance