Eco-design
Réduisons vite nos déchets, ça déborde. Réinjecter de la durée de vie dans la société du jetable. Pour contrer le mouvement de réduction de la durée de vie des objets de consommation visant à accélérer le rythme de leur renouvellement, des associations et citoyens tentent de redonner de la durabilité à leurs objets : recyclage, réutilisation, réparation... ou mise en commun pour consommer moins.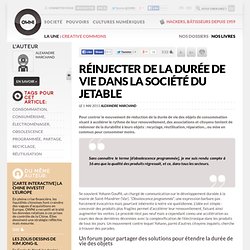 Sans connaître le terme [d'obsolescence programmée], je me suis rendu compte à 16 ans que la qualité des produits régressait, et ce, dans tous les secteurs. Se souvient Yohann Gouffé, un chargé de communication sur le développement durable à la mairie de Saint-Mandrier (Var). "Obsolescence programmée", une expression barbare pas forcément évocatrice mais pourtant inhérente à notre vie quotidienne. L'idée est simple : concevoir des produits plus fragiles permet d'accélérer leur renouvellement, faisant ainsi augmenter les ventes. Catégories de produits ou services certifiés / Recherche avancée.
5Rhero design awards Brussel competition 2011 2012. Dispositifs. Tellart. PimliKo Cabinet Innovation-Design Eco Responsable. Green Innovation and Design report from the Financial Times. L'Observatoire de l'EcoDesign » Programme des Cafés de l'EcoDesign + Inscription ! Les Cafés de l'EcoDesign, animés par Brigitte Kahane – fondatrice de L'observatoire de l'ECoDesign -.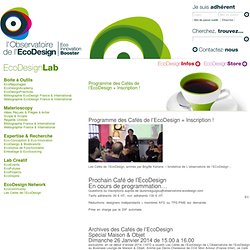 Questions ou inscriptions auprès de laurenceguigou@observatoire-ecodesign.com Tarifs adhérents 30 € HT, non adhérents 130 € HT. Réductions: designers indépendants + membres AFD ou TPE/PME sur demande. Prise en charge par le DIF autorisée. En exclusivité, en ce début d'année 2014, l'AFD a ccueilli Les Cafés de l'EcoDesign de L'Observatoire de l'EcoDesign au Business Lounge de Maison & Objet.
LOLA. GOOD Magazine: E-Waste. Are You Eating Bugs? Yes, You Are! - Food. There's little doubt that consumption of cattle, pigs, chicken, and other livestock comes with considerable environmental cost.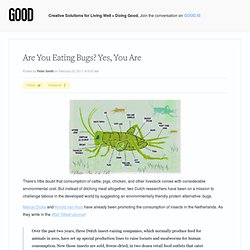 But instead of ditching meat altogether, two Dutch researchers have been on a mission to challenge taboos in the developed world by suggesting an environmentally friendly protein alternative: bugs. Marcel Dicke and Arnold van Huis have already been promoting the consumption of insects in the Netherlands. As they write in the Wall Street Journal: The professional association for design. One Day For Design, 04.13.2011 | Blog About Today's Event. Designitgreener.com. Green life. Green life deadline for submission of entries : august 25th, 2009 published september 21st, 2009 theme: green life see the call for entries.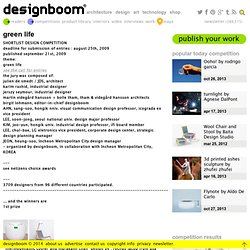 Portemanteau design Aigrette. <div class="noscript"> <div class="noscript-inner"> <p><strong>Nous avons det&eacute;tect&eacute; que JavaScript est d&eacute;sactiv&eacute; sur votre navigateur</strong></p> <p>Vous devez autoriser Javascript pour pouvoir utiliser toutes les fonctionnalit&eacute;s de ce site.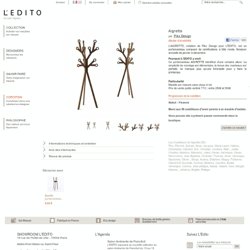 </p> </div> </div> L'Edito meubles design sur mesure Contact Se connecter Mon panier. Wait! Green - Eco Life, Projects and Design. Social & Environmental. Guerrilla Gardening Troop Digs. Bio-Lantern - contemporary furniture designers. Designer Lamps: Bagalights, Edge Lamp, Symbol Lamps, Splice Shade Pendant.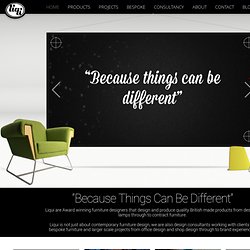 Siedziska seats MEBLARIUM PAWEL GRUNERT. Green license plates for Ontario, Canada. The Canadian province of Ontario will now issue special license plates to sustainable cars such as plug-in hybrids and electric vehicles.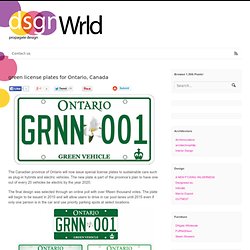 The new plate is part of the province's plan to have one out of every 20 vehicles be electric by the year 2020. The final design was selected through an online poll with over fifteen thousand votes. The plate will begin to be issued in 2010 and will allow users to drive in car pool lanes until 2015 even if only one person is in the car and use priority parking spots at select locations. The plate uses a green color scheme and depicts the province's official flower, the Trillium. OOOMS | dutch design. Home page. World Wildlife Fund - Wildlife Conservation, Endangered Species Conservation. Project H Design.
Www.studiokahn.com. Iida | Incheon International Design Award. Vac from the Sea. Last update from Julian!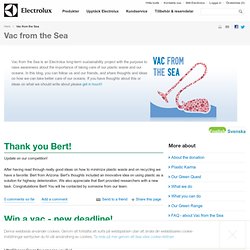 Day 6Almost 500km yesterday!!!!! Second week of the tour started off in Nelson, top of the South Island. All suited up, Miss E Lux on my back and a quick hitch to Tahunanui school saw us present to the all 350 students. The kids of Tahunanui school we're overjoyed to receive the UltraOne Green and More FM cheque, after which the Enviro Group students showed us their gardening project that feeds the entire school. Nike Better World.
Docus
Artistes. Conso. Design de produit. Design graphique. Notions développement durable. Remix. 3R. E-side, best source for sustainable furniture, green furniture, fair trade toys, eco-friendly gifts. DESIGN >>> Beautiful Planets par Béatrix Li-Chin Loos pour la Galerie Gosserez. Le designer allemand-taïwanais, Béatrix Li-Chin Loos a créé cette série de vases sphériques à partir de débris de bois, de verre, de carton et de cuir.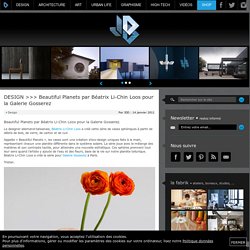 Appelés « Beautiful Planets », les vases sont une création d'eco-design uniques faits à la main, représentant chacun une planète différente dans le système solaire. La série joue avec le mélange des matières et son contraste tactile, pour atteindre une nouvelle esthétique. Seminar archive. Meubles en magazine recyclé par Jens Praet. Première exposition en solo du designer industriel, Jens Praet à Industry Gallery à Washington DC, nommée « Fossilized », elle comprend ses créations faites de magazines et de documents déchiquetés puis mélangés avec de la résine transparente.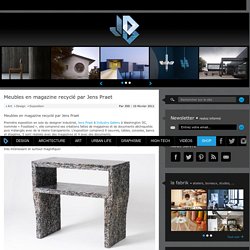 L'exposition comprend 9 oeuvres, tables, consoles, bancs et étagères, 5 sont réalisés avec des magazines et 4 avec des documents. Chaque pièce est unique, des magazines comme Art in America, Details et Fast Company ont été utilisés, chaque mobilier est réalisé avec des exemplaires d'un seul titre de magazine. Le résultat est très intéressant et surtout magnifique!
Pin It Pin It.
Matali crasset. La notion de progrès qui m'intéresse dans ce projet est celle qui est visible au niveau individuel. L'enjeu aujourd'hui, n'est plus d'acquérir du savoir, des informations mais plus de les digérer, de se les approprier. Le progrès existe que s'il y a un projet personnel qui lui-même sous-tend une direction, une prise de position. Comment mettre en perspective sa propre histoire, sa propre personnalité, ses passions avec ce qui se passe dans le monde, autour de soi. Une réflexion sur la mise en relation du moi et du monde grâce à la technologie digérée. La notion de progrès est à actualiser en permanence. Sustain A Bag! : Nathalie Stämpfli. Sustain A Bag! Returning Service for more durable Shopping Bags Of course, everybody could just always take a bag from home for groceries instead of taking the plastic bags from the shop.
But you often come from work or decide spontaneously to buy something and then you end up with plastic bags again. At home you don't know if you should keep them, because you feel bad throwing them away, on the other hand you already have so many of them.... Services can make it convenient to "share" a product with others. Soap Flakes : Nathalie Stämpfli. Soap Flakes Soap Blocks instead of liquid Soaps Today, most of the soap we use is liquid soap, which contains a lot of water.
Block soap instead is more concentrated and therefore has some ecological benefits: You don't transport unnecessary water around. In place of plastic bottles you can simply use paper for packaging. Le design durable - Le Journal des Arts - n° 154 - 13 septembre 2002. Abonnements sans engagement de durée (Abonnement à durée libre au JournaldesArts.fr) (Abonnement à durée libre à L'oeil et au JournaldesArts.fr) [Greenbook] Devenez Reporter pour Gizmodo et partez à Londres ! Lee Never Wasted.
Mathieu Lehanneur. Blog M&O : le blog des salons MAISON&OBJET » Blog Archive » Une semaine / Un designer : Mathieu Lehanneur. Ecodesign, ecoconception. Slow design. Page Maintenance.
---