Eco-design
Pour contrer le mouvement de réduction de la durée de vie des objets de consommation visant à accélérer le rythme de leur renouvellement, des associations et citoyens tentent de redonner de la durabilité à leurs objets : recyclage, réutilisation, réparation... ou mise en commun pour consommer moins.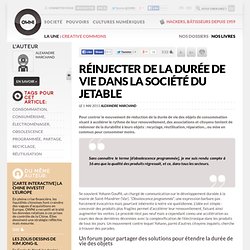 Catégories de produits ou services certifiés / Recherche avancée / Ecolabels.fr - le site des écolabels
5Rhero design awards Brussel competition 2011 2012
Tellart
PimliKo Cabinet Innovation-Design Eco Responsable
Green Innovation and Design report from the Financial Times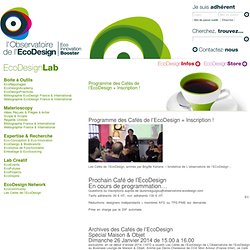 L'Observatoire de l'EcoDesign » Programme des Cafés de l'EcoDesign + Inscription !
Les Cafés de l'EcoDesign, animés par Brigitte Kahane -fondatrice de L'observatoire de l'ECoDesign-. « Spécial Packaging !
LOLA
use the toolkit to explore new and more sustainable ways of living between looking for initiatives in the surroundings of their school and investigating more theoretical questions about sustainability…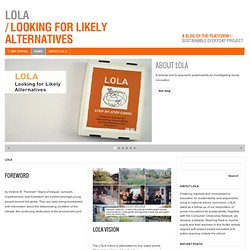 GOOD Magazine: E-Waste
There's little doubt that consumption of cattle, pigs, chicken, and other livestock comes with considerable environmental cost. But instead of ditching meat altogether, two Dutch researchers have been on a mission to challenge taboos in the developed world by suggesting an environmentally friendly protein alternative: bugs. Marcel Dicke and Arnold van Huis have already been promoting the consumption of insects in the Netherlands. As they write in the Wall Street Journal :
Are You Eating Bugs? Yes, You Are! - Food
One Day For Design, 04.13.2011 | Blog About Today's Event
designitgreener.com
green life
<div class="noscript"> <div class="noscript-inner"> <p><strong>Nous avons det&eacute;tect&eacute; que JavaScript est d&eacute;sactiv&eacute; sur votre navigateur</strong></p> <p>Vous devez autoriser Javascript pour pouvoir utiliser toutes les fonctionnalit&eacute;s de ce site.</p> </div> </div>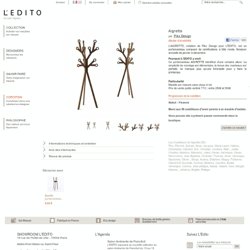 Portemanteau design Aigrette
Wait! Green - Eco Life, Projects and Design
Social & Environmental
Guerrilla Gardening Troop Digs
Bio-Lantern - contemporary furniture designers
siedziska seats MEBLARIUM PAWEL GRUNERT
green license plates for Ontario, Canada
The Canadian province of Ontario will now issue special license plates to sustainable cars such as plug-in hybrids and electric vehicles.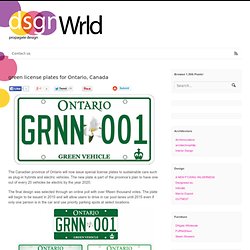 www.studiokahn.com
iida | Incheon International Design Award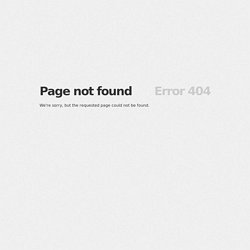 Electrolux Turning Floating Plastic Debris into Vaccuums - Design Green | Blog on
June 29, 2010 Appliance giant Electrolux has recently embarked on a unique challenge: through their new project, Vac from the Sea , they hope to collect the floating plastic debris from the infamous gyres and islands in the ocean (the Great Pacific Garbage Patch being the best-known), and turn the discarded flotsam and jetsom into a new line of 6 vacuum cleaners. Each vacuum will represent a body of water: the Pacific, the Atlantic, the Indian Ocean, the Mediterranean, the Baltic Sea, and the North Sea.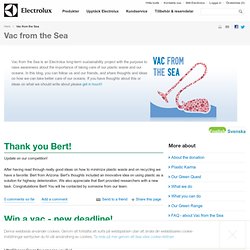 Vac from the Sea
Last update from Julian!
notions développement durable
Daniel Canogar
e-side, best source for sustainable furniture, green furniture, fair trade toys, eco-friendly gifts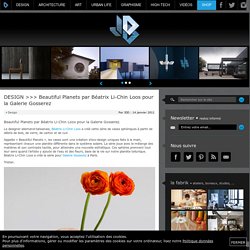 DESIGN >>> Beautiful Planets par Béatrix Li-Chin Loos pour la Galerie Gosserez
Le designer allemand-taïwanais, Béatrix Li-Chin Loos a créé cette série de vases sphériques à partir de débris de bois, de verre, de carton et de cuir.
Seminar archive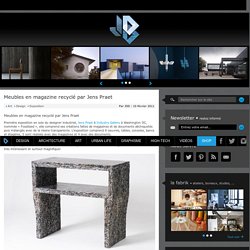 Meubles en magazine recyclé par Jens Praet
Première exposition en solo du designer industriel, Jens Praet à Industry Gallery à Washington DC, nommée « Fossilized », elle comprend ses créations faites de magazines et de documents déchiquetés puis mélangés avec de la résine transparente.
matali crasset
Parc des expositions de Versailles – Paris du 9 au 14 février 2010
Sustain A Bag! Returning Service for more durable Shopping Bags
Sustain A Bag! : Nathalie Stämpfli
Le design durable - Le Journal des Arts - n° 154 - 13 septembre 2002
Abonnements sans engagement de durée (Abonnement à durée libre au JournaldesArts.fr) Vous accédez librement et en permanence à toutes les archives de L'œil et du Journal des Arts depuis 1994 ainsi qu'à l'actualité quotidienne du JournaldesArts.fr.
[Greenbook] Devenez Reporter pour Gizmodo et partez à Londres !
Lee Never Wasted
Blog M&O : le blog des salons MAISON&OBJET » Blog Archive » Une semaine / Un designer : Mathieu Lehanneur
Page Maintenance