Design engagé
Weloveviral ™ – Inspiration & Awesome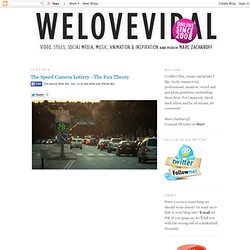 One Hundred and Eight is an interactive wall-mounted Installation mainly made out of ordinary garbage bags. Controlled by a microcontroller each of them is selectively inflated and deflated in turn by two cooling fans. Although each plastic bag is mounted stationary the sequences of inflation and deflation create the impression of lively and moving creatures which waft slowly around like a shoal. But as soon a viewer comes close it instantly reacts by drawing back and tentatively following the movements of the observer. As long as he remains in a certain area in front of the installation it dynamically reacts to the viewers motion. As soon it does no longer detect someone close it reorganizes itself after a while and gently restarts wobbling around.
Happiness: the Tribute 21 Plate Challenge - Challenges - DESIGN 21: Social Design Network
A collection of dining plates with graphics that show nutritional portions for healthy eating.
'Wheel of Nutrition' by Rui Pereira and Hafsteinn Juliusson for HAF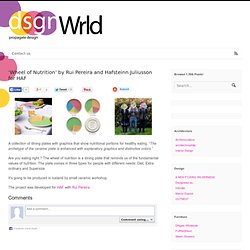 Logement : Quand la solution existait pour les SDF - OrSériE - Le journal du Beau & du Bien-être
Le terrible hiver 54 n'était pas encore atteint, et l'Abbé Pierre venait à peine de fonder le mouvement Emmaüs pour tenter d'endiguer le phénomène des sans-abris. C'est dans ce contexte, en mars 1950, il y a 60 ans exactement, que les parisiens eurent les yeux rivés sur l'exposition des Arts ménagers, au Grand-Palais. C'est là que, pensait-on, la solution pour les mal-logés de la capitale se dressait : Un ingénieur, Jean Prouvé, y mettait à l'honneur ses maisons préfabriquées... un concept quasi révolutionnaire pour l'époque.
Goyard & Curie for Cancer Charity
Crossing Lines on Vimeo
Published in The Phoenix Naomi Klein, black-clad and sharp-tongued mistress of the global anti-corporate left, friend to Occupiers and scourge of oil barons, stood outside a dressing room backstage at Boston's Orpheum Theatre one night last month, a clear-eyed baby boy on her hip.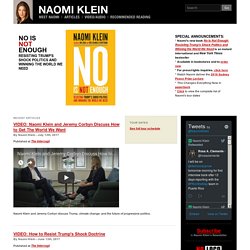 Hand-le"
Le design engagé contre les maladies psychiatriques
Ceux qui me connaissent et/où les lecteurs assidus de ce blog (dont le lecteur de Saint Julien Molin Molette de Madrid) savent ma vision du design engagé.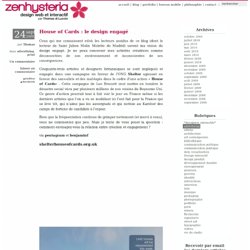 House of Cards : le design engagé | Zenhysteria
March 29, 2013 in FACT , MARKETING Since 5 March, the Danish designer furniture brand BoConcept proposes a collection of furniture (armchairs, tables, and sofas) and objects for the home inspired by the Smart car. A limited edition Smart Fortwo BoConcept was even presented at the Geneva Auto Show.… Lire la suite / See next
Design engagé - L'Œil by LaSer - N°151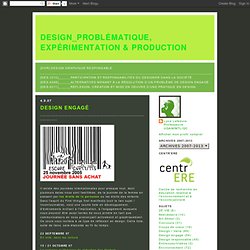 DESIGN ENGAGÉ
Il existe des journées internationales pour presque tout, dont plusieurs dates nous sont familières, de la journée de la femme en passant par les droits de la personne ou les droits des enfants. Dans l'esprit du First things first manifesto [voir le lien sujet / Incontournable], voici une courte liste en développement, d'évènements invitant à l'implication, à l'engagement auxquels nous pouvont être aussi tentés de nous joindre en tant que communicateurs en nous prononçant activement et graphiquement. Ce cours vous invitera à ce type de réflexion en design.