Thanksgiving 09 recipes
No-Sugar Layered Pumpkin Cheesecake. (8 servings, recipe from Laura, who found the original version on AllRecipes, with adaptations by Kalyn) 2 packages (8 oz. each) light cream cheese (not fat free)1/2 cup Splenda1/2 tsp.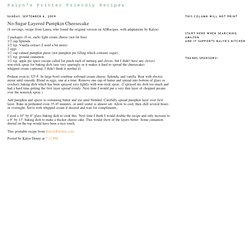 Vanilla extract (I used a bit more)2 eggs1/2 cup canned pumpkin puree (not pumpkin pie filling which contains sugar)1/2 tsp. ground cinnamon1/2 tsp. apple pie spice (recipe called for pinch each of nutmeg and cloves, but I didn't have any cloves)non-stick spray for baking dish (use very sparingly or it makes it hard to spread the cheesecake)whipped cream (optional, I didn't think it needed it) Preheat oven to 325 F. Roasted Green Beans with Mushrooms, Balsamic, and Parmesan.
(Makes 4-6 servings, recipe created by Kalyn) 8 oz. mushrooms, sliced in 1/2 inch slices (I used brown crimini mushrooms, but any mushrooms will work)1 lb. fresh green beans, preferably thin French style beans1 1/2 T olive oil1 T balsamic vinegarsalt and fresh ground black pepper to taste2 T finely grated parmesan cheese Preheat oven to 450F/230C.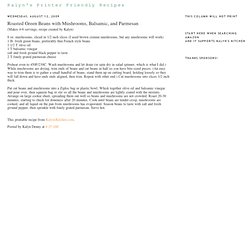 Wash mushrooms and let drain (or spin dry in salad spinner, which is what I did.) Warm or Cold Salad with Artichoke Hearts, Roasted Red Pepper, Ca. (Makes 4-6 servings, adapted by my friend Trudy from a recipe by Ina Garten.) 16 oz. frozen or canned artichoke hearts (I prefer frozen artichoke hearts, but canned artichokes are often cheaper)1 T extra virgin olive oilsalt and fresh ground black pepper12 oz jar roasted red pepper (or use one red bell pepper roasted on a barbecue grill)3 T capers (drained but not rinsed, next time I might use even more)1/2 cup chopped red onionfreshly chopped parsley or basil for garnish (optional) Basil Dressing:2 minced shallots (or use about 2 T finely minced red onion)1/2 cup chopped fresh basil (or use 3-4 tablespoons purchased basil pesto, frozen basil, or Pistou sauce)3 T fresh lemon juice1 T white wine vinegar1 tsp.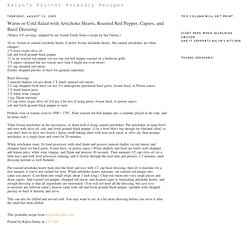 Dijon mustard1/2 cup extra virgin olive oil (I'd use a bit less if using pesto, frozen basil, or pistou sauce)salt and fresh ground black pepper to taste.
---