Hairstyles
23 Five-Minute Hairstyles For Busy Mornings
The 31 most iconic haircuts of all time
Blown Away 1 of 9 By Rachel Hayes Getting bouncy post-blowout hair at home usually means setting aside about thirty minutes to tame your strands into frizz-free submission, plus another 10 minutes to recover from the task. Luckily, a DIY blowout doesn't have to be so traumatic—or time consuming. Here's your blow-by-blow guide to getting expertly smooth strands.
How to master the ultimate at-home blowout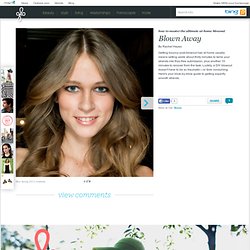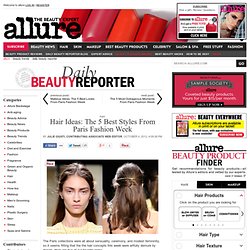 Hair Ideas: The 5 Best Styles From Paris Fashion Week
Minimalist hardware at Balenciaga. Hairstylist Guido kicked off Spring 2013 Paris Fashion Week with the Balenciaga show, creating a flattering, simple half-up style that complimented the ethereal feel of the show seamlessly. He started by pulling the two front sections back at the crown, then pinning in gold headpieces.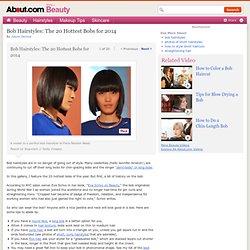 Bob hairstyles are in no danger of going out of style. Many celebrities are continuing to cut off their long locks for chin-grazing bobs and the longer "demi-bobs" or long bobs . In this gallery, I feature the 20 hottest bobs of 2013. But first, a bit of history on the bob.
Bob Hairstyles: The 20 Hottest Bobs of 2012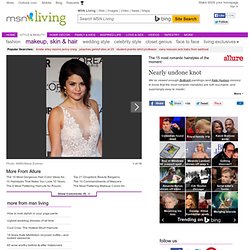 We've viewed enough Botticelli paintings (and Kate Hudson movies) to know that the most romantic hairstyles are soft, touchable, and surprisingly easy to master. Wispy, face-framing curls give Selena Gomez's swept-back updo a relaxed feel. First, create a side part using your fingers, hairstylist Kerrie Urban says. "Because the part isn't superdefined, eyes travel to the face first," Urban says. Loosely curl the entire head with a one-and-a-half-inch curling iron (BaByliss Pro GT Gold Titanium 1 1/2" Spring Curling Iron is one of our go-tos). Tease the crown, then smooth the top layer over with a comb.
The 15 most romantic hairstyles of the moment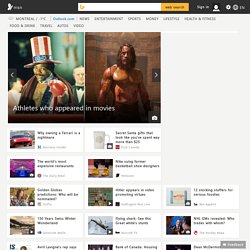 One Trend, Two Prices 1 of 11 By Rachel Hayes When it comes to pulling off a trendy new beauty look, you can either indulge in a luxe brand or watch your pennies. Investing in a pricey new product once in awhile is a fun way to pamper yourself, but there are also clever ways to get the hottest new looks for less. Whichever road you choose, here are spring's best new beauty splurges and steals. The Splurge 2 of 11 Eyes accented with lightly sparkly pastel shadows are ideal for spring, and these sticks provide the world's easiest way to achieve the look.
New celeb 'do? A tousled, side-swept bob
15 ways to dress up your ponytail for a party
30 New Holiday Party Hair Ideas - Your Money Holiday Edition
The ultimate guide for long hair
Bohemian Twist - Quick Easy Updo Hairstyle
Hair Tutorial: Messy French Twist
♥ Easy No Heat Updos in Under 5 Minutes || RachhLoves
How To: Sexy Bed Hair Tutorial
Fall Hairstyles to Try Now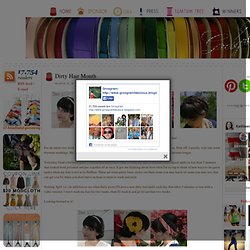 Dirty Hair Month
Click squares to be taken to tutorials. All hair tutorials take five minutes or less to do. Great when you have greasy hair but have to get out of the door fast! For an entire two weeks I won't be washing my hair! I promise it doesn't sound as gross as it seems. First off, I usually wait one week between washings.
Chignon hair styles are a very glamorous and modern Sedu style often seen on Hollywood celebrities.
Chignon Step By Step Directions
Hair has always been my "thing" but I do develop certain "shave it all off" tendencies at least once a year. So far I haven't..I do wonder how that would feel though. There are so many fantastic hair tutorials out there that even in this heat I really don't mind how long my hair is. Except when my bangs get too long and then everything turns dark. Here are some of my favorite up-do and bun hair tutorials for these hot summer months or any season really :)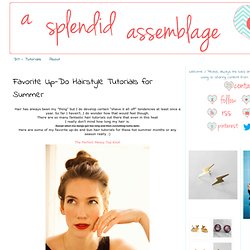 Photos: Regan Cameron, Patrick Demarchelier (2), Chris Moore/Catwalking/Getty Images, Carter Smith, Nicolas Moore, Regan Cameron (2), Nicolas Moore, Karl Prouse/Catwalking/Getty Images, Fairchild Archive (2), Regan Cameron, Alex Cayley, Karl Prouse/Catwalking/Getty Images, Carter Smith, Patrick Demarchelier, Chris Moore/Catwalking/Getty Images, Nicolas Moore, PATRICK KOVARIK/AFP/Getty Images, Nicolas Moore, Fairchild Archive, Patrick Demarchelier, Regan Cameron, Fairchild Archive, Alex Cayley, Fairchild Archive, Patrick Demarchelier, Fairchild Archive, Carter Smith, Karl Prouse/Catwalking/Getty Images, Nicolas Moore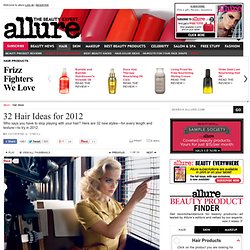 32 Hair Ideas for 2012: Hair Ideas
The indie fringe / indie bangs hairstyle
What distinguishes one fringe, one set of bangs , from another is not so much the cut but the attitude with which it is worn. In 2012 there are several ways to carry it that will easily have it classed as being an on trend hairstyle : this is one of them. Messy, scruffy even if you will, but in that devil-may-care way that looks like you've perpetually just rolled out of bed, it's what the girls chasing the boys who wear the men's indie rock hairstyle can often be seen sporting.
It's no news when we say that the 1920s have had a significant impact on the fashion industry. It started with accessories, clothes, and then moved on to beauty, as wine-tinted lips and fluttering eyelashes hoarded many an advertisement campaign. With the anticipated release of Baz Luhrmann's remake of The Great Gatsby , the period has taken another deep-end dive into the ocean of hairstyles. The 1920s tousled bob is one such look that once waved the flag for being primped and pristine with its disciplined finger waves. But in 2012, we've seen it update itself with a modern edge, more texture and added sexiness.
Hair how to: tousled flapper bob hairstyle
The best celeb locks of the moment
Hair Style For Long Hair
Did you look great at a special event?
On Trend: Top Knots - Love Your Locks - Style
Letting your locks down during the scorching summer months is pretty much out of the question. Instead, check out how your fave celebs sport this cute, effortless style. Follow these three steps provided by celebrity hairstylist, Gregory Alan from Salon Grafix, and you can create this DIY look at home in minutes! 1. "To begin, apply mouse to your hairline and blow-dry it with a bristle brush, sweeping hair in the direction of the topknot that you will be creating, says Alan. Then, using the brush, pull your hair on top of your head.
Cutting-edge hair, as seen on the streets - The Long Way
16 Short Hairstyles To Consider
The 9 Most Romantic Hairstyles of All Time
Sexy Hair in 60 Seconds: 10 Easy Tricks - More Time for Me - Style & Beauty
Fabulous Hair Fast: 5 Creative Ponytail Styles - More Time for Me - Style & Beauty
Glo's Latest Obsession
9 Lazy-Winter-Day Hairstyles On Some Of Your Favorite Celebrities
Hair Highlights: Fantastic Fringe
Bombshell Hair in 4 Easy Steps (for Less Than $18!)
Five essential tests for your hair's health
Hair Highlights: Find Your Happy Medium Length
Pretty Spring Half-Do‬‏
Cutesy name: Pin Curl Twist, 17 Hairstyles That Take Less Than 10 Minutes