Develop
Get flash to fully experience Pearltrees
Busy Developers' Guide to Features
XFN™ ( X HTML F riends N etwork) is a simple way to represent human relationships using hyperlinks. In recent years, blogs
A collection of tools, plugins, and other hacks that I've put together. In most cases, these are solutions to problems I faced, or else enhancements I wanted but couldn't find elsewhere.
Favelets The type of favelet I discuss on this page is a particular brand: these just dynamically write a link element into the head of the document.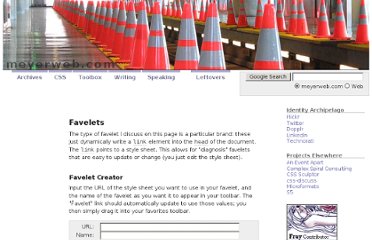 Recently I had a client who wanted to improve the printing layout for his web site. I made mini case analysing various web printing techniques and how different web sites site manage " printer friendly " pages. The Study and analysis of different CSS methods for web printing brought me to a discovery that many important web sites are not optimized for printing, even the kind that can be done with little effort.
Google's decision to discontinue development of Google Notebook had some users petitioning to save it , while rival service Evernote is already offering Google Notebook imports .
As an important and much-requested follow-up to the community days, we have added a new Guidelines sections in the Community Book of the official OpenERP documentation . The guidelines are divided up into four main parts, and will be fed incrementally as part of the process of reviewing contributions: The Coding Guidelines contain a set of best practices for development, both Python programming guidelines (contextually applied to OpenERP) and specific best-practices related to OpenERP's development framework.
Start your free trial.