Materials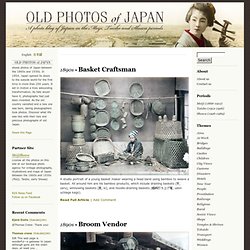 A very rare photo of Kotohira-gu, a Shinto shrine popularly known as Konpira-san, in Kotohira, Kagawa Prefecture on the island of Shikoku, popularly known as Konpira-san. Few foreign visitors made it to Shikoku during the late 19th century. As tinted photographs were usually produced for and purchased by foreign visitors, it is quite special that such an image exists of this location. Amazingly, the main shrine building seen on this image—built in 1877 (Meiji 10)—looks virtually exactly the same today. This is one of those relatively few places left in Japan where you can truly jump back into time.
Japanese Songs
"Class Ideas for Japanese Language Study" introduces class ideas that use articles from "Culture and People of Japan" as resources. These ideas are contributed by Japanese-language teachers and experts on Japanese-language education from various parts of the world, and are available in Japanese, English, and Chinese. Ideas Go-Tochi Boom( Elementary to high school )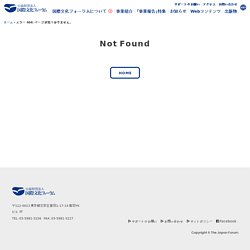 Click Nippon
ゆんフリー写真素材集Yun Free Photo Materials
ASHINARI
Clip Art Collection for FL instruction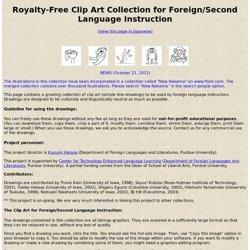 [View this page in Japanese] NEWS (October 21, 2012) The illustrations in this collection have been incorporated in a collection called "New Nakama" on www.flickr.com.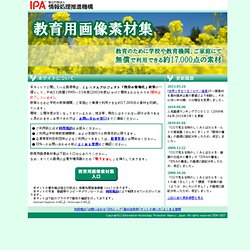 情報処理推進機構:教育用画像素材集IPA
本サイトで公開している画像等は、ミレニアムプロジェクト「教育の情報化」政策の一環として、平成11(西暦1999)~15年度(2003年度)にかけて開発されたものです(開発は終了しています)。 教育のために学校や教育機関、ご家庭にて無償で利用できる約17,000点の素材を収録しています。 開発・公開年度が古くなってきているため、地名等、現在とはそぐわない部分が多々あると思われます。お気づきの方は、お問い合わせ窓口までご連絡ください。 ● ご利用前に必ず利用規約をお読みください。
Photo Archives For Education
Deai
No matter where we go folktales reflect one's culture. This site turns the folktales of various countries into a picture book and translates them into various languages in order to offer them to the children of the world. It is our sincere hope that children may come to gain a greater mutual understanding of people and cultures thorough this site. With that end in mind we shall do our best to offer a wide variety of folktales that children will enjoy. Thank you for your understanding and cooperation.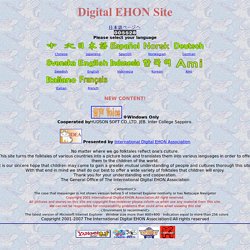 Digital EHON Site
Minna no Kyozai
MAINICHI PhotoBank - 毎日新聞社
Google Images Search 画像検索
教育用海外写真aglance