HTML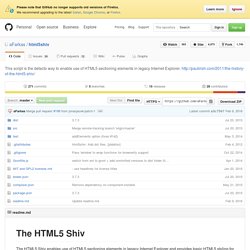 Dual licensed under the MIT or GPL Version 2 licenses Full original, uncompressed source available here: https://github.com/aFarkas/html5shiv Source code adds new HTML5 elements (which is simple code), but also supports printing HTML5 elements and includes the default styles for HTML5 elements, like block on article and section. Getting it to work in the browser was easy, @jon_neal and afarkas made IE actually print HTML5 elements - these guys are to take all the credit.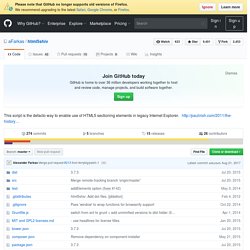 readme.md The HTML5 Shiv The HTML5 Shiv enables use of HTML5 sectioning elements in legacy Internet Explorer and provides basic HTML5 styling for Internet Explorer 6-9, Safari 4.x (and iPhone 3.x), and Firefox 3.x. What do these files do?
aFarkas/html5shiv
HTML5 오픈 레퍼런스는 HTML5 명세 를 좀 더 쉽게 이해하고, 웹 제작자들이 빠르게 요소와 속성을 찾아볼 수 있도록 하기 위해 클리어보스 HTML5 그룹에서 만들었습니다. 2010년 11월에 시작하여 2011년 11월 1일 베타 버전을 공개하였고, 2012년 HTML5 명세가 표준 권고안으로 확정되면 변경된 내용을 반영하여 베타를 떼어낼 계획입니다. 이 레퍼런스 사이트에 참여한 사람은 한선용 , 윤좌진 , 이동환 , 한성훈 , 황지훈 , 추지호 , 윤준 , 이태임 , 김태선 , 연병화 님까지 모두 10명이고, 사이트 UX디자인에 임정훈 님, 서버 관리에 장기웅 님이 도움을 주셨습니다. 2011년 1월 13일 명세를 기준으로 작성되어져 있습니다.
HTML5OpenRef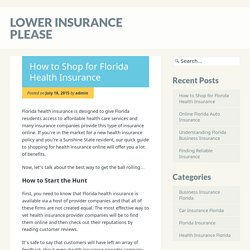 HTML5 Please
Every individual in Florida needs a number of types of insurance either by law or for peace of mind. But it's also important for a number of them to have Florida business insurance too. Without this, their whole company could end up becoming quite the liability over night. Business Insurance The truth, however, is that business insurance actually refers to at least four separate versions. It's believed that having these four types of insurance will sufficiently protect your business (though this is a general rule and you may have to do some research on your specific company's needs).