FrontEnd
NULI
HTML 수업 모듈내 토픽 갯수 22 봤어요 5,172 egoing 토픽 1394 / 봤어요 218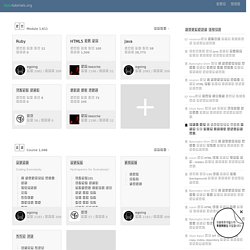 생활코딩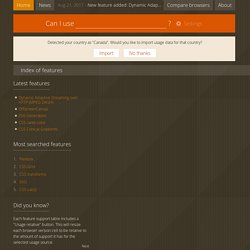 # CSS inline-block - Recommendation Method of displaying an element as a block while flowing it with text.
DavidWalsh_demos
Webtrendset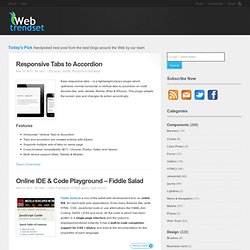 Responsive Tabs to Accordion Easy responsive tabs – is a lightweight jQuery plugin which optimizes normal horizontal or vertical tabs to accordion on multi devices like: web, tablets, Mobile (IPad & IPhone). This plugin adapts the screen size and changes its action accordingly. Features Horizontal / Vertical Tabs to AccordionTabs and accordion are created entirely with jQuerySupports multiple sets of tabs on same pageCross browser compatibility (IE7+, Chrome, Firefox, Safari and Opera)Multi device support (Web, Tablets & Mobile) Online IDE & Code Playground – Fiddle Salad
Creative
W3C 대한민국 사무국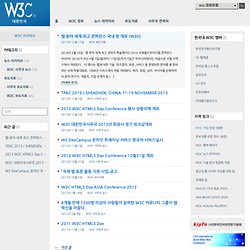 2014년 2월 14일 : 웹 분야 세계 최고 권위의 학술행사인 2014 국제월드와이드웹 콘퍼런스(WWW 2014)가 오는 4월 7일(월)부터 11일(금)까지 5일간 우리나라에서는 처음으로 서울 코엑스에서 개최된다. 이 행사는 웹에 대한 기술, 연구결과, 표준, 서비스 등 광범위한 분야를 총 망라하는 국제 학술대회로, 1994년 스위스에서 처음 개최됐다. 북미, 유럽, 남미, 아시아를 순회하며 이 분야 연구자, 개발자, 기업 관계자 등 […]
웹표준을 위한 HTML 레퍼런스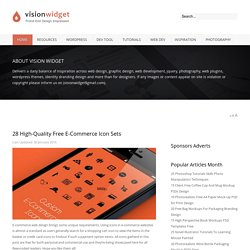 As commerce, socialization, creativity, and identity become increasingly digitized and uploaded, "normal people" who need free, simple web design solutions increases. we have compiled a handsome list of web design tools such like Firebug, Bootstrap Expo, In order to solve various problems in day-to-day works, those tools include HTML, CSS, and JS component and other features to help you improve front end development and find final test programs are rigorously applied to 100% of finished parts.
모바일 웹앱개발의 모든것 webdevmobile.com
FRENDS.KR
MIX | Events
dochub_엘리먼트사전
MapionVideo
Zany's Homepage
IllustrationChristoph Niemann Writers/EditorsMin Li Chan, Fritz Holznagel, Michael Krantz Project CuratorMin Li Chan & The Google Chrome Team DesignFiPaul Truong DevelopmentFi Very Special Thanks To Brian Rakowski, Ian Fette, Chris DiBona, Alex Russell, Erik Kay, Jim Roskind, Mike Belshe, Dimitri Glazkov, Henry Bridge, Gregor Hochmuth, Jeffrey Chang, Mark Larson, Aaron Boodman, Wieland Holfelder, Jochen Eisinger, Bernhard Bauer, Adam Barth, Cory Ferreria, Erik Arvidsson, John Abd-Malek, Carlos Pizano, Justin Schuh, Wan-Teh Chang, Vangelis Kokkevis, Mike Jazayeri, Brad Chen, Darin Fisher, Johanna Wittig, Maxim Lobanov, Marion Fabing Nicolas, Jana Vorechovska, Daniele De Santis, Laura van Nigtevegt, Wojtek Cyprys, Dudley Carr, Richard Rabbat, Ji Lee, Glen Murphy, Valdean Klump, Aaron Koblin, Paul Irish, John Fu, Chris Wright, Sarah Nahm, Christos Apartoglou, Meredith Papp, Eric Antonow, Eitan Bencuya, Jay Nancarrow, Ben Lee, Gina Weakley, Linus Upson, Sundar Pichai & The Google Chrome Team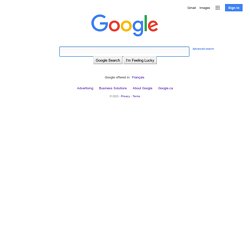 Developer Network