UML
Get flash to fully experience Pearltrees
The Rational Unified Process ( RUP ) is an iterative software development process framework created by the Rational Software Corporation, a division of IBM since 2003. [ 1 ] RUP is not a single concrete prescriptive process, but rather an adaptable process framework , intended to be tailored by the development organizations and software project teams that will select the elements of the process that are appropriate for their needs. RUP is a specific implementation of the Unified Process . [ edit ] History The Rational Unified Process (RUP) is a software process product, originally developed by Rational Software, which was acquired by IBM in February 2003.
Rapid Application Development (RAD) Model Rapid application development ( RAD ) is a software development methodology that uses minimal planning in favor of rapid prototyping. The "planning" of software developed using RAD is interleaved with writing the software itself.
Programming Methodologies & Paradigms
Das V-Modell ist ein Vorgehensmodell in der Softwareentwicklung, bei dem der Softwareentwicklungsprozess in Phasen organisiert wird. Neben diesen Entwicklungsphasen definiert das V-Modell auch das Vorgehen zur Qualitätssicherung ( Testen ) phasenweise. Vorgeschlagen wurde dieses Vorgehen zuerst von dem US-amerikanischen Softwareingenieur Barry Boehm im Jahre 1979 und basiert auf dem Wasserfallmodell : Die Phasenergebnisse sind bindende Vorgaben für die nächsttiefere Projektphase. Der linke, nach unten führende Ast für die Spezifizierungsphasen schließt mit der Realisierungsphase ab.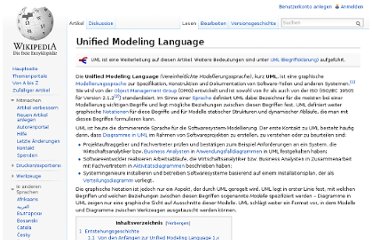 Die Unified Modeling Language (Vereinheitlichte Modellierungssprache) , kurz UML , ist eine graphische Modellierungssprache zur Spezifikation, Konstruktion und Dokumentation von Software-Teilen und anderen Systemen. [1] Sie wird von der Object Management Group (OMG) entwickelt und ist sowohl von ihr als auch von der ISO (ISO/IEC 19505 für Version 2.1.2 [2] ) standardisiert. Im Sinne einer Sprache definiert UML dabei Bezeichner für die meisten bei einer Modellierung wichtigen Begriffe und legt mögliche Beziehungen zwischen diesen Begriffen fest. UML definiert weiter graphische Notationen für diese Begriffe und für Modelle statischer Strukturen und dynamischer Abläufe, die man mit diesen Begriffen formulieren kann. UML ist heute die dominierende Sprache für die Softwaresystem-Modellierung. Der erste Kontakt zu UML besteht häufig darin, dass Diagramme in UML im Rahmen von Softwareprojekten zu erstellen, zu verstehen oder zu beurteilen sind: