Jobs/Career/Market
Yawhat.pdf (application/pdf Object) Petroleum Engineers. Devise methods to improve oil and gas extraction and production and determine the need for new or modified tool designs.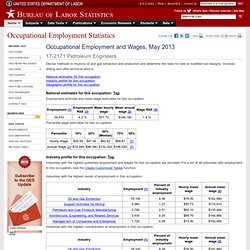 Oversee drilling and offer technical advice. National estimates for this occupationIndustry profile for this occupationGeographic profile for this occupation National estimates for this occupation: Top. Nurse Anesthetists. The information on this page relates to the 2010 SOC, please see the 2000 SOC System for information on the previous version of the SOC.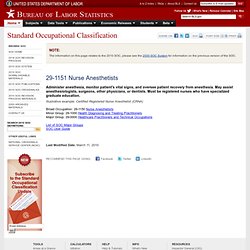 Administer anesthesia, monitor patient's vital signs, and oversee patient recovery from anesthesia. May assist anesthesiologists, surgeons, other physicians, or dentists. Must be registered nurses who have specialized graduate education. Illustrative example: Certified Registered Nurse Anesthetist (CRNA)
16 Career Clusters | LoveToKnow. If you're trying to find your dream job, understanding the 16 career clusters can be helpful.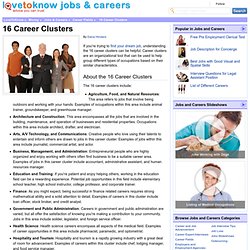 Career clusters are an organizational tool that can be used to help group different types of occupations based on their similar characteristics. About the 16 Career Clusters. Urban planner. An urban planner or city planner is a professional who works in the field of urban planning/land use planning for the purpose of optimizing the effectiveness of a community's land use and infrastructure.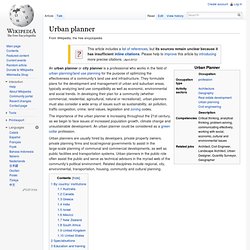 They formulate plans for the development and management of urban and suburban areas, typically analyzing land use compatibility as well as economic, environmental and social trends. In developing their plan for a community (whether commercial, residential, agricultural, natural or recreational), urban planners must also consider a wide array of issues such as sustainability, air pollution, traffic congestion, crime, land values, legislation and zoning codes. Career Fields | LoveToKnow. Are you wondering what kind of career is right for you?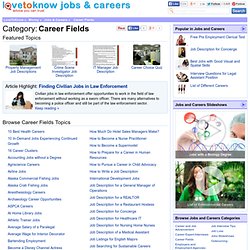 Whether you're just starting out in your professional life or you're planning to make a mid-career change, it's important to conduct thorough research about any occupation you are considering selecting as your career field. The Importance of Career Research The process of choosing a career starts with knowing about the different types of occupations that exist and identifying the ones that most closely match your skills and preferences while also being in-demand in the modern job market. 5 In-Demand Degrees. By Chris Kyle Do you want to be more marketable to employers?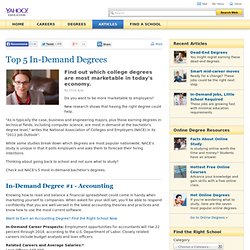 New research shows that having the right degree could help. "As is typically the case, business and engineering majors, plus those earning degrees in technical fields, including computer science, are most in demand at the bachelor's degree level," writes the National Association of Colleges and Employers (NACE) in its "2011 Job Outlook".
---