Web Design
Branding, Digital & Print Design | Our Work |Spritz Creative. Material Design exploration: NBA scores. Applying the Material Design language to a concept NBA app.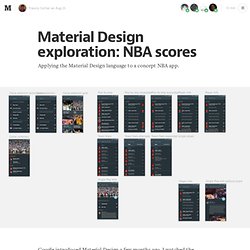 Google introduced Material Design a few months ago. I watched the Material Design reel more than a few times to re-create portions in Framer: the music player and the white box sequence. How to Create Guidelines and Standards for Websites or Applications. While some methods may vary one of the most important starting points for any project is a set of guidelines.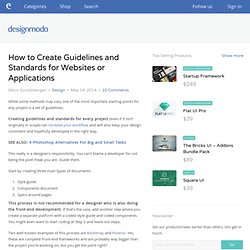 Creating guidelines and standards for every project (even if it isn't originally in scope) can increase your workflow and will also keep your design consistent and hopefully developed in the right way. SEE ALSO: 9 Photoshop Alternatives For Big and Small Tasks This really is a designer's responsibility. 12 Must-Have Tools for Web Designers.
Sometimes, it's hard to keep up with everything on the web that can help you do your job better.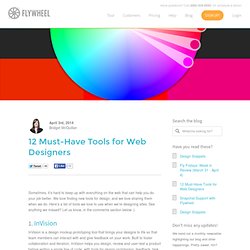 We love finding new tools for design, and we love sharing them when we do. Here's a list of tools we love to use when we're designing sites. See anything we missed? Let us know, in the comments section below :) 60 Fresh Creative One Page Website Designs. One page design is a hot trend these days.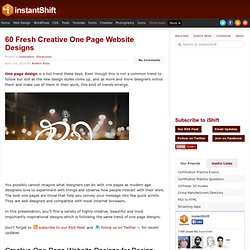 Even though this is not a common trend to follow but still as the new design styles come up, and as more and more designers notice them and make use of them in their work, this kind of trends emerge. You possibly cannot imagine what designers can do with one pages as modern age designers love to experiment with things and observe how people interact with their work. The best one pages are those that help you convey your message into few quick scrolls. App.itize.us - Home. Interactive Portfolio and Resume Websites to Inspire You.
While creating a website, tons of aspects should be taken into account, especially when it comes to resume and portfolio sites.
A portfolio helps all creatives to showcase their work, get new clients, and share information. It's extremely important to make your visitors feel that they control the website and are completely involved. Interactivity is one of the tools to achieve that. Interactivity is the best way to keep your old clients and to get new ones. Interactivity means the degree of interaction between objects. Examples of the Effective Use of Typography in Web Design. Typography is one of the oldest disciplines of website design – it's roots can be traced back to the 2nd millennium BC, when Mesopotamian cities used stamps to make impressions on bricks.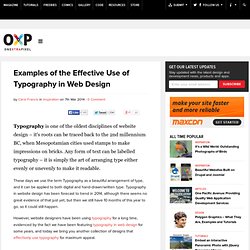 Any form of text can be labelled typography – it is simply the art of arranging type either evenly or unevenly to make it readable. These days we use the term Typography as a beautiful arrangement of type, and it can be applied to both digital and hand-drawn/written type. What's new for designers, February 2014. The February edition of what's new for web designers includes new web apps, icons, color resources, webmaster tools, graphics programs, CSS frameworks, JavaScript resources, and some really great new fonts.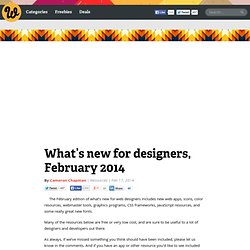 Many of the resources below are free or very low cost, and are sure to be useful to a lot of designers and developers out there. As always, if we've missed something you think should have been included, please let us know in the comments. And if you have an app or other resource you'd like to see included next month, tweet it to @cameron_chapman for consideration. GV Library. 20 Beautiful UI & UX Designer Portfolios For Inspiration. A modern world requires new rules and you just can't be a successful graphic designer without a personal portfolio website.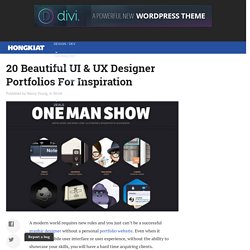 Even when it comes to mobile user interface or user experience, without the ability to showcase your skills, you will have a hard time acquiring clients. In that thought, we have collected a showcase of breathtaking UI & UX portfolios by a few talented designers and carefully chosen a few work examples that bring out their true genius. Not only are they good with catchy mobile interfaces, they also take the cake when it comes to website design. Make sure to not only check out the samples of their work here, but also to check out their original sites for more of their work.
Let us know which are your favorite and if you have other designer portfolios you would like to share with our readers. ANTETYPE - Visual Responsive Application Design Prototyping Software - Design more beautiful UIs faster. 20 Free High-Quality PSD Website Templates. 70 Best Web Design Tutorials of 2013. 2013 has ended with a great blast and I'm pretty sure that everyone has done their countdowns and throwback blog posts, tweets and even status updates.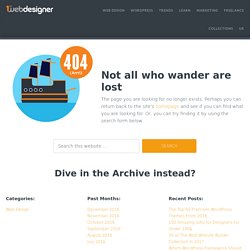 It's a pretty cool thing to do because you get to remember all the awesome things 2013 has given you. You look back at how bad you were design-wise last year and how well you've improved. Trends and Predictions: How the Future Looks Like for Web Design in 2014. As a web design enthusiast, I'm constantly on the look-out for what's hot and what's not in the web design world.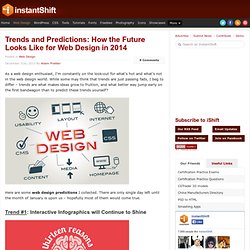 While some may think that trends are just passing fads, I beg to differ – trends are what makes ideas grow to fruition, and what better way jump early on the first bandwagon than to predict these trends yourself? Here are some web design predictions I collected. There are only single day left until the month of January is upon us – hopefully most of them would come true. Trend #1: Interactive Infographics will Continue to Shine Ask any web designer about the creation of infographics and you will be greeted with nods of approval. How to really defer loading javascript. None of the above are solutions to the problem of actually allowing a webpage to fully load and then (and only then) loading external JS. Nor will any of the above always get you past that "Defer loading of javascript" warning you are getting from the Google page speed tool.
This solution will and is the recommended solution from the Google help pages. How to defer loading of javascript The below code is what Google recommends. This code should be placed in your HTML just before the </body> tag (near the bottom of your HTML file). 35 Stylish Illustration Websites for Inspiration. There are many ways to make your website standout from the crowd, creating Illustration Websites can enhance your websites creativity and feel. Illustration Websites is a great way to bring more color and visual appeal to the viewer, using elements like Photography, Digital Illustrations or Hand Drawn Illustrations can really bring your website to life.
If you're looking for beautiful artwork, go here. 50 Powerful Minimalist Website Templates. Minimalism has been a popular website design style for years. It has so many benefits; minimalist sites load faster, take fewer server resources, and are often faster to develop than more graphically complicated designs. Plus, they give a professional, clean impression to visitors. Many people still view minimalist designs as boring.
But there's a real art to effective minimal website designs, something not all designers can effectively master. When you limit the number of graphic elements you use and put the focus on negative space and typography, a good eye for spacing and proportion becomes crucial. Weebly - Create a free website and a free blog. Why mobile web apps are slow. I've had an unusual number of interesting conversations spin out of my previous article documenting that mobile web apps are slow. This has sparked some discussion, both online and IRL. But sadly, the discussion has not been as… fact-based as I would like.
40 beautiful flat ui design inspiration. Following up on my previous article on introducing the best flat ui kit from Designmodo, this article will showcase some of the best inspirational flat ui design. When it comes to the flat ui design, there are a couple of key characteristics that you need to be aware of. First, there is ZERO use of effects such as shadowing that creates a depth effect. 30 Beautiful Landing Pages Optimized for Converting Visitors into Users. Reflections on Web Design Trends in 2013. 21 Examples of Beautiful Color Use in Web Design. Basehold.it - quick, painless, javascript-free baseline overlays. Web Design Blog, Tutorials and Inspiration | Web Design Ledger. 21 Amazing Examples of Clean and Minimal Web Designs. 1stwebdesigner • Web Design Blog.
80 Dazzling Examples of Illustration Websites. Inspiration: 40 Black and White Websites. Web development tutorials, from beginner to advanced. Forked from: [Stardust] KiraKira Waypoints. Check Browser Compatibility, Cross Platform Browser Test - Browsershots. HTML and CSS Tutorials, References, and Articles. Hues Hub: HTML Color Codes in Hexadecimal at intervals of hue, saturation, and light; Hue each 6 degrees. Minimal Sites | Minimal Design Website Gallery and Community.
---