Flash Games
Play Sands of Coliseum - gladiator fighting warrior battles in arena.
Strategy
Shooting. Action. Rule of Fun. "While it might be 'realistic' for a nearly dead character to limp, move slowly, and have generally less effective moves, it's not fun.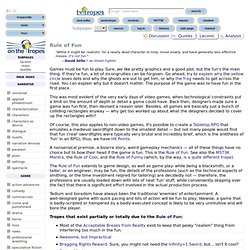 " Games must be fun to play. Sure, we like pretty graphics and a good plot, but the fun's the main thing. If they're fun, a lot of incongruities can be forgiven. Newgrounds. Kongregate. Armor Games.
---