Comm
Mein Konto - Mein Konto. Fenster schliessen Bitte haben Sie einen Moment Geduld.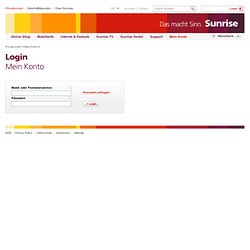 Ihre Anfrage wird verarbeitet. Sie surfen mit dem Internet Explorer 6 oder älter. Um das bestmögliche Erlebnis auf der Sunrise Webseite gewährleisten zu können, empfehlen wir Ihnen einen der folgenden unterstützten Browser: Mysms. Telmy. WEB.DE - E-Mail - Suche - DSL - De-Mail - Shopping - Entertainment. E-Mail Login. IP Telefonie-Plattform / Anrufe zu internationalen Niedrigtarifen. As of January 31, 2014, Jajah no longer offers its JAJAH Direct Call and JAJAH Web Call or related services.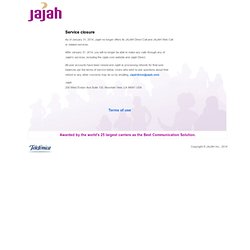 After January 31, 2014, you will no longer be able to make any calls through any of Jajah's services, including the Jajah.com website and Jajah Direct. All user accounts have been closed and Jajah is processing refunds for final user balances per the terms of service below. Users who wish to ask questions about their refund or any other concerns may do so by emailing, JajahVoice@jajah.com Jajah200 West Evelyn Ave Suite 120, Mountain View, CA 94041 USA. Kostenlos telefonieren mit PeterZahlt.de - Home.
---