Improve your German
Our livebinder grammar collection. Author of binders: uschi1 Email this Shelf Post to Twitter or Facebook Embed this Shelf To email this shelf, click in the box below which will select the shelf url for copy and paste: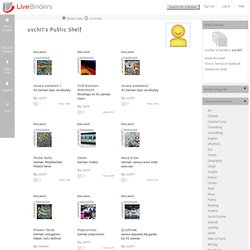 Unsere Vokabeln2. Unsere Vokabeln 1. OUR Revision MINDMAPS. OTHER. German novels with instant help. WikIdioms. German Resources. Learn with Flashcards. Group 1 Don't settle for just any verb, learn one of the top 100 German verbs!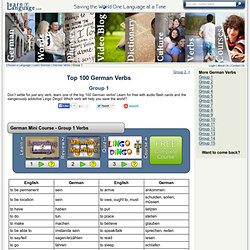 Learn for free with audio flash cards and the dangerously addictive Lingo Dingo! Which verb will help you save the world? Done with German Verbs Group 1? Return to the German verbs menu when you have mastered Group 1 of the Top 100 German verbs. German Words and Nouns.
Learn German words in many categories with free German flash cards and the dangerously addictive Lingo Dingo review game.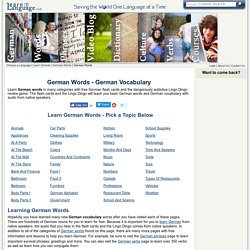 The flash cards and the Lingo Dingo will teach you basic German words and German vocabulary with audio from native speakers. Learn German Words - Pick a Topic Below Learning German Words Hopefully you have learned many new German vocabulary words after you have visited each of these pages. German Phrases. These common German phrases will help you sound more like a native speaker.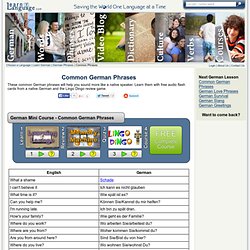 Learn them with free audio flash cards from a native German and the Lingo Dingo review game. Return to the German phrases page once you have impressed the natives with your knowledge of common German phrases. There are also many lists of common German words that you can learn for free. There are many free resources to help you learn German here at Visual Link Languages including the German verbs page. Interactive German Exercises.
Young Germany. Deutsch als Fremdsprache. AS/A2 Material. Willkommen in der Schellingstrasse 60. Fluter.de. Alltag in Deutschland. Best online dictionary.
German should be fun (LearnXDGerman) sur Twitter. Watch. Videos and exercises. Aktuelle Nachrichten-Videos. German Videos. Picture Dictionary. Teachers TV. Easy German. Selection of videos. Upload Subscription preferences Loading...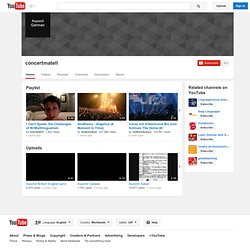 Working... concertmatell. Lehrlinge. Television video film. Television video film. BBC-Deutsch Plus. Listen. Pictures and Sound. Cool German. Slow German POD. TPRS German Short Story | Short Story – Blond oder braunhaarig Du kannst diese Seite gerne mit deinen Freunden teilen (posten, tweeten…) Short Story – Blond oder braunhaarig - Online Preview - Teil 1 – Liebe auf den ersten Blick.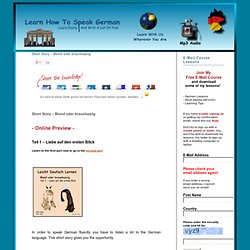 German PODcast. Play. German Quizzes. German Game Lessons. German games. Grammar. Powerpoints.
Word Order. Wenn, weil und obwohl – Jumbled Word Order Tasks 1.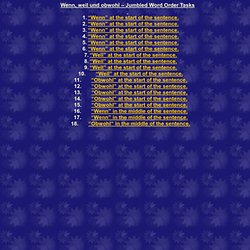 "Wenn" at the start of the sentence. 2. "Wenn" at the start of the sentence. Access German. German Practice. Homepage Olaf Böhlke Here are, in my opinion, some of the best links for language learning.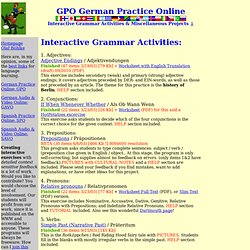 German Practice Online: GPO German Audio & Video Online: GAVO Spanish Practice Online: SPO Spanish Audio & Video Online: SAVO. German grammar. Note (zip, videos) pages with this sign contain a video Prologue.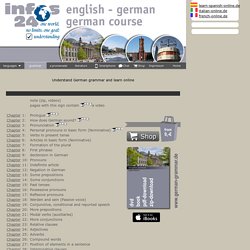 Prepositions/Cases. Great Site: Grimm Grammar.
---
usch Oct 11 2011

gepocock: I created this pearltree for my AS German class. You should find plenty of resources to brush up your German! You'll see, once you've started, it will all come back :)

gepocock Oct 10 2011

I will look at this later, when I have time, but I was born in Bielefeld and my mother spoke to me in German when I was a child (although she is British!) She wanted me to be bi-lingual. I have forgotten so much that I would like to improve. Thanks. The grammar is a bitch!
---