Tecnologia
Diggitech.com : Digital Technology. Tu web de hardware, software y juegos | Noticias, Reviews y Descargas | HispaZone.com. StorageReview.com - Storage Reviews. Technology News and Information for VARs, MSPs and CSPs. TechRadar | Technology News And Reviews. IT. Technorati Blogs/Posts Join / Sign In / Help Home / Technology / IT IT Channel.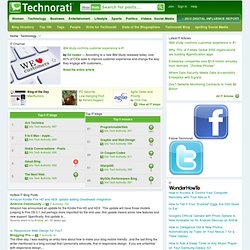 Technology, News and Reviews. IT PRO | Enterprise & Business IT News, Reviews, Features & How Tos. ServerWatch -- Everything Servers: Virtualization, Blades, Power & Cooling -- Technology News, Trends and Analysis for Server Admins. InformationWeek | Business Technology News, Reviews and Blogs. Network World. GigaOM. TechRepublic - A Resource for IT Professionals. Computerworld - IT news, features, blogs, tech reviews, career advice.
Network Computing. Data Center Journal | Portal for Data Centers: IT, Facilities, Design. CSO Online - Security and Risk. Business technology, IT news, product reviews and enterprise IT strategies. Bladewatch.com -Bladewatch.com - » Empowering the end user community, tracking enterprise technology. Value-Added Reseller (VAR) and Technology Channel Partners News - Channel Insider.
---