Baseball
9 Pitches - 9 Strikes - 3 Outs / Immaculate Innings by Baseball Almanac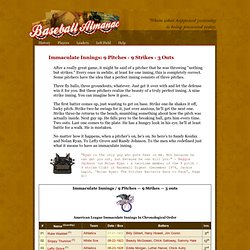 Immaculate Innings: 9 Pitches - 9 Strikes - 3 Outs
The Strike Zone is expanded on the lower end, moving from the top of the knees to the bottom of the knees (bottom has been identified as the hollow beneath the kneecap).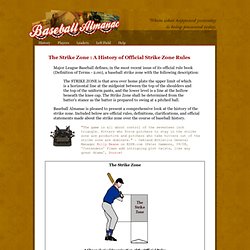 The Strike Zone : A Chronological History of the Official Rules by Baseball Almanac
Early 1900s Baseball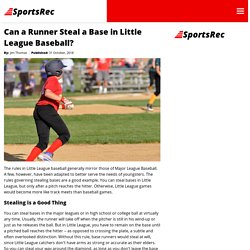 Major League Baseball -- MLB -- consists of the best baseball players from around the world. Each team within the MLB is designated to the National or American League.
Rules Of American & National League Baseball
American League v. National League: A Battle for Supremacy Between Baseball's Junior and Senior Circuits
Here's a statistical comparison of the two rival leagues and the players and managers who have bridged the gap.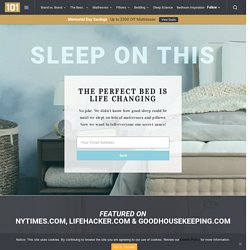 The Regular Season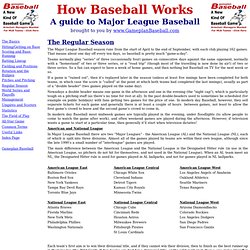 How Baseball Works (a guide to the game of Baseball)
July 27, 2009 There are dramatic differences between the major and minor baseball leagues in America.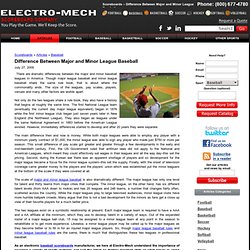 Difference Between Major and Minor League Baseball
The National League (NL) is the oldest professional baseball league.
Whats the difference between american league and national? BASEBALL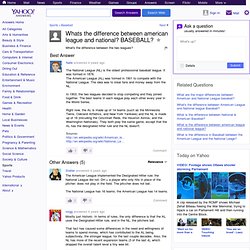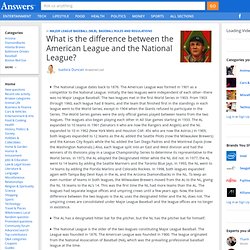 What is the difference between the National and the American Leagues in baseball
The main difference between the two leagues is the DH rule. The DH is used in the American League. The DH, or Designated Hitter, bats for the pitcher in the batting order.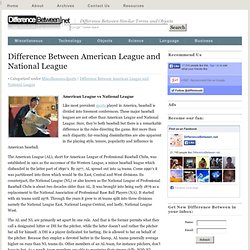 American League vs National League
Difference Between American League and National League | Difference Between | American League vs National League
Science of Baseball
What's the difference between MLB's American League and National League; and what's the point of...
The two leagues were formed at different times.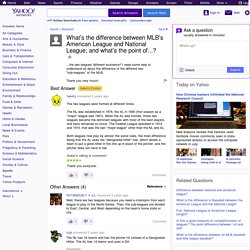 Answer So "interleague play" isn't daily and every team can play a game. Otherwise, there would either be one team from each league that doesn't play or an odd number of interleague games would occur.
Why are there more teams in the National League than the American League
American League vs. National League
What Are the Differences Between the American and National Leagues?
The American and National Leagues are part of Major League Baseball (MLB), the highest level of professional baseball in North America.
What is the difference between the American League and the National League
The American League Vs the National League
Little League Baseball Field Dimensions, Size, Measurements - SportsKnowHow.com
Click on the baseball layout or the links below the layouts for printable or downloadable Major League Baseball Field diagrams.
Little League Baseball, May 2009.
Little League Baseball
Baseball roundup: Strasburg homers in 9-3 win by Nationals over O's
What baseball teaches us about managing people
Baseball