Work
The Vitec Group plc > Home
home
Vinten's wide range of lightweight, studio and outside broadcast camera support equipment enables you to work the way you choose without compromise. Ever since Vinten's early collaborations with world famous broadcasters in the 1940s, Vinten's equipment has been an industry standard. Every year thousands of iconic television productions are filmed using cameras supported by Vinten pan and tilt heads, pedestals and tripods. Vinten is the professional's choice because unique innovations such as Perfect Balance technology, LF drag and TF drag provide effortless support - allowing the you to focus on the perfect shot. Search for your perfect product, download the latest Vinten Camera Support Brochure, or understand more about how Vinten products help people like you in 'Vinten in Use'.
Products | www.vinten.com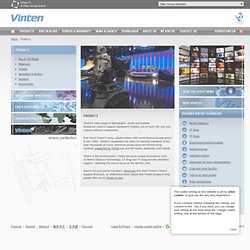 Ace Sales Essential Guide
Sachtler White Paper Counterbalance You would like to film fantastic weddings, spontaneous concerts, or convincing image films? Or finally try out the video function of your new DSLR camera? And don't want to do without perfect camera pans while doing so?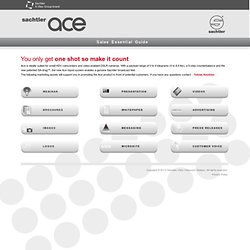 Producer of professional camera support and reporter lighting
Petrol Bags Global Website | petrolbags.com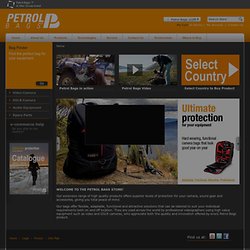 Our extensive range of high quality products offers superior levels of protection for your camera, sound gear and accessories, giving you total peace of mind. Our bags offer flexible, adaptable, functional and attractive solutions that can be tailored to suit your individual requirements both on and off location. They are used across the world by professional videographers using high value equipment such as video and DSLR cameras, who appreciate both the quality and innovation offered by every Petrol Bags product.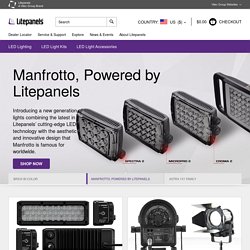 New 9" LED Fresnels Combine High Powered Illumination Output with Energy Efficiencies and Cost Savings CHATSWORTH, Calif., (March 26, 2014 )–Litepanels®, a Vitec Group brand and premier provider of LED lighting for the broadcast and production industries, will debut the Sola 9 (daylight balanced) and Inca 9 (tungsten balanced) LED Fresnels at NAB 2014. Following last year's breakthrough launch of the Sola 12 and Inca 12, the new 9" fixtures fill a market demand for medium-sized LED Fresnels. Litepanels' industry leading collection of LED Fresnels now covers the complete range needed to deliver a full LED solution for broadcast studios, episodic television, and feature film production. Ideal for studio and remote applications, the Sola 9 and Inca 9 are stronger and brighter than a traditional 1K Fresnel while offering a host of cost effective features.
Litepanels | Award Winning LED Lighting for Video, Still Photo & Motion Picture Production
find a distributor or view map Autoscript is the market leading manufacturer and provider of multiple award winning end to end prompting solutions, with an extensive network of dealers, distributors and technology partner's world wide. Autoscript have an R&D resource, with expertise in all forms of Television production.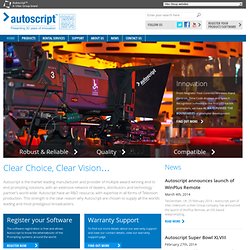 Autoscript, Leading Manufacturer & Distributor of Autocue, Prompteur, Prompters, Prompting Equiptment & Accessories
OConnor
SILVER SPRINGS, 15 de enero: JB Perrette se convertirá en el próximo presidente de Discovery Networks International, tomando el cargo de Mark Hollinger, quien comunicó su renuncia en septiembre. PREMIUM, 15 de enero: Joe Uva, presidente de empresas hispanas y contenido en NBCUniversal, conversa con Diario TV Latina sobre la forma en que están aumentando la presencia de la programación de Telemundo en las cadenas y plataformas de NBCUniversal, qué le están ofreciendo a los anunciantes, y los tipos de programación en los cuales se está enfocando Telemundo para aumentar sus ratings, entre otros temas. MIAMI, 15 de enero: Emilio Azcárraga Jean, presidente, CEO y chairman de la junta de Grupo Televisa, participará del Global Navigators Keynote en NATPE, moderado por Anna Carugati de World Screen, quien también moderará una sesión con Ben Silverman y Luis Balaguer.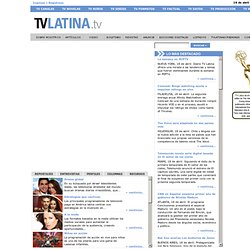 TV Latina - Home
TECNOLOGÍA | PRODU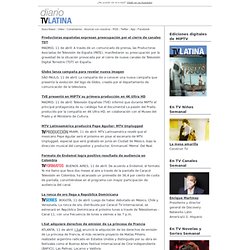 Diario TV Latina
Productoras españolas expresan preocupación por el cierre de canales TDT MADRID, 11 de abril: A través de un comunicado de prensa, las Productoras Asociadas de Televisión de España (PATE), manifestaron su preocupación por la gravedad de la situación provocada por el cierre de nueve canales de Televisión Digital Terrestre (TDT) en España. Globo lanza campaña para revelar nueva imagen