WIITHAA
SmartSantander. 7 Ways to Have More by Owning Less. By Maria Popova Inconspicuous consumption, or what lunching ladies have to do with social web karma.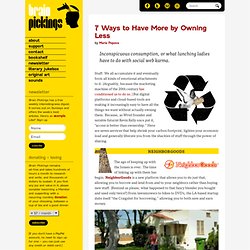 Stuff. We all accumulate it and eventually form all kinds of emotional attachments to it. (Arguably, because the marketing machine of the 20th century has conditioned us to do so.) Vos idées pour le futur de Goods Commons? - Goods Commons. La Consommation Collaborative, phénomène de 2011 ? | Consommation Collaborative.
Bon ok le titre est un peu vendeur…mais de vraies raisons d'être aussi optimiste, il y en a, à la fois pour ce qu'il se trame outre-Atlantique mais aussi en France… Des signes avant-coureurs en provenance des Etats-Unis Selon les secteurs de l'Internet et du e-commerce, il faut un délai plus ou moins long pour que les usages de l'Internet à l'œuvre aux Etats-Unis se traduisent en Europe.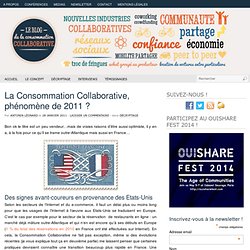 Changing Models of Ownership: Part I. Claro Partners' project Changing Models of Ownership and Value Exchange sought to understand how the concept of ownership and its transfer have changed – and are changing – in recent years.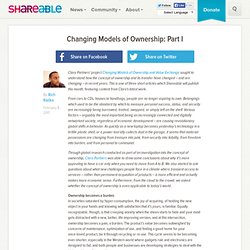 This is one of three short articles which Shareable will publish this month, featuring content from Claro's latest work. From cars to CDs, houses to handbags, people are no longer aspiring to own. Belongings which used to be the standard by which to measure personal success, status, and security are increasingly being borrowed, traded, swapped, or simply left on the shelf. Various factors – arguably the most important being an increasingly connected and digitally networked society, regardless of economic development – are causing revolutionary global shifts in behavior. How to live for free - School of everything - Money- Eventbrite. Invalid quantity.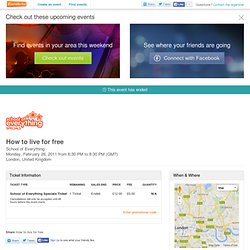 Please enter a quantity of 1 or more. The quantity you chose exceeds the quantity available. Please enter your name. Belleville comme terrain d'expérimentation - Goods Commons. Bricoler, jardiner, coudre... Et si on réapprenait à autoproduire ? Une trousse à couture (photographerpandora/Flickr/CC).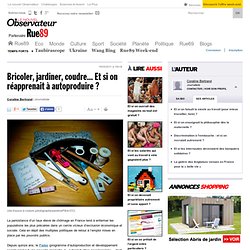 La persistance d'un taux élevé de chômage en France tend à enfermer les populations les plus précaires dans un cercle vicieux d'exclusion économique et sociale. Cela en dépit des multiples politiques de retour à l'emploi mises en place par les pouvoirs publics. Depuis quinze ans, le Pades (programme d'autoproduction et développement social) promeut une nouvelle approche, l'« autoproduction accompagnée », dont le mot d'ordre est : « Faire, et en faisant, se faire. » The Story of Stuff. MakingSociety | Adventure in the makers community of San Francisco.
The Simpler Way - Main Intro. Several of these documents overlap, and different versions of the same account (e.g., short and long) are sometimes given for use with different audiences.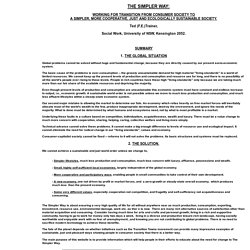 Please use the version that suits your purposes. . ____________________________________ WIITHAA.
---