OpenWeb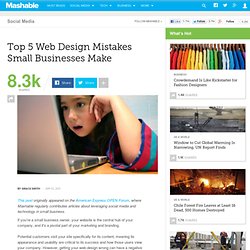 This post originally appeared on the American Express OPEN Forum , where Mashable regularly contributes articles about leveraging social media and technology in small business. If you're a small business owner, your website is the central hub of your company, and it's a pivotal part of your marketing and branding. Potential customers visit your site specifically for its content, meaning its appearance and usability are critical to its success and how those users view your company.
Top 5 Web Design Mistakes Small Businesses Make
The Berkman Center for Internet & Society at Harvard University and Stanford Law School are pleased to announce 'Ideas for a Better Internet,' a joint initiative aimed at fostering innovation around the most pressing issues currently facing the Internet. We invite anyone — interested individuals, scholars, entrepreneurs, organizations, and others with great ideas — to submit a proposal. We are looking for proposals that will make the Internet more secure, more accessible, more open, or just plain better — ideas that recognize the interactions of law, policy, business, and code and expand on the notion that the Internet is a global information network. Proposals might address problems in data security, Internet infrastructure, digital literacy, or anything else, so long as they address the ultimate goal of making the Internet a better place for everyone.
Ideas For A Better Internet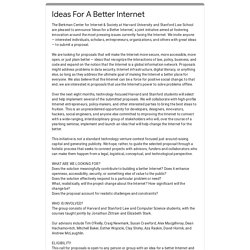 rickwebb's tumblrmajig (On The Bubble)
How to Get Tenure at Almost Every Other Research University | Cosmic Variance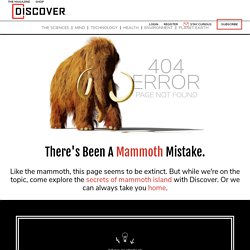 Yesterday Sean wrote (yet another) comprehensive insightful post , this one about what's involved in getting tenure at a "major research university". There is a tremendous amount of good advice in that post, and in the comments. However. I have to point out that the advice is very heavily weighted not towards "tenure at a major research university" but instead towards "tenure at one of the top 10 schools in the US". As evidence, here is a plot of the latest NRC rankings (red) and US News rankings (blue) of physics departments (shamelessly lifted from here — thanks HappyQuark!).
- MaxClass will send you messages about changes to MaxClass and/or new features. Mails may contain information about a sponsor (usually in the footer) but MaxClass will never send you commercial messages without your permission. - The structure and content of the website may change based on your personal details. For example there may be age-related educational products offered as adds in a side bar.
Privacy | MaxClass
Open Web | Magazine
TextChannels
OpenSite initiative is live :: TalkWeb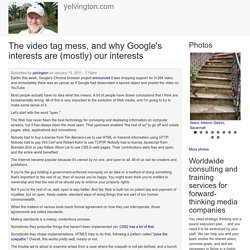 The video tag mess, and why Google's interests are (mostly) our interests
Earlier this week, Google's Chrome browser project announced it was dropping support for H.264 video, and immediately there was an uproar as if Google had desecrated a sacred object and posted the video on YouTube. Most people actually have no idea what this means. A lot of people have drawn conclusions that I think are fundamentally wrong. All of this is very important to the evolution of Web media, and I'm going to try to make some sense of it. Let's start with the word "open."
Using spreadfirefox model as a base for "Join Mozilla" program :: TalkWeb
How to become a Knight-Mozilla Fellow: The Script « NathanielJames.org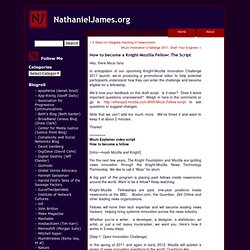 Hey, there MoJo fans: In anticipation of our upcoming Knight-Mozilla Innovation Challenge 2011 launch, we're producing a promotional video to help potential participants understand how they can enter the challenge and become eligible for a fellowship. We'd love your feedback on this draft script. Is it clear? Does it leave important questions unanswered? Weigh in here in the comments or go to http://etherpad.mozilla.com:9000/MoJo-Fellow-script to ask questions or suggest changes.