PaidHost
How much disk space and bandwidth will my plan include? There are no set limits on the disk space or data transfer (bandwidth) that we provide in our shared and reseller hosting plans. We want you to have the resources you need to build a great online presence. That being said, we do require all customers to be fully compliant with our Terms of Service and utilize disk space and bandwidth in the normal operation of a personal or small business website. While it is rare, we may need to put constraints on accounts that are using resources that impact other customers on the same server. Typically, customers only run into issues if they use their accounts for storage or file sharing, which is not what our services are intended to support.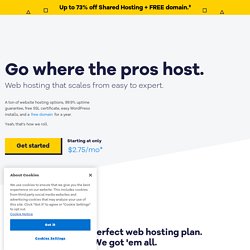 Backy LLC - Matrix Hosting
*Buy a new .COM, get one new .INFO for FREE for 1st year only. Not valid on renewals or transfers. Plus ICANN fee of 18¢ per domain per year. † Good for one 1-year registration of any available .COM, .US, .BIZ, .INFO, .NET or .ORG **New .COs, first year only. Offer ends 7/31/2012. ‡ Annual discounts available on NEW purchases only. GoDaddy.com is the world's No. 1 ICANN-accredited domain name registrar for .COM, .NET, .ORG, .INFO, .BIZ and .US domain extensions.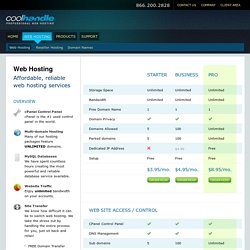 Web Hosting | Web Hosting by Cool Handle
Overview cPanel Control PanelcPanel is the #1 used control panel in the world. Multi-domain HostingMany of our hosting packages feature UNLIMITED domains.
Creating and managing a website could never get easier. If you are looking for a basic business or a personal website, consider using Joomla as it offers many advantages. Joomla enable you to construct a website which is entirely under your control. Using Joomla, you have no worries about your website construction and maintenance.
Express Joomla Website Setup | Joomla Training | Joomla SEO Singapore