KnowledgeBanks
Discovery Education. How To Easily Download All Facebook Photos You're Tagged In. You can also create Facebook "tag" photos, which means a person's profile is linked to the specific picture they appear in.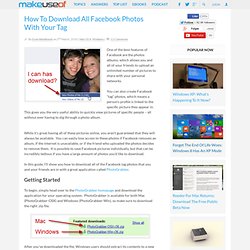 This gives you the very useful ability to quickly view pictures of specific people – all without ever having to dig through a photo album. While it's great having all of these pictures online, you aren't guaranteed that they will always be available. You can easily lose access to these photos if Facebook removes an album, if the internet is unavailable, or if the friend who uploaded the photos decides to remove them. It is possible to save Facebook pictures individually, but that can be incredibly tedious if you have a large amount of photos you'd like to download.
All Teacher Websites. Easy Comment Bank. IT and Computing. The Online TV Community - ShareTV.org. BBC Knowledge - Homepage. eLearning Learning.
---