Timeline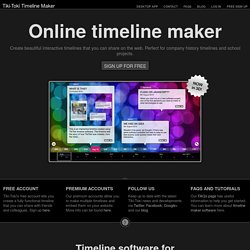 Why use Tiki-Toki? There are loads of timeline makers out there.What's so special about Tiki-Toki? Nothing to download Tiki-Toki works in your browser. Sign up for our freeaccount and you can start creating a timeline now Stunning 3d timelines No other online timeline makerallows you to view your timelines in 3d Include images and videos Tiki-Toki provides integration withYouTube and Vimeo for videos Share timelines with anyone Each timeline you create has its own unique urlthat you can send to friends or colleagues Colours and categories Tiki-Toki allows you to create different categoriesfor stories (events) and colour code them Group edit* Get your friends or colleaguesto contribute to your timelines Embed timelines on your site* Timelines created using Tiki-Toki can beembedded on your own website or blog *Active premium accounts only
Edwige Morin
Back on January 17th we launched SocialEngage , which takes the best of CoTweet Enterprise and includes new capabilities to empower brands to engage in social channels. To focus on the development of SocialEngage we also announced we would discontinue our free edition of CoTweet Standard on February 15th. This means, the free version of CoTweet, also known as CoTweet Standard is no longer available. However, we are making it very easy for you to try SocialEngage free through February 2012.
timemap - Javascript library to help use a SIMILE timeline with online maps including Google, OpenLayers, and Bing.
Timemap.js is a Javascript library to help use online maps, including Google, OpenLayers, and Bing, with a SIMILE timeline. The library allows you to load one or more datasets in JSON, KML, or GeoRSS onto both a map and a timeline simultaneously. By default, only items in the visible range of the timeline are displayed on the map. Version 2.0.1 Now Up!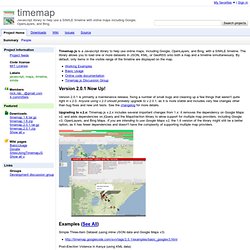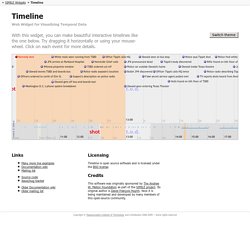 Lineup for witnesses Oswald taken to second lineup Deputy sheriff identifies Oswald Bullet 399 handed to SS Chief Rowley Air Force One arrives at Washington DC
Are you an art historian, archaeologist or conservator? Look at a Trello Board of most needed content and "claim" an essay to write! If something important is missing, let us know. Contact us to be added to the Trello Board: beth[at }khanacademy.org or steven[at ]khanacademy.org. We anticipate more than two million visitors from around the globe for the fall 2013 semester.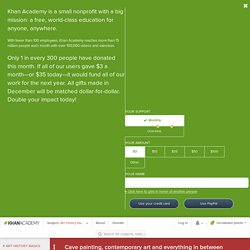 Timeline Index - People, Periods, Places, Events...
I'm looking forward to next week for "The Wall". Finally Roger Waters will have a concert in Romania. In the meanwhile I am getting ready, put youtube in action... Pink Floyd all day long.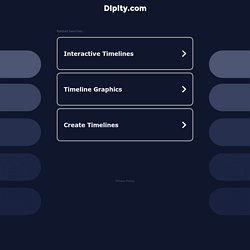 What is Dipity? Dipity is a free digital timeline website. Our mission is to organize the web's content by date and time. Users can create, share, embed and collaborate on interactive, visually engaging timelines that integrate video, audio, images, text, links, social media, location and timestamps. Who is Dipity for? Dipity timelines are for anyone who uses the Internet.