Art Education
Art 1. Optical Design. Art > Resource Guides > Fine Arts Library. Find background information, including biographies, in these resources.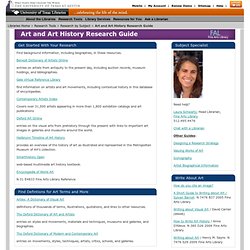 Benezit Dictionary of Artists Online entries on artists from antiquity to the present day, including auction records, museum holdings, and bibliographies. Ways not to kill classroom creativity. Eleven Classroom Creativity Killers Marvin Bartel - © 2001, updated Apri 3, 2013 ". . creativity scores had been steadily rising. . .until 1990.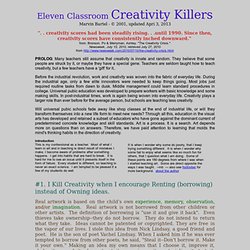 Since then, creativity scores have consistently inched downward. " CTL Events - Award-Winning Teachers on Teaching. Below is a list of memorable lectures on teaching, organized according to topic, by teaching-award-winning Stanford faculty.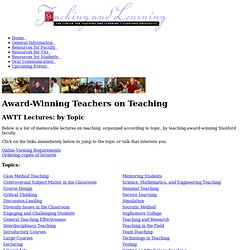 Click on the links immediately below to jump to the topic or talk that interests you. Topics: Case Method Teaching: Professor Mary Barth, Graduate School of Business April 13, 2000. John Baldessari's In Still Life 2001-2010.
Resources. Tutorials.
---