GZ Mosque
Imam: Pastor 'absolutely wrong'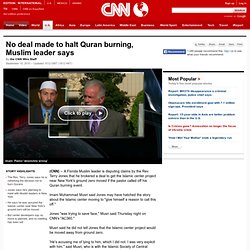 No deal made to halt Quran burning, Muslim leader says
I am not going to mention his name, since he's already been rewarded with way too many TV interviews for a person whose seminal career achievement has been building a thriving congregation of about 50 people. The Koran-burning has been equated, in some circles, with the fabled ground zero mosque. This is under the theory that both are constitutionally protected bad ideas.
Op-Ed Columnist - The 5 Percent Doctrine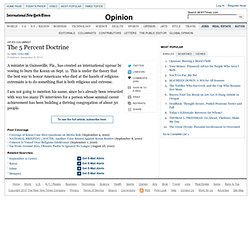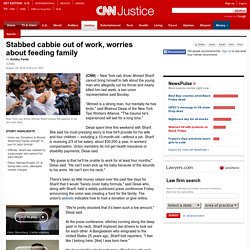 New York cab driver Ahmed Sharif shows the gashes in his arm and neck. Union rep: Donations to Ahmed Sharif fund "barely enough" to pay for baby formula Officials: Sharif was stabbed by a passenger who asked if he were Muslim Police: Michael Enright, 21, is facing hate crime, attempted murder charges (CNN) -- New York cab driver Ahmed Sharif cannot bring himself to talk about the young man who allegedly cut his throat and nearly killed him last week, a taxi union representative said Sunday.
Stabbed cabbie out of work, worries about feeding family
Pastor's Plan to Burn Korans Adds to Tensions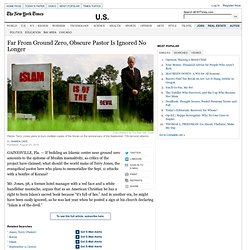 Mr.
The attorney for Michael Enright, the New York City college student charged with attempted murder as a hate crime for allegedly stabbing a Muslim cab driver Tuesday, denied that his client had acted out of hatred for Muslims. "I don't believe that he has any underlying hatred or animosity towards Islam or Muslims in general," said attorney Jason Martin. Enright, a 21-year-old filmmaker and School of Visual Arts senior from upstate New York, has had past run-ins with the law involving alcohol and New York City police described the Tuesday attack as an isolated incident caused by drinking. Police told ABC News that Enright, who had returned from a filmmaking trip to Afghanistan in May, was carrying two notebooks when arrested that contained allegedly "biased sentiments" recorded while he was in Afghanistan. Without providing details, police sources said the comments described encounters with Afghans he viewed as ungrateful for the American military presence in their country.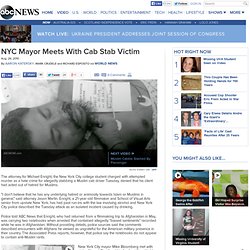 Cab Driver Stabbing: Lawyer Says Alleged Attacker Michael Enright Was Not Motivated By Anti-Muslim Hate
A crazed film student who recently embedded with Marines in Afghanistan is accused of a drunken, hate-fueled attack on a Muslim cabby in Midtown -- further heightening tensions in a city already gripped by the Ground Zero mosque controversy.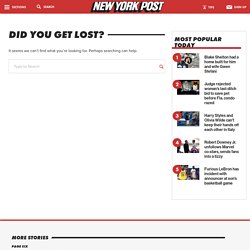 'Bigot' slashes Muslim cabby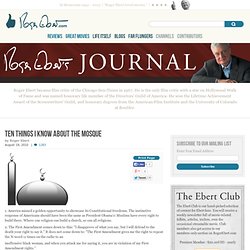 inoffensive black woman, and when you attack me for saying it, you are in violation of my First Amendment rights." 3.
Ten things I know about the mosque
Ron Paul to Sunshine Patriots: Stop Your Demagogy About The NYC Mosque! | Ron Paul .com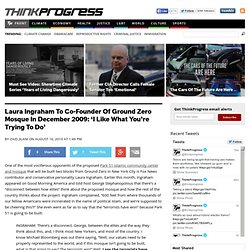 One of the most vociferous opponents of the proposed Park 51 Islamic community center and mosque that will be built two blocks from Ground Zero in New York City is Fox News contributor and conservative personality Laura Ingraham.
Think Progress » Laura Ingraham To Co-Founder Of Ground Zero Mosque In December 2009: 'I Like What You're Trying To Do'
Muslim Prayers Fuel Spiritual Rebuilding Project by Ground Zero
PRUDEN: The 'Zionist plot' to build a mosque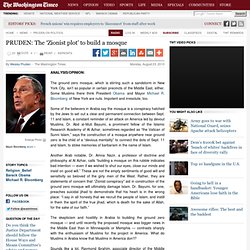 The ground zero mosque, which is stirring such a sandstorm in New York City, isn't so popular in certain precincts of the Middle East, either. Some Muslims there think President Obama and Mayor Michael R. Bloomberg of New York are nuts.
This guy will probably think twice before walking through another anti-mosque rally.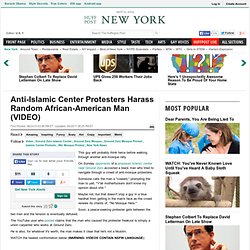 Anti-Islamic Center Protesters Harass Random African-American Man (VIDEO)
Tension and Confrontation at Anti-"Ground Zero Mosque" Rally (Video) - Political Hotsheet
Protesters squared off in lower Manhattan yesterday to make their feelings known about the planned Islamic cultural center two blocks from the former site of the World Trade Center that has come to be known as the "Ground Zero Mosque." And while there were plenty of striking moments at the event - check out Michelle Miller's video report here , which shows protesters opposed to the project holding signs deeming it a "victory mosque" while a smaller group counterprotested what they called bigotry - a good way to get a sense of the emotion at the scene is to check out a video posted to YouTube of a confrontation during the event. ( Warning: The video contains explicit language .)
NEW YORK - The proposed Islamic community center and mosque near Ground Zero drew hundreds of fever-pitch demonstrators Sunday, with opponents carrying signs associating Islam with blood, supporters shouting, "Say no to racist fear!" and American flags waving on both sides. The dual protests had taunts, tensions and the occasional minor scuffle.
Protests, taunts, tension over planned Islamic center | News for Dallas, Texas | Dallas Morning News | Headline | National and International News
Dan Fanelli Ad
This is either really, really tasteless satire or the most incredibly stupid ad ever made. You decide which. It must be seen to be believed.
Republican ad asks "Who looks more like a terrorist?"
Mosque Planner Says Opposition Goes 'Beyond Islamophobia'
By THOMAS CATAN WASHINGTON—A leader of a planned Muslim community center near Manhattan's Ground Zero compared opposition to the project to the persecution of Jews, in comments that could add to the controversy over the center's proposed site. Supporters and opponents of a proposed Muslim cultural center and mosque near the World Trade Center site staged competing rallies in downtown Manhattan.
Florida mosque bombed; FBI calls for help; national media mute - BlackListed News
Who are the Christian militia 'Hutaree' and why was the FBI targeting them?
Post-Hutaree: How Glenn Beck and Fox News spread the militia message
Reading last week's disturbing news accounts about the Midwestern arrest of nine alleged members of a Christian militia known as the Hutaree, a group whose members were reportedly planning to kill cops in order to spark a wider, armed revolt against the U.S. government, I noticed this nugget [emphasis added]: FBI agents moved quickly against Hutaree because its members were planning an attack sometime in April , prosecutors said.
Hutaree
WikiAnswers - How many Christians are there worldwide
List of countries by Muslim population
Who is Really Politicizing Ground Zero?
Public Opinion: Do Americans Trend More toward Tolerance for Gays than for Muslims? | News/Opinion
Muslim American News Briefs, August 21, 2010: Pat Robertson Vents Anti-Muslim Statements
John L. Esposito: Islamophobia in America: Where do we go from here?
Ground Zero: The Real Issue Behind the Mosque | wowOwow
Hurt Feelings and the "Ground Zero Mosque"
Park51 And The Roots of Islamophobia
Franklin Graham: Obama born a Muslim, now a Christian
Most U.S. Religious Leaders Support 'Ground Zero Mosque'
Proposed Muslim Center Draws Opposing Protests
Far from Ground Zero, other plans for mosques run into vehement opposition
Middle Tennessee city divided over proposed Islamic center
Candidate Denounces Murfreesboro Mosque Proposal
Another Middle Tennessee Mosque Faces Opposition - NewsChannel5.com...
Stop the Murfreesboro Mosque campaign
Jihad Watch: Search Results
Pat Robertson raises concerns about Murfreesboro mosque | tennessean.com | The Tennessean
Murfreesboro, Tennessee Mosque Plan Draws Criticism from Residents
In Murfreesboro, Tenn.: Church 'Yes,' Mosque 'No'
BRCAmustangs - Faculty
BRCAmustangs - Mission Statement
Bill Rice Ranch - Home
The Sword of the Lord Publishers
Worldwide, Muslims bemused by mosque controversy - latimes.com
World Trade Center Site 9-23-01 with Cordoba House location.jpg - Wikipedia, the free encyclopedia
Park51
The Associated Press: Rallies over mosque near ground zero get heated
Anti-'Ground Zero mosque' protesters descend on downtown Park51 site
Masjid Manhattan
World Trade Center, New York, NY 10006 to Masjid Manhattan
'Ground Zero mosque' debate hits the streets of New York