GZ Mosque
No deal made to halt Quran burning, Muslim leader says. Imam: Pastor 'absolutely wrong' The Rev.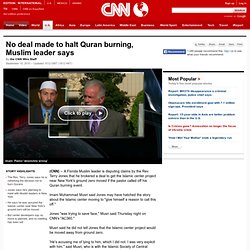 Terry Jones says he is rethinking the decision not to burn QuransJones says he's planning to meet with Muslim leaders in New York He says he was assured the Islamic center near New York's ground zero will be movedBut center developers say no move is planned, and no meeting has been set (CNN) -- A Florida Muslim leader is disputing claims by the Rev. Terry Jones that he brokered a deal to get the Islamic center project near New York's ground zero moved if the pastor called off his Quran burning event. Op-Ed Columnist - The 5 Percent Doctrine. Stabbed cabbie out of work, worries about feeding family. New York cab driver Ahmed Sharif shows the gashes in his arm and neck.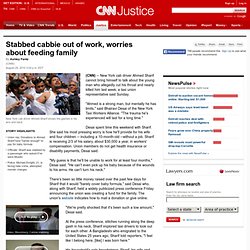 Union rep: Donations to Ahmed Sharif fund "barely enough" to pay for baby formula Officials: Sharif was stabbed by a passenger who asked if he were Muslim Police: Michael Enright, 21, is facing hate crime, attempted murder charges (CNN) -- New York cab driver Ahmed Sharif cannot bring himself to talk about the young man who allegedly cut his throat and nearly killed him last week, a taxi union representative said Sunday. "Ahmed is a strong man, but mentally he has limits," said Bhairavi Desai of the New York Taxi Workers Alliance.
Pastor's Plan to Burn Korans Adds to Tensions. Mr.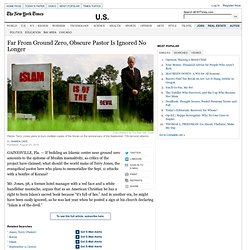 Jones, 58, a former hotel manager with a red face and a white handlebar mustache, argues that as an American Christian he has a right to burn Islam's sacred book because "it's full of lies." And in another era, he might have been easily ignored, as he was last year when he posted a sign at his church declaring "Islam is of the devil." But now the global spotlight has shifted. Cab Driver Stabbing: Lawyer Says Alleged Attacker Michael Enright Was Not Motivated By Anti-Muslim Hate. <br/><a href=" US News</a> | <a href=" Business News</a> Copy The attorney for Michael Enright, the New York City college student charged with attempted murder as a hate crime for allegedly stabbing a Muslim cab driver Tuesday, denied that his client had acted out of hatred for Muslims.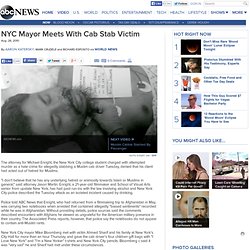 "I don't believe that he has any underlying hatred or animosity towards Islam or Muslims in general," said attorney Jason Martin. Ten things I know about the mosque. 1.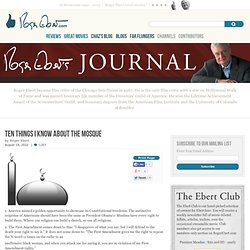 America missed a golden opportunity to showcase its Constitutional freedoms. The instinctive response of Americans should have been the same as President Obama's: Muslims have every right to build there. Where one religion can build a church, so can all religions. Ron Paul to Sunshine Patriots: Stop Your Demagogy About The NYC Mosque! | Ron Paul .com.
Think Progress » Laura Ingraham To Co-Founder Of Ground Zero Mosque In December 2009: 'I Like What You're Trying To Do' By Zaid Jilani on August 16, 2010 at 1:49 pm "Laura Ingraham To Co-Founder Of Ground Zero Mosque In December 2009: 'I Like What You're Trying To Do'" One of the most vociferous opponents of the proposed Park 51 Islamic community center and mosque that will be built two blocks from Ground Zero in New York City is Fox News contributor and conservative personality Laura Ingraham.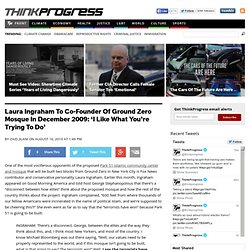 Earlier this month, Ingraham appeared on Good Morning America and told host George Stephanopolous that there's a "disconnect between how elites" think about the proposed mosque and how the rest of the country thinks about the project. Muslim Prayers Fuel Spiritual Rebuilding Project by Ground Zero. PRUDEN: The 'Zionist plot' to build a mosque. The ground zero mosque, which is stirring such a sandstorm in New York City, isn't so popular in certain precincts of the Middle East, either.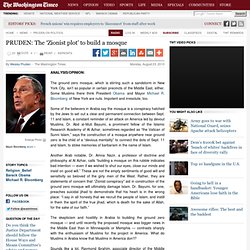 Some Muslims there think President Obama and Mayor Michael R. Bloomberg of New York are nuts. Anti-Islamic Center Protesters Harass Random African-American Man. This guy will probably think twice before walking through another anti-mosque rally.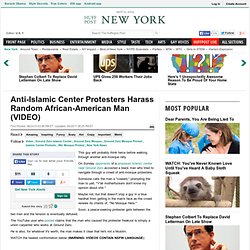 On Sunday opponents of a proposed Islamic center near Ground Zero accosted a black man who tried to navigate through a crowd of anti-mosque protesters. Someone calls the man a "coward," prompting the man to yell, "Y'all motherfuckers don't know my opinion about shit. " Maybe not, but that doesn't stop a guy in a blue hardhat from getting in the man's face as the crowd renews its chants of, "No Mosque Here. " Soon, a peace-seeking protester gets between the two men and the tension is eventually defused.
Protests, taunts, tension over planned Islamic center | News for Dallas, Texas | Dallas Morning News | Headline | National and International News. NEW YORK - The proposed Islamic community center and mosque near Ground Zero drew hundreds of fever-pitch demonstrators Sunday, with opponents carrying signs associating Islam with blood, supporters shouting, "Say no to racist fear!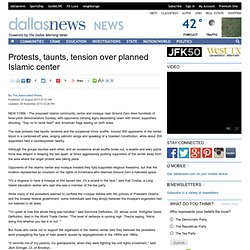 " and American flags waving on both sides. The dual protests had taunts, tensions and the occasional minor scuffle. Dan Fanelli Ad. Mosque Planner Says Opposition Goes 'Beyond Islamophobia' Post-Hutaree: How Glenn Beck and Fox News spread the militia message. Reading last week's disturbing news accounts about the Midwestern arrest of nine alleged members of a Christian militia known as the Hutaree, a group whose members were reportedly planning to kill cops in order to spark a wider, armed revolt against the U.S. government, I noticed this nugget [emphasis added]: FBI agents moved quickly against Hutaree because its members were planning an attack sometime in April , prosecutors said.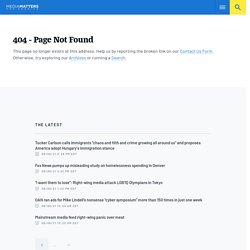 My hunch is the self-described "warriors" of the Hutaree probably circled April 19 on their calendars for any cop-killing fantasy they might have planned to pull off. Why April 19? That was the day, 17 years ago, when the FBI staged its final failed assault on cult leader David Koresh's heavily armed compound in Waco, Texas. It was on April 19, 1993, following a 51-day siege , that Koresh's fanatical followers, rather than surrendering to authorities, staged mass suicides (and, in some cases, executions) as the compound burned to the ground. Hutaree. Hutaree i/huːˈtɑriː/ is a militia movement group adhering to the ideology of the Christian Patriot movement, based near Adrian, Michigan, in the United States.[1] The group was formed in early 2006.
The name "Hutaree" appears to be a neologism; the group's web site says that it means "Christian warriors".[2] The group became widely known in 2010 after the FBI prosecuted them in federal court for an alleged plan for violent revolt. The prosecution said this was to have involved killing a police officer and attacking the funeral with bombs. The presiding judge dismissed these charges. ReligiousTolerance.org by the Ontario Consultants on Religious Tolerance. WikiAnswers - How many Christians are there worldwide. List of countries by Muslim population.
Islam is the world's second largest religion after Christianity. According to a 2010 study and released January 2011,[1][2] Islam has 1.57 billion adherents, making up over 23% of the world population.[3][4] Islam is the predominant religion in the Middle East, the Sahel, the Horn of Africa, North Africa,[1][5][6][7] and some parts of Asia.[8] Large communities of Muslims are also found in China, the Balkans, India and Russia.[1][9] Other parts of the world host large Muslim immigrant communities; in Western Europe, for instance, Islam is the second largest religion after Christianity, where it represents 6% of the total population.[10]
Who is Really Politicizing Ground Zero? Public Opinion: Do Americans Trend More toward Tolerance for Gays than for Muslims? | News/Opinion. Muslim American News Briefs, August 21, 2010: Pat Robertson Vents Anti-Muslim Statements. Hadith: The One Who Fasts Has Two Joys CAIR-CA: Fake 'Muslim' Informant Says FBI Lied to Him Pat Robertson Claims Muslims May Bribe Tenn. Officials CAIR-OH: Four Mosque Battles Brew Across US CAIR-CA: Mosque Debate Politically Venomous. John L. Esposito: Islamophobia in America: Where do we go from here? "It is a matter of principle and not the personalities involved. They may be doing it for all the wrong reasons, but we are being attacked simply and only for 'not knowing our place', not being sufficiently sorry for a crime we didn't commit. Its like we need to assume some collective guilt for 9/11 and act accordingly.
" These words of an American citizen, who also happens to be a successful Muslim professional, aptly summarizes the frustrations of many Muslims and the concerns of many Americans of all faiths and no faith. It is now time to move on. Hurt Feelings and the "Ground Zero Mosque" Here is the order of events producing this bizarre "controversy." 2009: A Muslim organization having arranged to purchase an abandoned Burlington Coat factory on Park Place in Lower Manhattan plans to build a 13-story Islamic community center. It will feature a culinary school, conference hall, basketball court, swimming pool, and place of worship among other things and while principally servicing the Muslim community be open to all.
It is to be called the Cordoba House, an apparent allusion to Muslim Spain in which Islam flourished alongside Christianity and Judaism from the eighth century up to the "Reconquest." Park51 And The Roots of Islamophobia. Franklin Graham: Obama born a Muslim, now a Christian. Most U.S. Religious Leaders Support 'Ground Zero Mosque' Proposed Muslim Center Draws Opposing Protests. Far from Ground Zero, other plans for mosques run into vehement opposition. Middle Tennessee city divided over proposed Islamic center. Candidate Denounces Murfreesboro Mosque Proposal. Another Middle Tennessee Mosque Faces Opposition - NewsChannel5.com... Stop the Murfreesboro Mosque campaign. Pat Robertson raises concerns about Murfreesboro mosque | tennessean.com | The Tennessean. Murfreesboro, Tennessee Mosque Plan Draws Criticism from Residents.
In Murfreesboro, Tenn.: Church 'Yes,' Mosque 'No' BRCAmustangs - Faculty. BRCAmustangs - Mission Statement. Bill Rice Ranch - Home. The Sword of the Lord Publishers. Worldwide, Muslims bemused by mosque controversy - latimes.com. World Trade Center Site 9-23-01 with Cordoba House location.jpg - Wikipedia, the free encyclopedia. Park51. Anti-'Ground Zero mosque' protesters descend on downtown Park51 site. Masjid Manhattan. World Trade Center, New York, NY 10006 to Masjid Manhattan.
'Ground Zero mosque' debate hits the streets of New York.
---