Sewing
Fat Quarter Tutorials
Laptop Cover Tutorial
Firstly I wanted to keep everything really simple so I created a rectangular pattern I decided how far up the laptop the opening would be and how far down the flap would come. Make it a little wider that the laptop itself. See pic.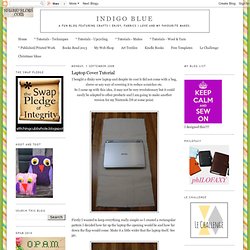 Free Cup Cozy (Java Jacket) Pattern comes in 2 sizes with your choice of Velcro or Button Closure options. While hanging out at the local coffee shop with friends, I noticed the paper wraps for coffee and tea cups were not only always falling down, they were quite unattractive. (Gasp!)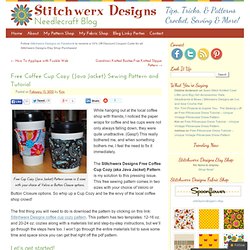 Free Cup Cozy (Java Jacket) Sewing Pattern & Tutorial | Stitchwerx Designs | Needlecraft Tips, Tricks & Patterns | Crochet, Sewing & More!
notes from Terry Ann: Best Press Bag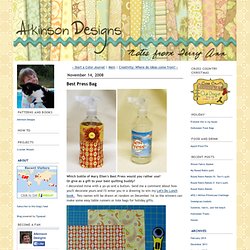 Which bottle of Mary Ellen's Best Press would you rather use? Or give as a gift to your best quilting buddy? I decorated mine with a yo-yo and a button.
Tissue Case
Snippets of a Quilter
This is a relatively quick little purse to make, and it's the perfect size for a little girl or, with a shorter strap, it would be a great clutch bag for essentials.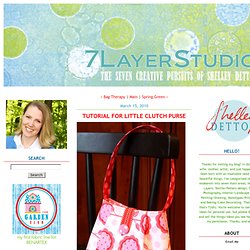 Tutorial for Little Clutch Purse - 7 Layer Studio
Mini Wallet Tutorial - 7 Layer Studio
Hi everyone!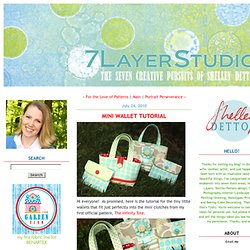 Laptop slipcover with strap tutorial « TeresaDownUnder
This slipcover is for an 11-inch MacBook Air.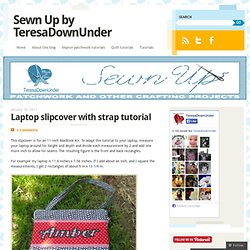 4 handmade iPad sewing tutorials « TeresaDownUnder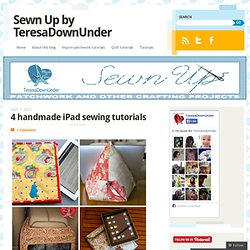 Originally made for the first iPad, these accessories will fit all iPads. Carry your iPad, use your iPad in the back seat of the car, or watch a movie/read a book without holding the iPad. iPad slip cover with wrap around pocket tutorial .
May 1st, 2009 Email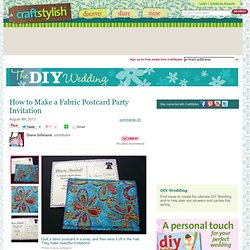 How to Make a Fabric Postcard Party Invitation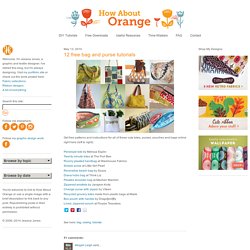 Get free patterns and instructions for all of these cute totes, purses, pouches and bags online right here (left to right): Penelope tote by Melissa Esplin Twenty minute totes at The Purl Bee Roomy pleated handbag at Warehouse Fabrics Simple purse at Little Girl Pearl Reversible beach bag by Soozs Diana hobo bag at Think Liz Pleated shoulder bag at Machen Machen Zippered wristlets by Javajem Knits Change purse with zipper by Viteen Recycled grocery totes made from plastic bags at Made Box pouch with handle by Drago[knit]fly Lined, zippered pouch at Flossie Teacakes
Zipper Installation for the Itty Bitty Bag
The Itty Bitty Bag
Anna of Noodlehead is sharing the most beautiful gathered pouch tutorial.
goodygoody.typepad.com/goody_goody/2008/04/tgif-quickie-fa