Sewing
Fat Quarter Tutorials. Laptop Cover Tutorial. Firstly I wanted to keep everything really simple so I created a rectangular pattern I decided how far up the laptop the opening would be and how far down the flap would come.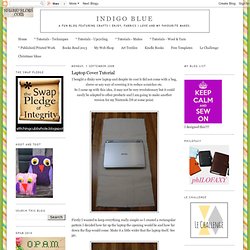 Make it a little wider that the laptop itself. See pic. Free Cup Cozy (Java Jacket) Sewing Pattern & Tutorial | Stitchwerx Designs | Needlecraft Tips, Tricks & Patterns | Crochet, Sewing & More! Free Cup Cozy (Java Jacket) Pattern comes in 2 sizes with your choice of Velcro or Button Closure options.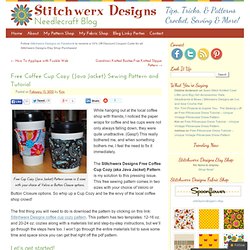 While hanging out at the local coffee shop with friends, I noticed the paper wraps for coffee and tea cups were not only always falling down, they were quite unattractive. (Gasp!) Notes from Terry Ann: Best Press Bag. Which bottle of Mary Ellen's Best Press would you rather use?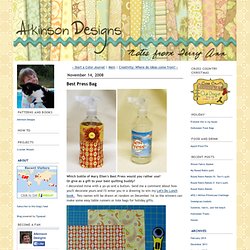 Or give as a gift to your best quilting buddy? I decorated mine with a yo-yo and a button. Tissue Case. Snippets of a Quilter. Tutorial for Little Clutch Purse. This is a relatively quick little purse to make, and it's the perfect size for a little girl or, with a shorter strap, it would be a great clutch bag for essentials.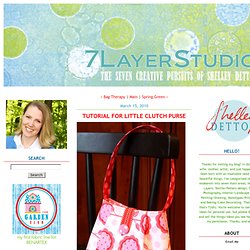 Here's how to make it: You'll need 2 fabrics for the inside and outside of the bag, cut to an identical size. In this example, the rectangles are 9.5" x 14". You can make the bag bigger or smaller by adjusting the size of this rectangle. Mini Wallet Tutorial. Hi everyone!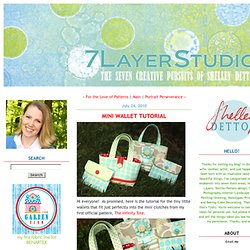 As promised, here is the tutorial for the tiny little wallets that fit just perfectly into the mini clutches from my first official pattern, The Infinity Tote. It's perfect for the minimalist (like me) who wants just enough wallet to cart around a few credit cards, a bit o'change, and some greenbacks. After lugging a huge diaper bag around for 8 years with everything but the kitchen sink, it's so nice to be able to grab a tiny tote when I'm running a couple of errands or spending a day playing tourist. It's also a great way to make use of extra little scraps you may have lying around, begging to be made into something useful and pretty.
Laptop slipcover with strap tutorial « TeresaDownUnder. This slipcover is for an 11-inch MacBook Air.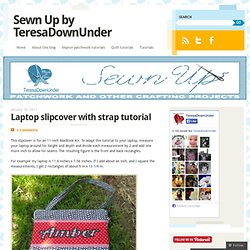 To adapt this tutorial to your laptop, measure your laptop around for height and depth and divide each measurement by 2 and add one more inch to allow for seams. The resulting figure is the front and back rectangles. For example my laptop is 11.8 inches x 7.56 inches. 4 handmade iPad sewing tutorials « TeresaDownUnder. Originally made for the first iPad, these accessories will fit all iPads.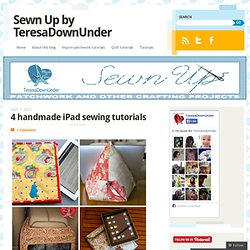 Carry your iPad, use your iPad in the back seat of the car, or watch a movie/read a book without holding the iPad. iPad slip cover with wrap around pocket tutorial. How to Make a Fabric Postcard Party Invitation. August 9th, 2013 Email 65 users recommend Quilt a fabric postcard in a snap, and then send it off in the mail.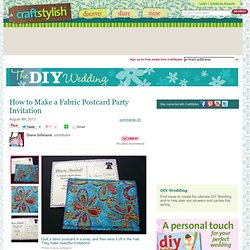 They make beautiful invitations! Diane Gilleland. 12 free bag and purse tutorials. Get free patterns and instructions for all of these cute totes, purses, pouches and bags online right here (left to right): Penelope tote by Melissa EsplinTwenty minute totes at The Purl BeeRoomy pleated handbag at Warehouse FabricsSimple purse at Little Girl PearlReversible beach bag by SoozsDiana hobo bag at Think LizPleated shoulder bag at Machen MachenZippered wristlets by Javajem KnitsChange purse with zipper by ViteenRecycled grocery totes made from plastic bags at MadeBox pouch with handle by Drago[knit]flyLined, zippered pouch at Flossie Teacakes.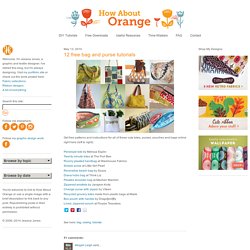 Zipper Installation for the Itty Bitty Bag. The Itty Bitty Bag. Gathered Clutch Tutorial. Anna of Noodlehead is sharing the most beautiful gathered pouch tutorial.
What a perfect gift! Anna has plenty of gorgeous gift giving inspiration at her blog. Don't miss her tutorials! Goodygoody.typepad.com/goody_goody/2008/04/tgif-quickie-fa.
---