FLASH
3D Sphere Text Menu - Menus & Buttons
Greetings and welcome to another one of our amazing signature files. It is a cool text menu based on a 3d engine simulating a sphere. It has tons of options and it can be used in many ways, from displaying tags on your website to your site's menu. It can autoplay or be rotated using the mouse.
The page you are looking for might have been removed, had its name changed, or is temporarily unavailable. Please try the following: Make sure that the Web site address displayed in the address bar of your browser is spelled and formatted correctly If you reached this page by clicking a link, contact us to alert us that the link is incorrectly formatted Forget that this ever happened, and go browse the files :) Start Browsing Popular Files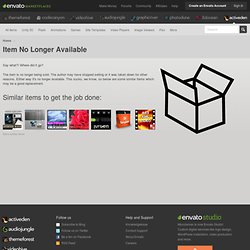 YouTube Video Gallery - Video Players
AS3 music visualisation
A decent computer and lots of volume is recommended. Well, due to the fear of slipping behind, I felt I better start learning the new Flash language, Actionscript 3, and at first glance, one of the coolest features is definitely the SoundMixer.computeSpectrum function. This is a quick experiment which uses the spectrum data of a streaming mp3 to trigger animation. Although it dynamically reacts to the beat, there are elements of randomness in this example so the animation / visualisation is different every time. I've seen a few Actionscript 3 visualisations before, though they tend to follow the graphic equaliser tradition, whereas I wanted something a little more creative.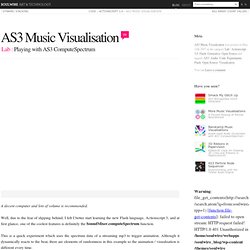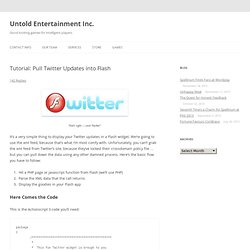 That's right – i said "Fwitter" It's a very simple thing to display your Twitter updates in a Flash widget. We're going to use the xml feed, because that's what i'm most comfy with. Unfortunately, you can't grab the xml feed from Twitter's site, because they've locked their crossdomain policy file … but you can pull down the data using any other damned process.
Tutorial: Pull Twitter Updates into Flash
Flash Tutorial - Communicating with Externally Loaded Movies 154 Intermediate Flash Compatibility: MX 2004 (Also works in Flash MX / Flash 5) Written by: Rabid Lemming
Free Flash Tutorials: - webwasp.co.uk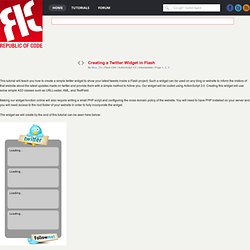 By Blue_Chi | Flash CS4 | ActionScript 3.0 | Intermediate | Page 1, 2 , 3 This tutorial will teach you how to create a simple twitter widget to show your latest tweets inside a Flash project. Such a widget can be used on any blog or website to inform the visitors of that website about the latest updates made on twitter and provide them with a simple method to follow you. Our widget will be coded using ActionScript 3.0. Creating this widget will use some simple AS3 classes such as URLLoader, XML, and TextField. Making our widget function online will also require writing a small PHP script and configuring the cross domain policy of the website.
Tutorial: Creating Flash Twitter Widget (AS3)
Revolt!