Revolucion que viene o no viene
amazon
Why 3D Printing Is Overhyped (I Should Know, I Do It For a Living)
Autodesk : mythes et réalités de l'impression 3D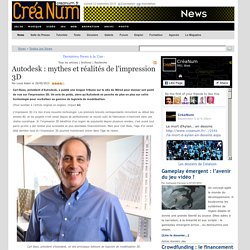 Carl Bass, président d'Autodesk, a publié une longue tribune sur le site de Wired pour donner son point de vue sur l'impression 3D.
Seven Things You Must Know About 3D Printing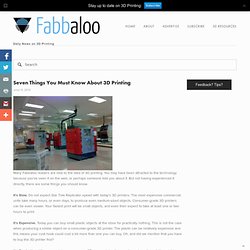 Many Fabbaloo readers are new to the idea of 3D printing. You may have been attracted to the technology because you've seen it on the web, or perhaps someone told you about it.
FabLab. La nouvelle révolution industrielle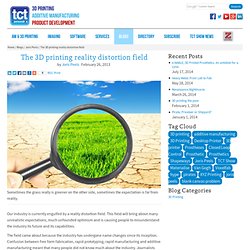 The 3D printing reality distortion field - TCT
The field came about because the industry has undergone name changes since its inception.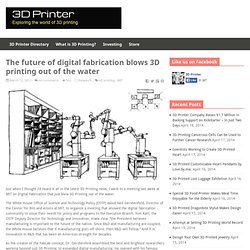 Just when I thought I'd heard it all in the latest 3D Printing news, I went to a meeting last week at MIT on Digital Fabrication that just blew 3D Printing out of the water.
Future of Digital Fabrication Blows 3D Printing Out of the Water
8 Hackerspaces Changing the Arab World
Open source hardware meets the p2p economy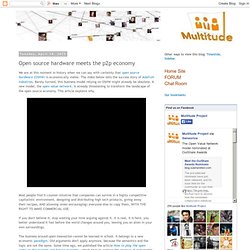 We are at this moment in history when we can say with certainty that open source hardware (OSHW) is economically viable. The video below tells the success story of Adafruit Industries. Barely formed, this business model relying on OSHW might already be obsolete.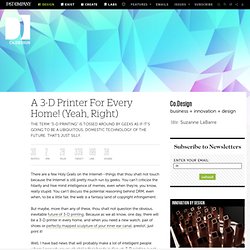 A 3-D Printer For Every Home! (Yeah, Right)
There are a few Holy Grails on the Internet--things that thou shalt not touch because the Internet is still pretty much run by geeks.
NEW YORK — The DIY enthusiasts involved in today's "maker movement" love experimenting with 3D printers to turn digital designs into real-life objects made of plastic, metal, even chocolate.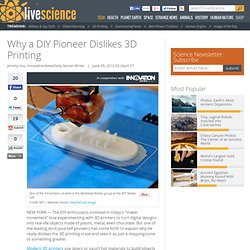 Why a DIY Pioneer Dislikes 3D Printing | Maker Movement
3D printing revolution – a few thoughts | Creating open source soil for joint development
Telkom and Korea's KT Corp are edging steadily nearer to a deal.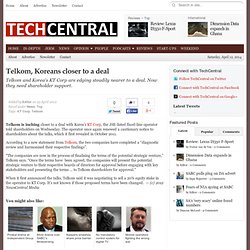 How 3D printers change the rules of manufacturing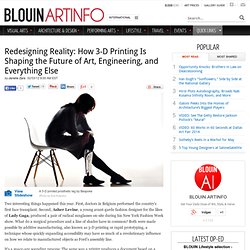 Redesigning Reality: How 3-D Printing Is Shaping the Future of Art, Engineering, and Everything Else
Two interesting things happened this year. First, doctors in Belgium performed the country's first face transplant.
Across Africa there is a vibrant culture of people creating things. Hardware products. It's rarely glamorous as our inventors and micro-entrepreneurs innovate on products due to necessity — there simply aren't enough jobs and they need to feed their families.
Fabrication and manufacturing: The future of African hardware innovation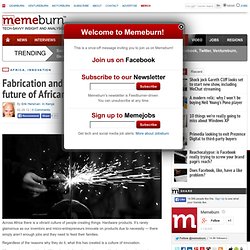 I'd like to sneak up on the question of 3-D printing by way of boring old 2-D printing. Typography used to be heavy industry. The companies that make typefaces are still called foundries because there was a time when letters were made of metal.
Why 3-D Printing Isn't Like Virtual Reality 
Update: Tim Maly has published an excellent counterpoint to this post over at the Tech Review Guest blog. There is a species of magical thinking practiced by geeks whose experience is computers and electronics—realms of infinite possibility that are purposely constrained from the messiness of the physical world—that is typical of Singularitarianism, mid-90s missives about the promise of virtual reality, and now, 3-D printing. As 3-D printers come within reach of the hobbyist—$1,100 for MakerBot's Thing-O-Matic—and The Pirate Bay declares "physibles" the next frontier of piracy, I'm seeing usually level-headed thinkers like Clive Thompson and Tim Maly declare that the end of shipping is here and we should all start boning up on Cory Doctorow's science fiction fantasies of a world in which any object can be rapidly synthesized with a little bit of energy and raw materials.
Disruptions: The 3-D Printing Free-For-All
About a year ago, I wrote a weekly post at Wired's Gadget Lab called "DIY Friday." The first story was about MintyBoost, a USB charger made from AA batteries and an Altoids tin, devised by Adafruit's Limor Fried.
Big DIY: The Year the Maker Movement Broke | Epicenter 
27 July 2011Last updated at 19:09 ET By Peter Day Presenter, In Business Loughborough University's machines can even print larger structures such as building materials With the creation of many products - including building materials - now possible at the touch of a button, will 3D printing sound the death knell for mass production? In a way there is nothing new about 3D printing. For several decades it has been called "rapid prototyping": a quick way of making one-off items from fused plastic or metal powder, using expensive computer-controlled lasers that are at the heart of the "printers".
Will 3D printing revolutionise manufacturing?
Makers » Download for Free
"Makers", le roman qui prône la révolution par le bricolage
.MGX opens world's first store dedicated to 3D printed goods
Design And The New Industrial Revolution 
3-D printers will be your next home accessory - Jun. 6
Impresoras 3D: la próxima revolución digital
Consumer and Education: open source hardware
Fabulous Fab(Labs)
The Future of Manufacturing is Local
MakerBot Is a New 3-D Printer
Mark Suppes, l'homme qui fusionne des atomes dans son garage » Article
In the Next Industrial Revolution, Atoms Are the New Bits | Magazine