Género
ada lovelace « Search Results « adafruit industries blog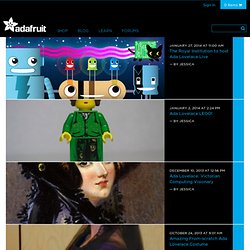 The passing of the brilliant, inimitable Red Burns, co-founder and chair of the ITP program at NYU, was met with an incredible outpouring of memories, eulogies, and video tributes to celebrate what an incredible impact she had on the lives of so many of those who would go on to brave new territories at the intersection of art, design, interaction, and technology.
This is has been quite a busy week for wearable technology filled with speculation around the future of wearable technology and ultimately the impact it will have on our lives and how we inhabit the world.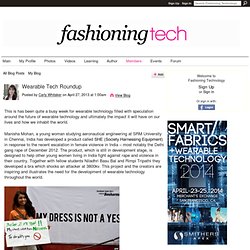 Wearable Tech Roundup
Mixee Labs: make your own 3d printed model a reality!
The Rise of the Female Hardware Entrepreneur #makerbusiness
Six months ago, we decided to make a feminist hackerspace in San Francisco. Today, Double Union is a women-centered hackerspace with 80 members. This happened incredibly fast! Our space has tables and workbenches, couches and chairs, a library of technical reference and how-to books, electronics supplies, and a growing collection of art, craft and technical tools.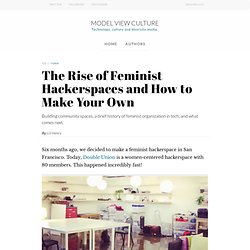 The Rise of Feminist Hackerspaces and How to Make Your Own, by Liz Henry | Model View Culture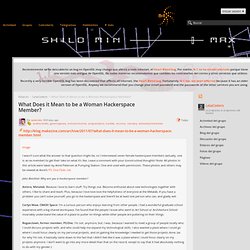 I wasn't sure what the answer to that question might be, so I interviewed seven female hackerspace members (actually, one is an ex-member) to get their take on what it's like. Leave a comment with your (constructive) thoughts! Note: All photos in this article were taken by Anne Petersen at Pumping Station: One and used with permission.
What Does it Mean to be a Woman Hackerspace Member?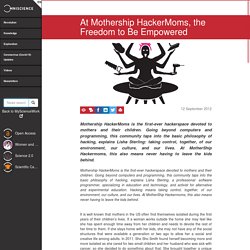 At Mothership HackerMoms, the Freedom to Be Empowered
Mothership HackerMoms is the first-ever hackerspace devoted to mothers and their children. Going beyond computers and programming, this community taps into the basic philosophy of hacking, explains Lisha Sterling, a professional software programmer, specializing in education and technology, and activist for alternative and experimental education. Hacking means taking control, together, of our environment, our culture, and our lives. At MotherShip Hackermoms, this also means never having to leave the kids behind. It is well known that mothers in the US often find themselves isolated during the first years of their children's lives. If a woman works outside the home she may feel like she has spent enough time away from her children and needs to devote the rest of her time to them.
left to right: Limor, Molly, Risa Rose, Jess, Angel, Erin, Roxanne, Rebecca, Alicia, Becky, Kelly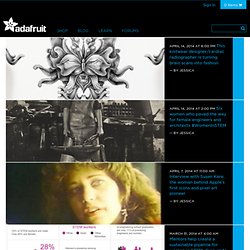 ald
http://openatelier.pingbase.net/?p=599
Compte-rendu // jeudi 15 novembre |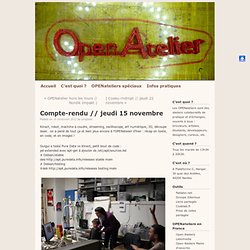 Kinect, robot, machine à coudre, streaming, oscilloscope, art numérique, 3D, découpe laser… on a parlé de tout ça et bien plus encore à l'OPENatelier d'hier : récap en texte, en code, et en images ! Guigui a testé Pure Data vs Kinect, petit bout de code : pd-extended avec apt-get à ajouter ds /etc/apt/sources.list # Debian/stable deb http://apt.puredata.info/releases stable main # Debian/testing #deb http://apt.puredata.info/releases testing main Fred Naud qui fait partie du mouvement d'activistes culturels ArtCode attack (exposition d'art numérique contagieuse) a présenté la démarche du collectif : envahir les rues de votre ville ou de votre village, avec des oeuvres d'art sous forme de bombes culturelles… Pour cela ils cherchent à créer des brigades locales, sur Nantes pour l'instant il y a une brigade d'étudiants d'Audencia.
Reagle
Despite the values of freedom and openness, the free culture movement's gender balance is as skewed (or more so) as that of the computing culture from which it arose. Based on the collection and analysis of discourse on gender and sexism within this movement over a six–year period.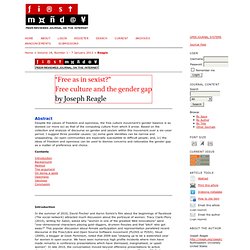 Lyn Gomes, mechanical engineer and avid Maker, discusses how a hairdryer works with students in a Techbridge after-school program. Today we share a post by Linda Kekelis of Techbridge.
Mentoring Girls to Make: Lessons from Techbridge | Makerspace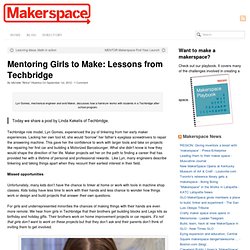 I'm Limor Fried, and This Is How I Work
Hi Limor!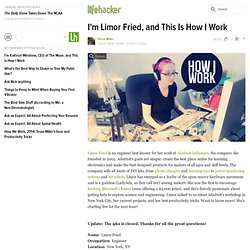 Mothership HackerMoms est un hackerspace d'un genre nouveau : ils accueillent les mamans et enfants, y compris des bébés. De quoi redonner du baume au cœur à celles qui se désespèrent à l'idée de mettre une croix sur leur vie créative les premières années de la vie de leur enfant.
Dans le berceau du hacking
Ladies Learning Code
Weekends with Curious Jane!
Parents– now you can sit and enjoy a coffee, visit 5 th Ave or take siblings to JJ Byrne Park, while your daughter gets creative.
dones i noves tecnologies > codi lela
Geek Girl Camp
LelaCoders
This brief biographical sketch was done for Ada Lovelace Day, organized by my good buddy Suw Charman. I think I in was a pub at the time.
Lovelace– The Origin | 2D Goggles
Blog de LelaCoders
141550
adLIB2.0 | Lauren Britton Smedley: practices spontaneous librarianship. Lover of web 2.0+ tech. Engaged in transliteracy development.
Make: Online | What Does it Mean to be a Woman Hackerspace Member?
I wasn't sure what the answer to that question might be, so I interviewed seven female hackerspace members (actually, one is an ex-member) to get their take on what it's like. Leave a comment with your (constructive) thoughts!
Mobile FABLAB with Andrea | Another Day with the Mobile FABLAB
ald
catarina mota | catarina's things
Becky Stern, scanned and RP'd by Jonathan Monaghan/MakerBot for "New York Notables" Our very own Becky Stern got a fine profile treatment on the wonderful design site Core77. Becky Stern makes objects, for one thing, with unusual properties that occasionally make them difficult to classify… there's the "Cell Phone Ski Mask", the tablecloth made out of artificial sweetener packages, her Tron-ified knee brace adorned with electroluminscent wiring.
Becky Stern
MzTek | MzTEK provides a learning community in technology and arts for women