Definicion y licencias OSHW
Get flash to fully experience Pearltrees
Open source hardware consists of physical artifacts of technology designed and offered by the open design movement. Both free and open-source software (FOSS) as well as open source hardware is created by this open source culture movement and applies a like concept to a variety of components. The term usually means that information about the hardware is easily discerned.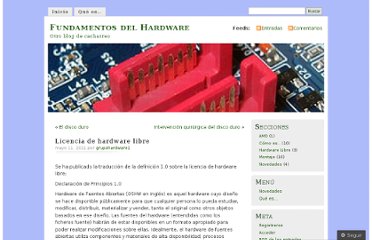 Se ha publicado la traducción de la definición 1.0 sobre la licencia de hardware libre: Declaración de Principios 1.0 Hardware de Fuentes Abiertas (OSHW en inglés) es aquel hardware cuyo diseño se hace disponible públicamente para que cualquier persona lo pueda estudiar, modificar, distribuir, materializar y vender, tanto el original como otros objetos basados en ese diseño.
This page hosts the current proposed Open Source Hardware (OSHW) Statement of Principles and Definition v1.0. The statement of principles is a high-level overview of the ideals of open-source hardware. The definition is an attempt to apply those ideals to a standard by which to evaluate licenses for hardware designs. To endorse the Open Source Hardware Definition 1.0, please add your name (and affiliation) below . Older drafts of the definition are also available .