To be organized
A History of the World in 100 objects
Mosaic Crowdsourcing $100 Million in New Solar Projects
Mosaic, an online marketplace that connects investors to solar energy projects, is tackling more and more ambitious projects. Recently, it started the Golden State Series, a string of solar investments that will total $100 million. The first project, seeking a investment $153,000 in a solar charity in San Diego, sold out in just six hours. Now, Mosaic is launching its largest project to date with $700,000 available for investment for a 487 kW solar project on the roof of Wildwoods Convention Center in New Jersey.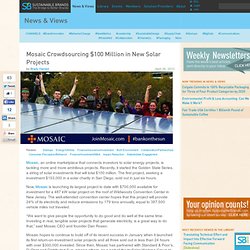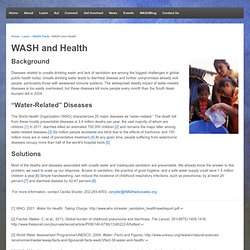 Background Diseases related to unsafe drinking water and lack of sanitation are among the biggest challenges in global public health today. Unsafe drinking water leads to diarrheal disease and further compromises already sick people, particularly those with weakened immune systems. The widespread deadly impact of water-related diseases is too easily overlooked, but these diseases kill more people every month than the South Asian tsunami did in 2004. "Water-Related" Diseases The World Health Organization (WHO) characterizes 25 major diseases as "water-related."
WASH and Health |
How social business tools have accelerated new products and field response time at one multinational insurance company. How do you respond to markets that didn't even exist a couple of years ago? That was one challenge facing Chubb Corp., a $13.6 billion, 130-year-old specialty insurer. Chubb underwrites risk in lots of fast-evolving niche markets, like clean tech, life sciences and medical devices. In the mid-2000s, Chubb found itself struggling to move as fast as the markets it was insuring.
Redesigning Innovation at Chubb | MIT Sloan Management Review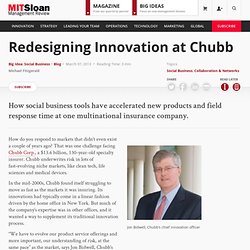 Innovating for Sustainability Challenged by mounting pressure to act with greater transparency, businesses across the globe are struggling to balance the demands of shareholders with the environmental, social, and governance (ESG) concerns of society. To help companies align financial reporting and ESG performance, Harvard Business School Executive Education offers Innovating for Sustainability.
Innovating for Sustainability, 05.26.13 – Events on CSRwire.com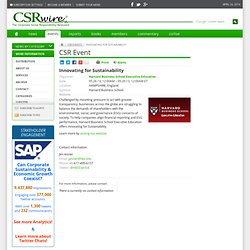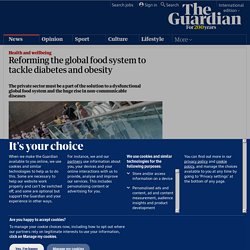 The role and responsibilities of the private sector in global health and development has evolved in recent decades. The view that the only responsibility of business is to return a profit to stakeholders is being weakened by the dawn of corporate shared value and a mushrooming of public-private partnerships. Both of which have resulted in the leveraging of resources and expertise of the private sector to bear on many contemporary global health challenges. But at the same time, deep mistrust and scepticism remains within some camps of the health community towards increasing this private sector involvement. And nowhere is this more apparent than in relation to diabetes and non-communicable disease (NCD).
Reforming the global food system to tackle diabetes and obesity | Guardian Sustainable Business | Guardian Professional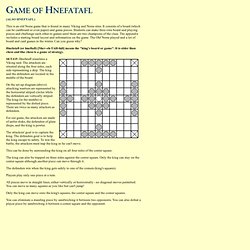 This is an old Norse game that is found in many Viking and Norse sites. It consists of a board (which can be cardboard or even paper) and game pieces. Students can make their own board and playing pieces and challenge each other to games until there are two champions of the class. The appendix includes a starting board layout and information on the game. The Old Norse played and a lot of board and card games in the winter. Can you guess why?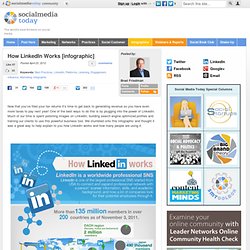 Now that you've filed your tax returns it's time to get back to generating revenue so you have even more taxes to pay next year! One of the best ways to do this is by plugging into the power of LinkedIn. Much of our time is spent polishing images on LinkedIn, building search engine optimized profiles and training our clients to use this powerful business tool. We stumbled onto this infographic and thought it was a great way to help explain to you how LinkedIn works and how many people are using it. How LinkedIn Works by Infographiclabs Let us know if we can help enhance you LinkedIn image and share some "Best Practices" with you.
How LinkedIn Works [infographic]
Help Getting Organized | Get Organized with Organizational Tips from Buttoned Up | Free Printable Home Organization Forms | Buttoned Up
CurkovicArtUnits / FrontPage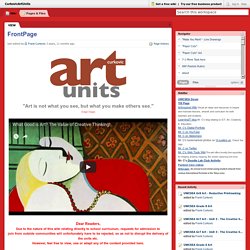 "Art is not what you see, but what you make others see." -Edgar Degas Dear Readers, Due to the nature of this wiki relating directly to school curriculum, requests for admission to join from outside communities will unfortunately have to be rejected, so as not to disrupt the delivery of the units etc. However, feel free to view, use or adapt any of the content provided here.
The Wonders of Disney Animation
The History of Thomas Edison - a Short Story
Virtual devices: Gestures of intent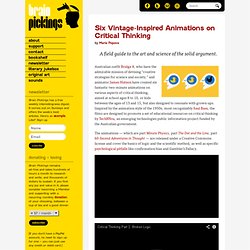 by Maria Popova A field guide to the art and science of the solid argument. Australian outfit Bridge 8, who have the admirable mission of devising "creative strategies for science and society," and animator James Hutson have created six fantastic two-minute animations on various aspects of critical thinking, aimed at school ages 8 to 10, or kids between the ages of 13 and 15, but also designed to resonate with grown-ups. Inspired by the animation style of the 1950s, most recognizably Saul Bass, the films are designed to promote a set of educational resources on critical thinking by TechNYou, an emerging technologies public information project funded by the Australian government. The animations — which are part Minute Physics, part The Dot and the Line, part 60-Second Adventures in Thought — are released under a Creative Commons license and cover the basics of logic and the scientific method, as well as specific psychological pitfalls like confirmation bias and Gambler's Fallacy.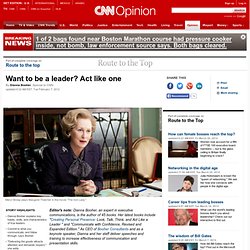 Want to be a leader? Act like one
Meryl Streep plays Margaret Thatcher in the movie "The Iron Lady." Dianna Booher explains key habits, skills, and characteristics of true leadersCommit to what you communicate, and follow through, says Booher. "Delivering the goods attracts attention and demands respect," she adds Editor's note: Dianna Booher, an expert in executive communications, is the author of 45 books. Her latest books include "Creating Personal Presence: Look, Talk, Think, and Act Like a Leader " and "Communicate with Confidence, Revised and Expanded Edition." As CEO of Booher Consultants and as a keynote speaker, Dianna and her staff deliver speeches and training to increase effectiveness of communication and presentation skills.
Mars Science Laboratory: Where is Curiosity?
Clarus Marketing Group | News | FreeShipping.com & The Power of Free Shipping
Find out the best advertising campaigns, slogans, and avoided advertising campaign errors of all time in this infographic. Ever wonder what the average cost of a Superbowl ad is, or the average internet advertising revenue? You'll find out in this infographic below. If you are a creative type that would like to get into the advertising field…be sure to look at the marketing degrees available. Maybe one day your advertising ideas will rank as one of "The Best Ad Campaigns of All Time"!
Best advertising campaign
Contact: Colette Carey HDNet (303) 542-5576ccarey@hd.net What was once a controversial, scientific dream, using stem cells to cure disease, is now becoming a reality-Tuesday, June 14 at 9:00 p.m. ET
Net's "World Report" To Feature a North Carolina Woman and Her Amazing Recovery From Blindness Through the Use of Stem Cells