To be organized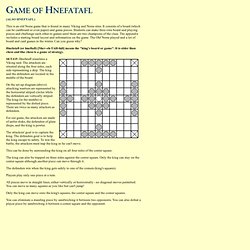 This is an old Norse game that is found in many Viking and Norse sites. It consists of a board (which can be cardboard or even paper) and game pieces. Students can make their own board and playing pieces and challenge each other to games until there are two champions of the class. The appendix includes a starting board layout and information on the game. The Old Norse played and a lot of board and card games in the winter. Can you guess why?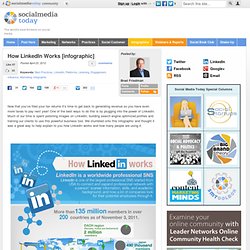 Now that you've filed your tax returns it's time to get back to generating revenue so you have even more taxes to pay next year! One of the best ways to do this is by plugging into the power of LinkedIn. Much of our time is spent polishing images on LinkedIn, building search engine optimized profiles and training our clients to use this powerful business tool. We stumbled onto this infographic and thought it was a great way to help explain to you how LinkedIn works and how many people are using it. How LinkedIn Works by Infographiclabs Let us know if we can help enhance you LinkedIn image and share some "Best Practices" with you.
How LinkedIn Works [infographic]
Need a refill on your Life.doc, Valuables.doc, or Medical.doc pages? Not to worry—we've got them for you here—and they're absolutely free. Simply click on the appropriate link below to download. The password is the last word in first paragraph that appears on the welcome/introductory page of the product.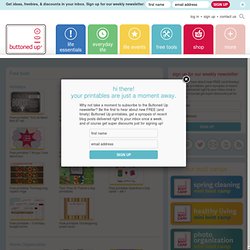 CurkovicArtUnits / FrontPage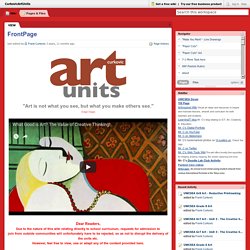 about "Art is not what you see, but what you make others see." -Edgar Degas Dear Readers, Due to the nature of this wiki relating directly to school curriculum, requests for admission to join from outside communities will unfortunately have to be rejected, so as not to disrupt the delivery of the units etc.
The Wonders of Disney Animation
The History of Thomas Edison - a Short Story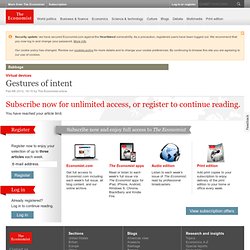 Virtual devices: Gestures of intent
KINECT, Microsoft's remote game console that sits in the corner of the room and registers a user's intentions from his gestures, will be the shape of things to come if Chris Harrison, a researcher at the Human-Computer Interaction Institute at Carnegie Mellon University, in Pittsburgh, has his way. Mr Harrison thinks Kinect's basic principles could be extended into a technological panopticon that monitors people's movements and provides them with what they want, wherever they want it. Someone in a shopping mall, for example, might hold up his hand and see a map appear instantly at his fingertips. This image might then be locked in place by the user sticking his thumb out. A visitor to a museum, armed with a suitable earpiece, could get the lowdown on what he was looking at simply by pointing at it. And a person who wanted to send a text message could tap it out with one hand on a keyboard projected onto the other, and then send it by flipping his hand over.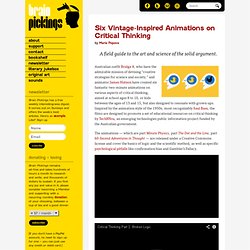 by Maria Popova A field guide to the art and science of the solid argument. Australian outfit Bridge 8 , who have the admirable mission of devising "creative strategies for science and society," and animator James Hutson have created six fantastic two-minute animations on various aspects of critical thinking, aimed at school ages 8 to 10, or kids between the ages of 13 and 15, but also designed to resonate with grown-ups. Inspired by the animation style of the 1950s, most recognizably Saul Bass , the films are designed to promote a set of educational resources on critical thinking by TechNYou , an emerging technologies public information project funded by the Australian government. The animations — which are part Minute Physics , part The Dot and the Line , part 60-Second Adventures in Thought — are released under a Creative Commons license and cover the basics of logic and the scientific method, as well as specific psychological pitfalls like confirmation bias and Gambler's Fallacy.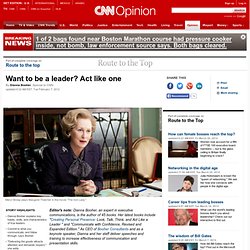 Want to be a leader? Act like one
Meryl Streep plays Margaret Thatcher in the movie "The Iron Lady." Dianna Booher explains key habits, skills, and characteristics of true leaders Commit to what you communicate, and follow through, says Booher. "Delivering the goods attracts attention and demands respect," she adds Editor's note: Dianna Booher, an expert in executive communications, is the author of 45 books. Her latest books include " Creating Personal Presence : Look, Talk, Think, and Act Like a Leader " and "Communicate with Confidence, Revised and Expanded Edition." As CEO of Booher Consultants and as a keynote speaker, Dianna and her staff deliver speeches and training to increase effectiveness of communication and presentation skills.
Mars Science Laboratory: Where is Curiosity?
Clarus Marketing Group | News | FreeShipping.com & The Power of Free Shipping
Find out the best advertising campaigns, slogans, and avoided advertising campaign errors of all time in this infographic. Ever wonder what the average cost of a Superbowl ad is, or the average internet advertising revenue? You'll find out in this infographic below. If you are a creative type that would like to get into the advertising field…be sure to look at the marketing degrees available. Maybe one day your advertising ideas will rank as one of "The Best Ad Campaigns of All Time"!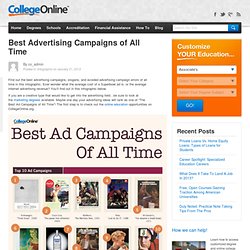 Best advertising campaign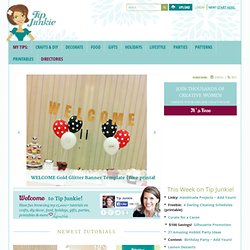 Turn your free TJCC membership into your online crafty resume! That's right, everything you upload to the site will remain here beautifully stored, forever. It's all in one place and easy to share with friends, customers, and family! As always, YOU get complete credit for what you've made and we'll help you share it with the world.
The 21st Century Workplace: Six Major Shifts that are Redefining How We Work [Part 1 of 2] - University of Phoenix - National
June 13 2011 5:38 PM EDT Contact: Colette Carey HDNet (303) 542-5576 ccarey@hd.net What was once a controversial, scientific dream, using stem cells to cure disease, is now becoming a reality-Tuesday, June 14 at 9:00 p.m.
Net's "World Report" To Feature a North Carolina Woman and Her Amazing Recovery From Blindness Through the Use of Stem Cells