Personal Development
Smile. Coaching. NLP. Epicphotos434.jpg (JPEG-bild, 610x458 pixlar) It doesn't interest me what you do for a living. It doesn't interest me what you do for a living.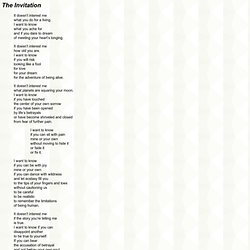 I want to know what you ache forand if you dare to dream of meeting your heart's longing. It doesn't interest mehow old you are. I want to knowif you will risklooking like a foolfor lovefor your dreamfor the adventure of being alive. It doesn't interest mewhat planets are squaring your moon. Meaning and Happiness.com. The Four Agreements Summary | The Polyman. The Four Agreements: A Practical Guide to Personal Freedom (A Toltec Wisdom Book) by Don Miguel Ruiz is one of the classic personal development books for all walks of life.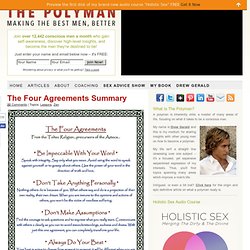 For those of you who have never read this short, yet provocative book on how to live life with integrity, I highly suggest it. There's a lot more in the book than just 4 statements of course, so it's still imperative to read it if you haven't. This article is simply a quick summary and reminder for those who have, and hell let's be honest — I want to remind myself too. Our-Discussion.jpg (JPEG-bild, 719x935 pixlar) So mature. 60 Ways To Become The Person You Love. Photo credit: Niffty..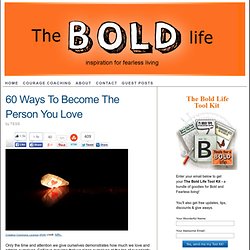 Only the time and attention we give ourselves demonstrates how much we love and admire ourselves. Self love requires that we place ourselves at the top of our priority list. Self-nurturing is everything that makes us feel positive, happy and joyful. When we decide to honor ourselves with the love we need and deserve like the sun we radiate a glow, touching everything and everyone in our lives. Below are 60 ideas for glowing: The Definitive List of Free Personal Development Ebooks.
If you are in need of some inspiration, but are on a limited budget (namely $0), this post is for you.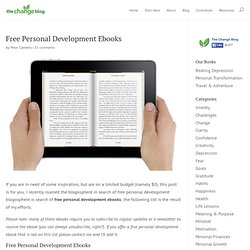 I recently roamed the blogosphere in search of free personal development blogosphere is search of free personal development ebooks; the following list is the result of my efforts. Please note: many of these ebooks require you to subscribe to regular updates or a newsletter to receive the ebook (you can always unsubscribe, right?). If you offer a free personal development ebook that is not on this list please contact me and I'll add it. Free Personal Development Ebooks 101 Things To Do Before You Die – Celestine Chua, The Personal Excellence Blog. 8 Things to Stop Doing Right Now. The main purpose of this site is to help you be who you want to be and live the life you want to live.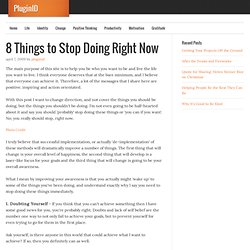 I think everyone deserves that at the bare minimum, and I believe that everyone can achieve it. Therefore, a lot of the messages that I share here are positive, inspiring and action orientated. Mental träning, Coaching utbildningar, NLP utbildningar - Skandinaviska Ledarhögskolan. 90% of All Self Help Books.
---