Booklists and recommendations
Goodreads | get book recommendations from people you know. Banned Books Online. Presents Welcome to this special exhibit of books that have been the objects of censorship or censorship attempts.
The books featured here, ranging from Ulysses to Little Red Riding Hood, have been selected from the indexes of The Online Books Page. (See that page for more than a million more online books!) This page is a work in progress, and more works may be added to this page over time. Lists of Great Book Recommendations from Flashlight Worthy. 100 Most Influential Books Since the War (TLS)
Who wrote this list?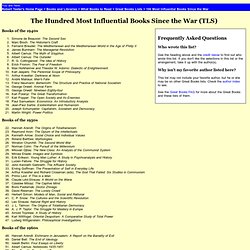 See the heading above and the credit below to find out who wrote this list. If you don't like the selections in this list or the arrangement, take it up with the author(s). The Book Seer | What should I read next.
---